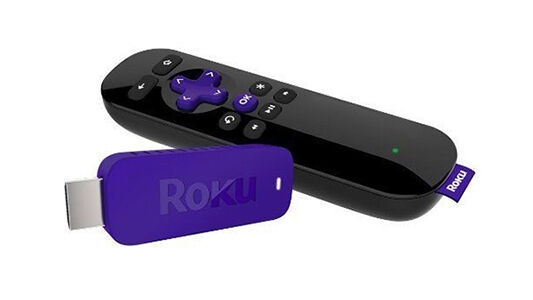 In today's technological age, it's easy to stream television shows or movies practically anywhere. It's possible to stream media on a computer or smartphone, but for the best possible viewing experience, use a streaming media player to connect streaming service apps to a television. A streaming media device can create a home theater in one's own living room.
Types of Streaming Media Players
There are three main options when it comes to devices for streaming media: Roku, Apple TV, and gaming systems such as the PlayStation 4 and the Xbox 360.
Roku
Roku offers several apps to enhance the viewing experience. All of the models come with built-in Wi-Fi and can be controlled with an iPhone, Android, or a remote control.
Roku comes in several different models, and it's easy to find one that fits within any price range. The Roku LT comes with all of Roku's basic features. The Roku HD is a similar model with a different remote. For those who are willing to spend a little more, the Roku 3 comes with a faster processor and video speed, as well an Ethernet port. Another great feature is that the remote features a headphone jack, which makes it possible to enjoy favourite shows without disturbing anyone else. The last option is the Roku Streaming Stick, a USB device that can plug into a smartphone and allow you to access video streaming services. It can also stream media from a smartphone to a television.
Roku offers many great features and is a great option for those who don't require compatibility with Apple, as the two brands do not work well together.
Apple TV
For those who rely heavily on Apple devices, the best option is likely the Apple TV. It's compatible with AirPlay, iCloud, and iTunes. With the AirPlay feature, users can stream photos, videos, and audio from any Apple device on the TV.
The Apple TV is a great option for people who use other Apple devices, as a major feature of the Apple TV is its ability to connect to your other Apple devices.
Gaming Systems
For those who are looking to use a game console as a streaming media device, the best options are either the PlayStation 4 or Xbox 360. The Nintendo Wii can run apps, but is a bit limited in that it cannot play DVDs and Blu-ray discs.In comparison, the Playstation system can run many streaming apps, as well as play DVDs and Blu-rays. The Xbox 360 is also another viable option for streaming media, and, like the PlayStation, the Xbox can also play DVDs.
These gaming systems are great options for gamers, but others will find them much more expensive than both Roku and the Apple TV. The extra expense is unnecessary for those who will not also use the gaming features.
Streaming Movie Services and Compatibility
Choosing between different streaming media players also requires some consideration about the type of streaming service. Some services use proprietary hardware, or are only available through third-party providers like the Playstation Network. Below are some of the most common options, including services such as Mubi, FetchTV and Quickflix. Also, watch out for Netflix as they are scheduled to roll out their Australian site starting in March of 2015.
Mubi
Mubi works with the Playstation Network to offer some of the most offbeat titles available today. They focus on little known cult classics, foreign films, low budget and micro budget titles. At a price point under $5 per month for unlimited streaming, they work well for broadband customers who use a Playstation 3 or 4 as their streaming media player.
FetchTV
Offering a rotating selection of new and blockbuster titles, FetchTV also has a comprehensive library of television titles. Their service works through ISPs such as iiNet, Optus, Internode and more. As long as a box offers web browsing, or users have a smart TV, this service is an affordable alternative to digital rentals.
Quickflix
Although this service started as a rental service, it has branched into digital streaming. Now, with more than 120,000 subscribers, it offers a huge library of titles, all available for less than $10 per month. Of course, to use this service requires a smart TV, Xbox One, Playstation 4 or computer.
Conclusion
There are many options to consider when browsing online stores for a streaming media player. No matter what preferences or price ranges users are working within, there's a streaming media device out there that is perfect for any home. Those who are unsure of their exact needs can do a bit more research and browse until they discover the kind of technology that is best for them.