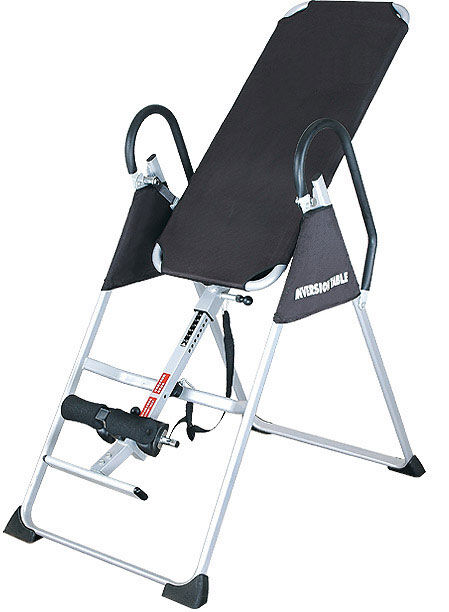 How to Buy an Inversion Table


Inversion tables come in a range of shapes and sizes, however, most are similar in both. There is also a range of prices for which they can be bought, changing due to aspects of the table such as the materials it is built from, or the functions it can be used for. Inversion tables can be found quickly and easily on eBay.


Relieving back pain is considered the primary function for inversion tables. Normally, the user is strapped onto the table by their feet; similarly to using gravity boots. They can also be strapped in by the arms or waist, although this is not as common as it can have an effect on the outcome of the exercise.
The typical and simplest exercise for this equipment is hanging upside down for about twenty to thirty minutes. This exercise is meant to decompress the joints of the body and relieve the pressure of gravity for the duration of the exercise. This exercise can help reduce back pain or improve posture; it can even help straighten the back and spine.

Types of Exercises


As well as being used for helping back pain, people use inversion tables for other reasons. There are many exercises designed for each purpose. Some of these exercises include:
· Normal Exercises – Hanging still upside down for a period of usually around twenty to thirty minutes can help relieve back pain, straighten the back and spine and improve posture. As well as the physical improvements, using the inversion table has also been known to improve mental health. It can reduce the effects of depression or stress-related issues. The way this is thought to work is through the increased blood flow to the brain helping release 'feel-good hormones' which can reduce the symptoms of mental health problems such as depression


· Abdominal muscle exercises – Many people believe that doing simple abdominal crunches while inverted creates a higher level of workout. Doing these crunches comes without pain to other areas of the body and can be a bigger challenge, in turn likely giving a better workout along with better results


· Rocking – Rocking can be either forwards and backwards or side to side and is believed by some to be the most important of the exercises. Rocking is particularly useful after performing other exercises on the inversion table as this relieves the pressure from the workout. Other benefits include flexibility and an increased movement in the spine. It may also offer an increase in the lymphatic fluid between the intervertebral discs (discs of the spine).
What Are The Risks?

Although there are many benefits to using an inversion table there may also be risks involved and so it is always advisable to take advice from a doctor before using one.
If the inversion table is not set up properly, it is possible to cause damage to a muscle, ligament or to the spine. Always be careful when using this equipment, as with any other workout kit. Improper use may cause more harm than good. However, do not let this be off putting; if the procedures are followed properly, receiving the benefits without any risk will soon follow.
It is also a good idea to have someone else in the room, at least the first time using this equipment in case there are any unforeseen problems. Specific risks of using this equipment could include:
· Heart conditions – If someone has a heart condition it may be dangerous for them to use this equipment even for a short period of time as being inverted will increase blood pressure.
· Existing Conditions – There are many conditions with which an inversion table should not be used with. Examples of these may be broken or fractured bones, surgical implants such as pins, obesity or ear infections. These are just a few of the things that may be affected by the use of an inversion table and so if the user has any medical problems they should mention them to a doctor before starting the work out.
· Eye and Ear Pressure – Using an inversion table increases the pressure in the eyes and inner ear. In most cases this should not be a problem, however, if the user has had problems with their eyes or ears in the past, or currently has any problems of this type, it is advisable to discuss this with a doctor before using an inversion table.
How to Buy an Inversion Table on eBay
Now that you know what you want out of an inversion table, you can find it quickly and easily on eBay. While you shop, give thought to other equiptment such as anti gravity boots and attachable exercise bars.

To start shopping, go to the sporting goods category, followed by fitness, then other sports equipment.

Categories
The categories list on the left side of each page will help you narrow down your listings by item type.

Product Finder
Use the Inversion table Finder to quickly narrow down item listings by brand and condition (new or used).

Keyword Search
Search eBay listing titles for specific words. For example, if you want to find new inversion tables, type the keywords "inversion table new" (without quotation marks) into the search box. Click, "Search title and description" to expand your results. Visit eBay's Search Tips for more tips on searching with keywords.

If you can't find exactly what you want, try browsing eBay Stores or tell the eBay Community what you're looking for by creating a post on Want It Now. Alternatively, use the save a search option on My eBay and eBay will email you when a matching item becomes available.
Remember also to search the Daily Deals page to hunt for bargains.

Buy an Inversion Table with Confidence
Make sure that you know exactly what you're buying and understand how eBay and PayPal protect you.
Know Your Item
Read the details in the item listing carefully.
Remember to add delivery costs to your final price. If you're buying a high value item, check that the seller will insure it until it is delivered to you.
If you want more information, click the "Ask seller a question" button on the seller's profile or the "Ask a question" link at the bottom of the item listing page.

Know Your Seller

Research your seller so that you feel safe and positive about every transaction.

· What is the seller's feedback rating?

· How many transactions have they completed?

· How many positive responses do they have?

· What do buyers say in their feedback?

· Do they offer a money-back guarantee?

· What are the terms and conditions?

· Are buyers positive about the seller? Most top eBay sellers

operate like retail shops and have a returns policy.

Conclusion

If the user has any medical conditions, they should consult a doctor before using an inversion table. Otherwise inversion tables offer a great workout opportunity. Many people believe that inversion tables offer many health and fitness benefits to their users. Find one quickly and easily on eBay with a simple search.