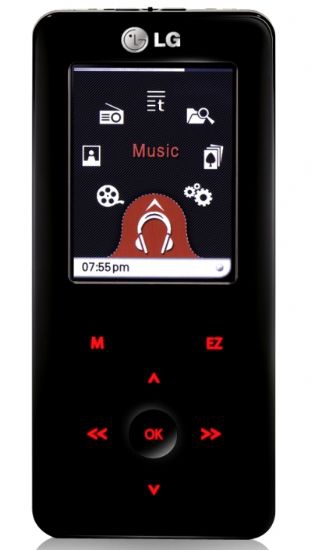 The fitness workout is invariably accompanied by music. Whether a participant does this in a group or as a solo activity, the pulsating beats of the workout session are what really drives the moves in an aerobics class or weight training session. Manufacturers are now producing MP3 players that keep the gym routine in mind. The unassuming MP3 player, and some high output speakers if facilitating an aerobics class event, are all that is needed to get the workout pumping.
The best MP3 players for workouts are those that can be worn securely by an individual participant without falling off, getting tangled up, or restricting movement. The customer's choice of player should also have minimal weight and size.
What to Look For in an MP3 Player for Workouts
Working out in a gym environment requires as little obstruction to movement as possible. Although this is essential for aerobic workouts, gym routines are also safer and more comfortable with fewer attachments and dangling cords. Customers who want to bring their own music to the gym should endeavour to do so with the most efficient, simple, small and lightweight device possible. Wireless devices are the most efficient for a workout, but they are not in ample supply.
When shopping for the right MP3 player to use while working out, the customer must understand why a particular device is suitable for exercise and another is not. eBay lists numerous MP3 players, and many of them are workout friendly. However, the customer should find one that delivers on the most important requirements in a gym workout. Feature rich devices may not be necessary if the customer only wishes to use it at the gym. Their first priority should instead be to look for one that fulfills the criteria of ease of use, weight and size. A lightweight and securely attachable device is particularly crucial while exercising. Users should also ensure cables do not hang loose during their workout. Any excess slack should be tied or fixed close to the their clothing. The distance between the ear and the attached device should be as close as practically possible.
Suitable MP3 Players
The world of portable sound is expanding to facilitate listening to music wherever an individual may be, even underwater. MP3 players designed for workouts provide the ultimate in hands-free music. These devices may be attached to clothing or may be designed to be worn on the ears. Like any other MP3 players, they mostly come with multiple options and many features, but customers can choose basic types that only play music. Such devices are a lot cheaper. Below are some examples of MP3 players that are popular choices for use when working out.
Sony NWZW262BLK Walkman
This is likely the most convenient MP3 player for use when exercising. The Sony NWZW262BLK Walkman is a unique wireless device that fits around both ears. Each earphone sits at the entrance of each ear. The two control units are joined by a cord that fits comfortably around the back of the head. This model provides the greatest convenience as there are no dangling cables between the device and the listener's ears. This is an important safety consideration when working out with weights or in an aerobic class.
RCA Lyra Personal MP3 Player
This MP3 player has been around since at least 2005. It is extremely compact and can be worn on an armband which gives it an advantage over other players. Another significant benefit is that it stores music on a memory stick, rather than a spinning hard drive. This makes it far more durable and resistant to knocks and falls than a conventional MP3 player. Unlike most newer portable music devices, the RCA Lyra Personal MP3 player does not have a host of unrelated features. It does, however, have options for MP3, WMA and WMA DRM playback. The downside is storage space with only about 512 megabytes of flash memory. However, the device does have an external SD/MMC slot, so a user can add more memory later.
Sony NWZ-E Walkman
This MP3 player is a multifunction device highly suitable for the workout. The Sony Walkman NWZ-E represents a broad range of MP3 players that are suitable for attaching to the body. Different players within the NWZ-E range have various features, including video playback and recording, FM radio, gaming, and high quality sound with five band graphic equaliser.
SanDisk Sansa Clip+
The SanDisk Sansa Clip+ is a purpose built MP3 player that performs perfectly in the workout environment. It is small and lightweight, and clips securely onto clothing. At 4.6 x 1.5 centimeters, it does not get in the way when attached correctly. The weight of these MP3 players vary within the Sansa Clip range, but most are between 15.8 and 22 grams. This MP3 player boasts a battery life of 15 hours before needing to be recharged. There is video functionality and an FM tuner in addition to eight gigabytes of music storage, or approximately 2000 tracks.
Apple iPod Shuffle
The Apple iPod Shuffle fourth generation is square in shape although still one of the smaller MP3 players. This device is without a screen and video function which is an inconvenience in itself for some users. Nevertheless, it is ideal for the gym environment as its low surface footprint is small, light and barely noticeable to wear. The fourth generation iPod shuffle has two gigabytes of music storage with the ability to play songs in any order. This iPod weighs only 12 grams, making it preferable over the heavier and rectangular earlier generations.
Philips GoGear
The Philips GoGear MP3 player is a feature rich device with high quality audio playback. This MP3 player is particularly durable. It holds eight gigabytes of storage space and supports many audio and video formats. It includes FM radio and a microphone, and its battery is capable of 22 hours of continuous play.
How to Buy an MP3 Player on eBay
When searching for this MP3 players, you can either conduct a broad search and narrow the results with the provided filters, or tailor a specific search if you are looking for a specific item, such as the "SanDisk Sansa Clip+". When you believe you have found the right MP3 player, see if you can find another couple of potential listings. This is important as it allows you to make valuable comparisons in the listed item's specifications. Check all provided information carefully, and make sure you note the returns policy.
You should also ensure that you feel confident in your designated seller. Only purchase from those who have a high customer feedback score of at least 98 percent, and note whether they have an eBay top rated seller certificate.
Conclusion
Music has become an essential accompaniment to working out at the gym. The MP3 player is particularly helpful in passing the time and making the workout seem less of a chore. The choice of player, however, can make the difference between satisfaction and frustration. Users should avoid poorly fitted, heavy, cumbersome, or overly fragile devices, just as they should also avoid spending too much money on them. eBay and eBay deals list MP3 players at very tempting prices.
Exercising to one's favourite music is far more stimulating and encourages better performance than having to endure the musical choice of gym management. With this mind, many people have now decided to switch off to public broadcast music and switch on to their own.
MP3 Player|Music Player|Walkman|Portable Electronics|Used MP3 Player