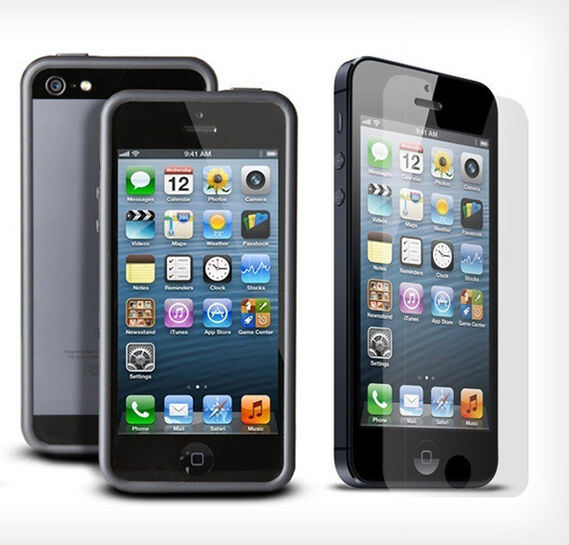 There is a wide variety of accessories available for use with the iPhone 5, including cases, covers and screen protectors. Cases are a great way to keep an iPhone safe from scratches and dirt, and some kinds of case can also offer protection against drops and shocks. Screen protectors, meanwhile, help to keep the screen free from dirt and scratches. Many different cases and screen protectors for the iPhone 5 can be found on eBay.
Features to Look for in an iPhone 5 Case and Screen Protector Bundle
When looking to purchase a case for the iPhone 5, there are a number of key factors which should be considered.
· Access to volume control, the headphone jack and the screen itself are all important. The best way to ensure this is to buy a case specifically designed for the iPhone 5, and owners of this phone have a wide range of accessories to choose from.
· Materials should also be considered. Hard cases offer more protection, while softer cases such as fabric socks may be more affordable.
· Bundles are often available which include both a case and a screen protector . This can feature a case and separate screen protector, while some cases may feature a screen protector built in.
· A range of additional features can also be found on iPhone 5 cases. This can include space to store credit cards, a backup battery or a clip to hold the phone on a belt.
Types of iPhone 5 Case
There are a number of different types of case available which can be used with the iPhone 5.
| | |
| --- | --- |
| Skins | Skins are among the most popular type of case. Often made out of silicon or gel, these cases stretch over the phone, offering protection against scratches while adding little bulk to the device. |
| Bumpers | Bumpers are made up of thin strips of material, often rubber or silicon. They are stretched around the edges of the phone, offering protection from bumps, and leave the rest of the phone uncovered and unprotected. |
| Flip/Wallet | Flip cases protect both the front and back of the phone, and can be opened up for easy access to the screen. These cases can also often include space for ID and credit cards. |
| Socks | A simple and affordable kind of case, socks and pouches are often made out of fabric, and hold the phone when not in use. They protect the phone from scratches, but not bumps or drops. |
| Shells | Shells are thin covers which fit to the back of the phone. They protect the back from scratches, while leaving the screen easily accessible. |
| Extreme Protection | A variety of cases are available which over a great deal of protection to the phone. Often referred to as 'extreme protection' cases, these phone cases are often made of metal, and protect the phone from drops and shocks as well as rain, sand and dust. They are, however, often bulky and expensive when compared to other cases. |
| Armband | Popular with more active iPhone 5 users, armband cases securely hold the phone onto the wearers arm, giving them easy access when engaged in sports and physical activities. |
iPhone 5 Case Materials
One of the key aspects of a phone case to consider is the material it is made out of, and there are a number of different options available.
| | |
| --- | --- |
| Leather | Leather is a popular choice for cases, particularly flip and wallet style phone cases. Offering a unique appearance and feel, leather can give a phone a good amount of protection, though is often more expensive than other materials. Faux leather offers a similar appearance at a lower price. |
| Silicone | Silicone is a durable and flexible material often used for phone skins. Cases and skins made with silicone gel are often light, and have a thin profile. Rubber is a similar material that is often used in case made for sports, such as armbands. |
| Fabric | Soft and affordable, fabric is most commonly found in sock type cases, which protect the phone from scratches. |
| Metal | Cases made from metal are often more expensive and bulkier than other materials, but offer a great deal of protection. |
| Plastic | Cases made with hard plastic are often light and thin, offering a good deal of protection. |
How to Buy an iPhone Case and Screen Protector Bundle on eBay
A wide range of cases, screen protectors and other accessories for the iPhone 5 can be found on eBay.
· The full listing of mobile phone cases can be found under theCases, Covers, Skins section of the Mobile Accessories category. Cases for the iPhone 5 can be found under Apple .
· Cases can be arranged by categories such as colour, price and condition.
· Key information about a case is often prominently displayed in the item listing, making it easy to see if a case meets any specific requirements.
· More detailed information about a case can be found on the item page, including information about the seller, such as feedback ratings and item reviews. This helps to ensure that purchase can be made with confidence.
· When looking for a particular case, it may be more effective to use the search function which can be found at the top of every page. Searches can be made to cover the whole site or a specific category.
· Don't forget to look out for deals on iPhone 5 cases which may be available in the Phones section.
Conclusion
There are all kinds of covers and screen protectors available for the iPhone 5. Light and flexible silicone skins can offer protection from scratches and light bumps, without adding bulk to the phone itself, while plastic or metal shells add protection to the back of the phone while leaving the screen easily accessible. A wide range of mobile phone cases and other accessories can be found on eBay.