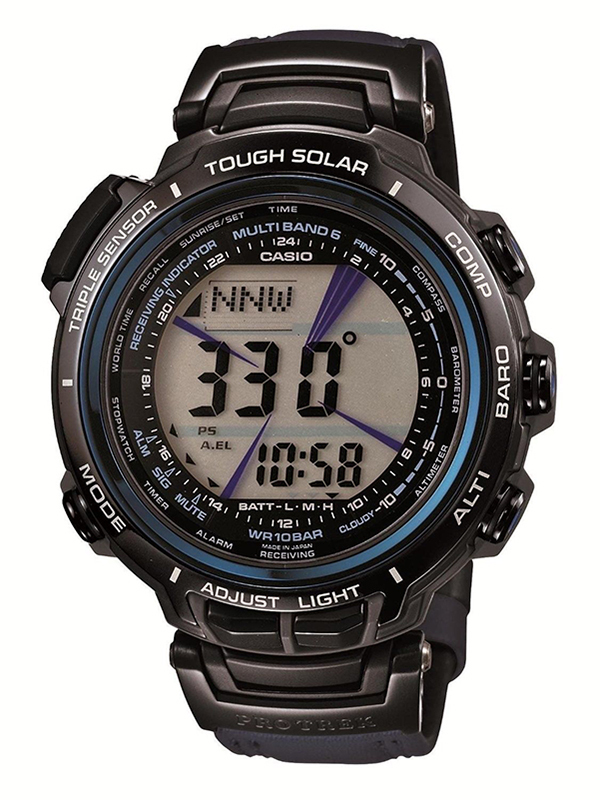 Known for its creative designs and functional watches, Casio is a manufacturer of popular watches. Whether shoppers want a watch with a built-in calculator, navigation system, or stopwatch, they can find it in an original Casio watch. For loyal Casio customers, it is important to identify a Casio watch as an original. By following some simple steps, shoppers can be sure the watch they purchase is an authentic Casio product.
Examining Accompanying Items
When shoppers receive a Casio watch, they typically receive more than just the watch itself. Accompanying items such as user guides and boxes provide clues about whether a Casio watch is an original or not. If a watch comes with no accompanying items, this may be an indication that the watch is not an original.
User Guide
If the Casio watch comes with a user guide, shoppers should check to make sure the model numbers on the watch match those on the user guide. Shoppers should also carefully inspect the user guide itself. Any errors in logos, spelling, and spacing may be an indication that a Casio watch is not authentic.
Box
Shoppers should carefully inspect the box that the Casio watch comes in. In addition to checking for correct logos and spelling, shoppers should pay close attention to the style of box that the watch comes in. The box should closely match the style of other Casio boxes. Shoppers can compare the watch's box to other Casio boxes to look for similarities and differences. If the watch comes in a very generic box, it may not be an original Casio watch.
Examining the Watch
In addition to inspecting the accompanying items, shoppers can look at the watch itself to determine whether it is an original Casio watch. Shoppers can look at features such as the face and caseback of the watch for clues about its authenticity.
Generally, Casio watches include 'Casio' on the face of the watch. Many Casio replicas include the brand name, such as 'G-Shock' or 'Pathfinder', but do not include the word 'Casio'. Shoppers can also look for other features that may indicate a watch is not an original Casio watch, such as low-quality materials and poor quality construction.
Checking the Model
All Casio watches have a model number on the caseback. If a watch does not include this model number, it is probably not an original Casio watch. Limited edition Casio watches also include a serial number on the caseback.
Checking the Style
When shopping for an original Casio watch, customers should be familiar with Casio products. Shoppers should make sure they know about the specific models in which they are interested. They can conduct research to confirm that a model exists and what it should look like. Shoppers should verify that key features included in a particular model are in a watch for sale. They can search for other models to confirm consistency in design, style, and features. If they cannot verify a particular model exists or they find other watches with the same model number that look different, this may be an indication that a watch is not an original Casio watch.
Model

Available Colours

Features

G-Shock GWN1000B-1B

Black

Triple sensor

Smart access

Tide function

Baby-G BGD180-2

Black, Blue, Pink or

White, Yellow, Purple

Shock resistant

World time

Tide graph

Thermometer

Pro Trek PRW3000-4B

Pink, Navy, Blue, Black

Solar power

Low-temperature resistant

Triple sensor

Edifice ERA300B-1AV

Black

Neon illuminator

Digital compass

Thermometer
There are many different models of Casio watches available. However, most Casio watches are easy to research and identify.
Checking the Source
In addition to examining physical characteristics of the watch and accompanying items, shoppers can find clues about a watch's originality by reviewing the seller's reputation. If a seller has a lot of positive feedback for selling original Casio watches, shoppers can probably feel confident that the products they sell are original Casio products as advertised. Conversely, if a seller has received feedback indicating their products are not authentic, shoppers may wish to avoid purchasing a Casio watch from that particular seller.
How to Buy an Original Casio Watch on eBay
A wide variety of Casio watches is available from the sellers on eBay. Start your search with the basic or advanced search feature and refine your results by selecting options such as colour, size, or style from the options menu. You can limit results to a budget by specifying your price range. Review the item description and seller's feedback thoroughly before committing to make a purchase. This information can help you find an original Casio watch that suits your needs.