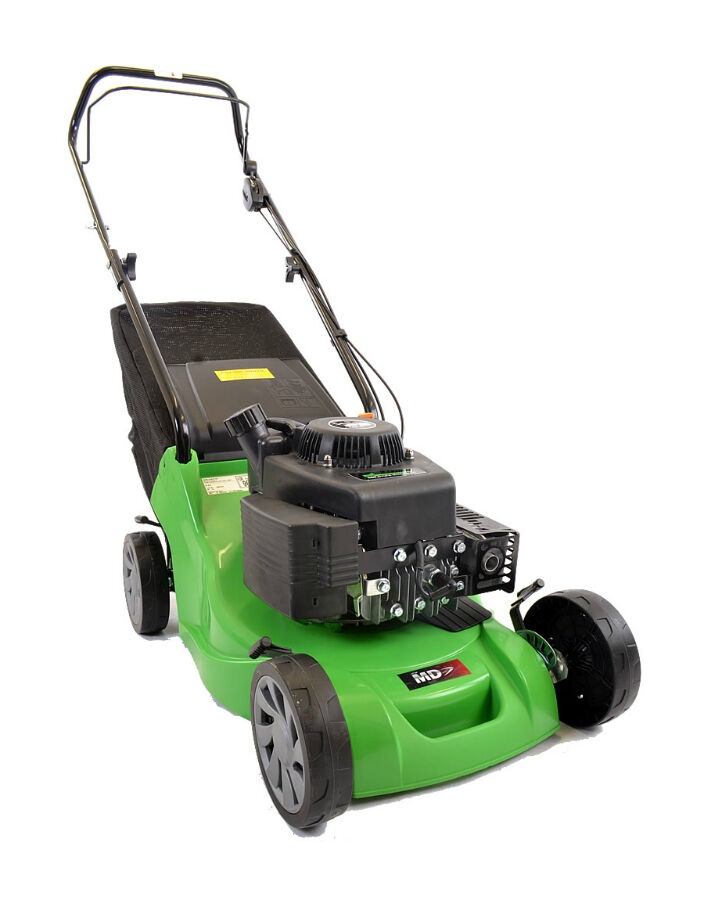 It begins in the spring, and continues until the first snow falls, or the rain ceases to stop in some parts of the world. The chore of mowing the lawn is a price paid for having beautiful, green grass in the yard. For many families, mowing the lawn is a right of passage, assigned to growing boys who grumble and grouse, attempting to use that time for anything else. When consumers decide that they need to buy a new lawn mower, there are many elements to consider before deciding which type to buy. Not only do consumers need to choose between a riding and push mower, but between the many options and attributes available in each type.
Deciding Which Type of Mower Is Needed
When thinking about lawn mower types, push mowers and riding mowers are what come to mind for most people. There are many other sub-types to consider, such as self-propelled mowers, lawn tractors, and even robotic mowers. For small yards, push mowers work great, but if that yard has slopes or hills, a self-propelled mower makes the work much easier. If the area to be mowed is more than 0.5 acre, most consumers prefer a riding lawn mower. Robotic mowers are available for techie-type people with small, flat lawns.
When a Push Mower Is a Better Choice
Most people with a small yard prefer a push mower. Some people with large areas to mow still use a push mower, either because they cannot afford a pricier riding model, or because they appreciate the additional exercise. Pushing a lawn mower is a great way to get some exercise, stretch little-used muscles, and soak up some sun. Push mowers are lighter weight and, therefore, use a great deal less fuel than riding mowers. Also, while riding mowers cut more grass in a single sweep, they are also difficult to manoeuvre in smaller areas. Push mowers can get into tight spaces around obstacles, such as trees and flowerbeds, much more quickly.
Another consideration is that a push mower does not leave deep tracks in the grass the way a heavier riding mower with its rider does, when the grass has been pushed down so deeply that it does not cut evenly, so when it finally bounces back, there are tall places in the lawn.
When a Riding Mower Is a Better Choice
Many consumers who have more than 0.5 acre to mow find that using a riding mower saves a great deal of time and effort. Because these mowers mow wider swaths of ground, mowing is accomplished more quickly. This leaves more time to spend enjoying the lawn rather than working. Riding mowers offer a wider variety of choices, and deciding which one is best depends on the size of the lawn, needed attachments, power requirements, and transmission type, among other considerations. Consumers can also choose such features as adjustable seats, adjustable motion-control levers, padded steering wheels, and rubber foot pads. Also, some models feature headlights for increased visibility at dusk, or on cloudy days.
Types of Riding Mowers
Deciding on a riding mower is not the end of a consumer's choice. There are several varieties of riding mowers, each with its own attributes and uses.
Riding Mower
Riding mowers are ideal for those with very large yards to mow, as well as for the elderly and disabled. Using a riding mower keeps cut grass and other debris off the legs, protecting those with sensitive skin or allergies. Many riding mowers have available attachments including baggers, sweepers, and scoops.
Lawn Tractor
Lawn tractors are larger than riding mowers, having been designed for areas as large as 5 acres or more. Lawn tractors feature gears designed for pulling lightweight attachments, such as a cart or rear bagger, and can handle such chores as seeding and fertilising as well.
Garden Tractor
A step up from the lawn tractor, the garden tractor features a heavy-duty transmission to handle ground-engaging attachments. Garden tractors also often have more power to make shrub removal and heavy hauling possible.
Zero-Turn Riders
Zero-turn riding mowers offer extreme manoeuvrability, control, and speed on large, flat lawns that have a number of obstacles. For mowing around trees, light posts, flowerbeds, and other obstacles, no mower provides more manoeuvrability than a push mower, but the zero-turn mower comes close, and is a much better choice for large areas.
Determining Which Type of Riding Mower Is Needed
Determining which type of riding mower is best suited to a consumer's yard care needs depends on a variety of factors, such as lawn size, obstacles, and type of terrain. A side-by-side comparison of the attributes and uses of each type of riding mower makes decision-making easier.
Yard Size

Recommended Mower

Size Cutting Deck (cm)

Features to Consider

0.5 to 3 acres

Riding

86 to 137

Multiple speeds adjust for different yard sections

0.5 to 3 acres

Lawn

86 to 137

Lawn tractors assist with other yard tasks

1 to 3+ acres

Garden

N/A

Larger engine for heavy-duty work;

Can be used for ploughing, cultivating, and snow removal

1 to 3+ acres

Zero-turn rider

86 and up

More control and better efficiency on large, flat lawns with many obstacles
Before choosing a riding lawn mower, it is important for consumers to research the attributes and capabilities of each type, as compared to the type of work that needs to be performed. Consumers should also research the reviews of other users of the products to be sure that the quality is what they are seeking.
Safety Considerations When Purchasing
Lawn mowers, whether push or riding, are dangerous power tools. Whether mowers are being used by teens or adults, safety attachments should be standard and precautions must be taken. Consumers should look for blade guards that are adequate to not only prevent a foot or hand from being put in the wrong place, but that prevent projectiles from ejecting. Another safeguard provided on many models requires an additional step before being allowed to move in reverse. This allows the user to check for pets and children in their path. The blade of a riding mower should stop automatically when the driver stands up to minimise the risk of accidents.
Buying Riding and Push Mowers on eBay
eBay makes researching and buying lawn mowers quick and easy by making a wide variety of brands and models available at the click of a mouse. User forums provide feedback and assistance from other consumers. To search for lawn mowers, you could enter keywords into the search box, such as "lawn mower", "riding mower", or "push mower". Results can be filtered by price range, seller, or location of the items. Clicking on the title of any item in which you are interested provides you with more detailed information, including photographs, shipping information, and accepted payment methods. Buyers can also learn about the item's seller. Seller information includes feedback ratings, and comments from previous customers. "Top Rated" sellers have a history of excellent policies and feedback.
Conclusion
At some point, anyone who has a lawn needs to purchase a lawn mower. Visiting the local home improvement shop can leave consumers confused about which type of lawn mower they should buy. Lawn mowers come in a variety of models, including push mowers and riding mowers. Mowers also offer a wide variety of features and capabilities to be considered. The first step in determining which type of lawn mower is needed is to determine the area to be mowed: whether it is flat or hilly, and how many obstacles need to be avoided. Choosing between a riding and a push mower also depends on how much money the consumer is willing or able to spend. The best place to research and purchase any type of mower is on eBay.
Lawn Mower|Riding Mower|Push Mower|Lawn|Garden Tractor