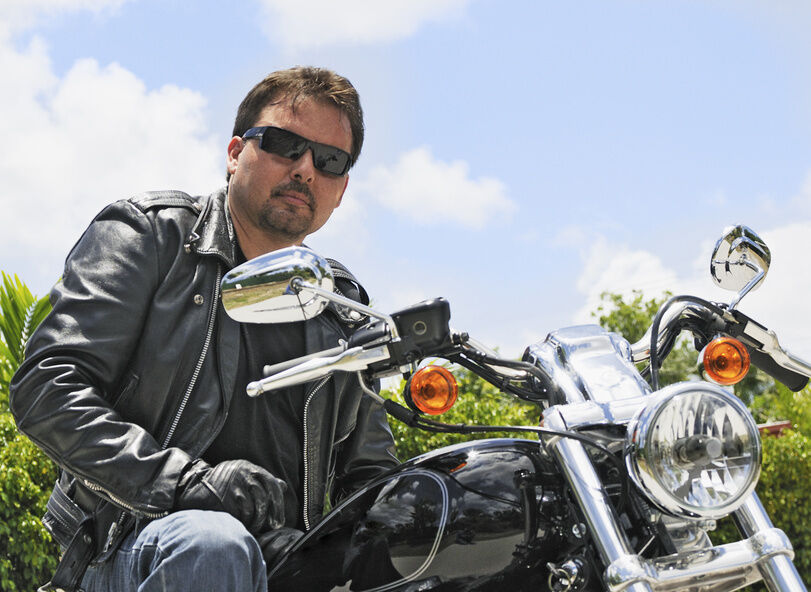 After selecting a motorcycle and a helmet, the next most important item riders in Australia need is a jacket. Well-made motorcycle jackets are not only valuable because they enhance a rider's style and comfort, but also because they are crucial in protecting the skin, bones and organs against damage during a crash. When choosing a jacket for riding, the first and most important consideration is whether to buy a textile or leather one.
Selecting Between a Textile or Leather Motorcycle Jacket
The fact is that no one jacket can fulfill a rider's needs for every sort of road and weather condition. For example, a heavy black leather jacket could be excellent for windy and cool days, but may be too hot during the Australian summer. A lightweight mesh jacket can serve riders well when the climate is hot, but perhaps won't offer proper protection if a crash occurs. Hence, if possible, having several jackets for different days and conditions is advised.
Riders must also know how to choose between a textile or leather motorcycle jacket prior to even looking for a jacket at a store or online. There are many considerations to take into account, including budget, style preferences, comfort needs and climate conditions, and desired protection and quality levels. By following a certain process, the decision will be easier for each individual motorcyclist.
Consider Budget
Motorcycle jackets vary tremendously in price, and riders can buy one online for anywhere from $50 to over $3000. While it's not necessary to spend a ton of cash on a jacket, it's important to not go too cheap; quality jackets that feature CE-approved armour (a universally used European grading system) and meet protection standards can typically be found as low as the $100 to $300 range. For those on a tight budget, note that tough leather motorcycle jackets are typically less expensive than textile ones of similar strength.
Factor in Style Preferences
Textile jackets, such as Kevlar motorcycle jackets and Cordura motorcycle jackets, boast a sporty look and make riders feel quite stylish when riding. Conversely, leather jackets have a long history and tradition and can give riders a look that's timeless and classic. In terms of style, leather jackets offer much more versatility, and can be worn even when not riding. Textile jackets are typically only suitable for riding, unless there are extreme weather conditions.
Think about Comfort Needs and Climate Conditions
Being comfortable while riding enhances the experience and allows you to focus properly on the road. Leather fits more snugly around the body, especially once it has been worn for a period of time. This can make you more efficient at operating the bike. Textile jackets don't weigh as much as leather, and thus some riders feel they have more freedom of movement with them. Considering the type of weather you are riding in makes choosing between textile and leather easier. For those that generally ride on warm days, know that many textile motorcycle jackets provide added air flow through the use of mesh fabric; leather jackets have perforations to keep riders cool on hot days, but still don't provide as much breathable comfort as textile. In harsh conditions, textile jackets provide protection by being wind resistant, waterproof, and having removable winter linings; leather can be treated to be waterproof and thicker grains are warmer, but still doesn't resist harsh elements in the way textile motorcycle jackets made of materials like Gore-Tex and Aero-Tex do. In short, leather can get the job done, but textile jackets are the choice if the conditions are going to be extreme.
Establish Desired Protection and Quality Levels
Safety is not something to only consider when purchasing a motorcycle. It's also a major factor when choosing a jacket for riding. The fact is leather motorcycle jackets that are of high quality (full or top grain cow hide) are more abrasion resistant than textile ones; if properly maintained, leather jackets have exceptional durability (usually a lifetime) and can handle several crashes. Textile jackets offer sufficient protection and boast high abrasion resistance, but will rip much more easily and thus leave the possibility of exposing areas of the body in a crash; also, textile typically isn't as durable.
When buying any jacket, it's important to ensure it meets safety standards. Make sure shoulder and elbow protectors are marked with EN 1621-1 (a standard established by the European Union for protective motorcycle armour). The entire jacket should meet the EN 13595-1 standard for abrasion resistance, cut resistance, seam burst strength, and overall protection. Note that many textile and leather jackets for sale on online sites meet these requirements, but many also do not. If buying a textile jacket made of nylon (a common choice), check to see it is using at 500-denier material as well.