So... You just bought your digital camera and noticed you were not going to get many pictures on the included memory card.... Or, you have filled your current memory card and decided you want to have an extra one... Whatever the reason, you have found yourself on eBay looking for another flash memory card.
If you know exactly what type of memory you need, the max capacity your camera can accept and what brand to buy, this might be a simple process for you. However, most people don't and it can get confusing fast. The purpose of this guide is to help take the confusion out of buying memory and give you some advice that will make sure you are satisfied long past the purchase.
If you have begun the search it might go something like this.....
From eBay's homepage you search for your camera model. You quickly realize that your results are full of things other than the memory. You try to narrow it down by category. Sooner or later, you get to a list of memory with your camera model in the title. Now, as you start to look through the results, you find a wide variety of prices, capacities, pictures. You click on a couple to look at the listing details and find out they are shipping from another country. Also, you are wondering..... how do I choose?
Here are some suggestions of what to consider when making your decision:
1. What brand is the seller offering?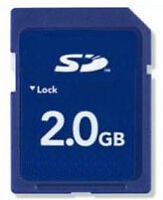 If a seller only offers a generic image, why?
The most logical explanation is that they ship the cheapest card they are able to get and may change brands at any time. Usually these sellers offer imported memory cards that do not have a company in the US. In such cases, you will be dependent on the seller if you have any future problems with the card. Also, contrary to popular belief, all flash memory cards are not the same. The internal parts can be manufactured by different companies and read/write performance can vary. If these technical specifications are of concern to you, you cannot find them without knowing the brand. You may also want to consider the manufacturer's warranty and technical support availability.
2. Is the memory card in retail packaging?
Again, if not... why? You have no certainty that you are receiving a new card if it is not.
3. What is the seller's reputation?
This is probably the most important consideration.
Look at the seller's feedback. If a seller does not handle any problems fairly, hopefully other buyers have made note of that. You can use a tool such as (http://www.toolhaus.org/cgi-bin/negs) to view a sellers negative feedback. Also note if the seller has responded to the feedback, and responded professionally. (As a seller, I have to take this chance to note: Please give a seller a chance to resolve the problem before leaving negative feedback. We all strive for perfection, but mistakes can happen. A seller should handle them quickly and as conveniently as possible for you.)
4. How large of a card do you need?
A seller's listing usually has a chart showing the average number of images you will be able to store on the memory card. You will probably need to know the resolution of your camera's megapixel (MP) rating to interpret the chart. This is usually marked on your camera, although you may have to pull out the manual and look at the specifications page. Now you can determine, based on how much you want to spend and/or how many pictures you want to be able to take before downloading or getting a new card, what capacity you plan to purchase.
5. What brand is best?
That is a matter of opinion. Also, there is a large issue with counterfeit cards online, so that is why it is important to consider the questions above when deciding if you believe the card is genuine. If you end up with a counterfeit card, again, you have no warranty outside of the seller's guarantee. Following is a list of memory manufacturers that distribute and warranty cards in the USA.
(This is not exhaustive. These are brands in the USA that we have experience with for each flash memory type.)
Secure Digital (SD)/MicroSD: Kingston, PQI, Dane-Elec, Patriot Memory, Sandisk
CompactFlash (CF): Kingston, Dane-Elec, Sandisk
Memory Stick/M2/Duo: Sony, Sandisk
xD Picture Cards: Olympus, Fujifilm
Yes, we are a seller of flash memory and hope you will buy from us. But more than that, we want to help you make an informed purchase. Many reviews we have read slam other sellers or make it sound like you are only safe buying from them. We hope you find our review only biased in the sense that we want to protect you. Weight the questions we raise and decide for yourself what is or is not of concern to you. Regardless of who you buy from, we wish you happy eBaying! :)
If you have any doubts or question before the sale, contact the seller. If they won't deal with you before the sale, that is a good indication that they won't be there afterward either. We would love for you to contact us! We'll do our best to help, even if that means directing you somewhere else.
Visit Skakawack's eBay Store!