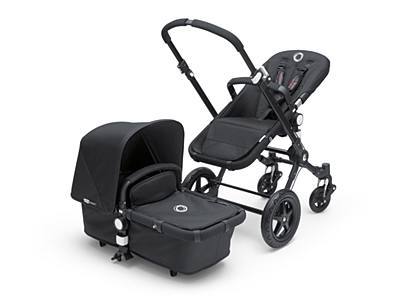 Parents desirous of buying baby travel systems consider the best one that keeps the baby comfortable, is absolutely safe, and is easy for parents to ferry around as well. Most strollers have attributes that facilitate storage, enhance safety, and also offer conveniences to the parent who may have to handle the stroller with other kids in tow. Online shops have variously styled strollers with frames and seats of different materials. Prior knowledge about various stroller brands, designs, and features helps potential buyers select the right compact stroller to meet their requirements. There are several stroller types for sale on eBay, and buyers can browse listings using eBay's powerful search engine to zero in on the right stroller.
Stroller Attributes
Available in a wide price range, it may be confusing to select a stroller. Parents must ask themselves whether an inexpensive stroller is low on safety features or if a pricey one is a waste of money once the baby grows. Parents need to think about themselves as well. As much as they ensure extreme comfort for their babies, they need to be able do so without causing stress to themselves. Simplified tasks, like easy access to baby's belongings, folding the stroller in a jiffy single-handedly, or easy adaptability to car seats, make it less stressful for the parents as they travel with their baby.
Safety Features
Every parent and manufacturer agrees that safety is the top priority. Strollers have to conform to certain Australian mandatory requirements based on AS/NZS 2088 of 2000 and the updates thereafter, and shoppers must check for this certification when making a purchase.
A stroller for a newborn must be comfortable, as a baby lies on its back during the initial months. Convertible and all-purpose pushchairs with bassinets, such as the Bugaboo Cameleon, Maclaren Techno XLR, and Childcare Alto XT, are ideal for newborns and accommodate the growing child. Enclosed sides, adequate cushioning, five-point harnesses, restraint systems, brakes, quality wheels, rain hoods, and closed leg holes are other important aspects ensuring baby's safety.
Jogging Strollers for Mothers With Active Lifestyles
For a mother who just enjoys walking outdoors while pushing the pram, a basic design is just fine. But a mother who enjoys outdoor activities can combine her exercise regimen with a baby's time outdoors using a jogging stroller. Stability is the major concern here and manufacturers incorporate design features especially of the front wheels, allowing easy manoeuvering at road corners while keeping the weight evenly distributed. These baby strollers certainly need an effective suspension that absorbs shocks and bumps to make the ride a smooth one on every terrain. Jogger strollers have three or four wheels and options to lock the front wheels to the straight-ahead or free-to-swivel positions, allowing better handling while jogging. Adjustable handle height, adequate wheel width, and effective hand brakes are safety features found on jogging strollers, such as the Chariot CX, Baby Jogger City Mini GT, Bumbleride Indie, Mountain Buggy, and Baby Jogger Summit XC, among others.
Easy Access Storage
Keeping baby's belongings handy on long trips makes it easy for a parent to change a baby's clothes and nappies. While many strollers have bottle holders, more convenient storage options are very welcome, especially those that allow a parent to grab the required item immediately. A large enough basket that holds accessories to meet baby's needs during an outing, such as rain hoods, parent tray, zippered pockets, and mobile phone slots, make outings and trips with a baby so much easier. The Bugaboo Donkey, Uppababy Vista, and Phil and Ted's Verve are some strollers that offer ample storage. However, more add-on storage options are available at an extra cost.
Build Quality of the Stroller
Parents buying strollers must be aware that they have to remove the bassinets, make various adjustments to the seats, and fold the frames hundreds of times as the baby grows. Therefore, selecting a lightweight frame makes sense. However, the frame must be sturdy enough to prevent tipping over while ensuring a smooth ride with baby. The seat fabric must be soft and breathable, keeping the baby snug and cosy at all times. Chicco Liteway fits the bill, as do the Inglesina Zippy, the jogging stroller Britax B Nimble Runner, BOB Revolution SE Duallie stroller, and the Bebecare Reverse XLR stroller.
Stroller Accessories Useful for Parents
Finding an ideal stroller for a baby and parents is impossible, but parents can add accessories to enhance functionality and convenience. Most of these accessories are attachable and universal to any stroller brand or model.
| | | |
| --- | --- | --- |
| Accessory | Function | Brands Available |
| Additional drink holders | Accommodates bottles for baby and drinks for the parent | Valco, Britax, Prince Lionheart, Phil & Ted's |
| Heavy-duty stroller carry bag | Ideal stroller protection during long trips | Baby Jogger, Inglesina, Maclaren |
| | Easily accessible, compact bag storing baby's belongings | Britax, Munchkin |
| | A quick connection morphs stroller into a travel system, fitting into an infant car seat | Britax, Bugaboo Cameleon |
Though stroller accessories are expensive, investing in the much needed ones makes life easier. Parents may find these to be useful as the family grows.
How to Buy a Compact Stroller That Works for You on eBay
Searching for strollers on eBay is simple. Shoppers type in keywords, like "strollers" or "prams", to find various brands listed. Filters help to narrow down the listings, so selecting brand names, such as "SteelCraft" or " Mountain Buggy", makes the search engine display fewer listings. By selecting more filters, such as number of wheels, product types, colours, and condition, shoppers can find the exact product that meets their requirements.
Individual listing pages contain detailed information, images of the selected stroller, feedback and ratings, shipping information, and item location. Shoppers can buy from top-rated sellers with consistently high ratings and excellent feedback. With so many shopper-friendly features available on eBay, shoppers can certainly find a compact stroller that fits their requirements and budget.