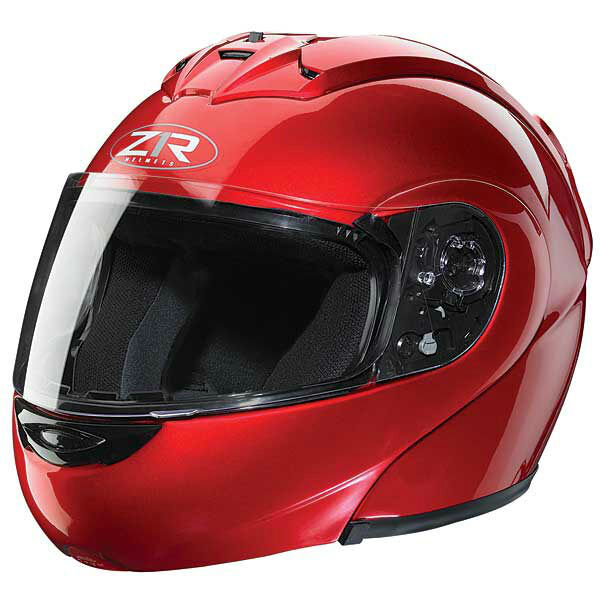 Safety should always be a driver's number one priority when out on the road, no matter if he or she is driving a large truck, a small sedan, or a motorcycle. However, when the driver is exposed, as in the case of a motorcycle driver, extra precautions should certainly be taken to ensure the driver's safety. In these cases, a full face motorcycle helmet provides a safe solution. When shopping in motorcycle stores and on eBay, any motorcyclist can find the perfect full face helmet by keeping a few choice traits in mind when it comes to protection, sizing, colours, and other options.
Eye Protection
Most full face motorcycle helmets come with a clear screen across the front of the helmet that allows a wearer to see clearly while protecting the face. Such a screen provides the best of both worlds for a motorcyclist. The fibreglass or plastic screen keeps the wind, bugs, and rain out of the driver's eyes, but it still allows him or her to see perfectly well. Both elements are equally important for safety when riding a motorcycle.
Tinted vs. Non-Tinted Eye Protection
Typically, when it comes to the clear eye protection on full face motorcycle helmets, a driver can choose between a tinted or non-tinted screen. Both types of protection offer advantages. On a tinted motorcycle helmet, the visor's screen is darkened. Other drivers cannot see into the helmet, but the driver can see everything outside. For some motorcyclists, the tinting maintains and reinforces the style and distinct sense of mystery that go hand in hand with riding a motorcycle. On a more practical note, many drivers simply prefer tinting because it does a better job of blocking sunlight.
On the other hand, a non-tinted full face motorcycle helmet allows other drivers to clearly see a driver's eyes and face. Although some drivers who are not concerned with privacy may prefer this, non-tinted helmets are typically chosen because drivers prefer a bright, clear view that is not distorted in any way by tinting. Deciding on tinted or non-tinted eye protection helps narrow the field of possibilities when choosing a helmet.
Helmet Sizing
Motorcycle drivers should always determine the proper fit for a full face helmet before attempting to purchase one. As great as a helmet can be when it comes to protecting a wearer's life, it must fit correctly to do its job. Helmets come in a number of different shapes, and determining which shape suits a particular buyer's head makes the purchasing process much easier and more effective.
| | | |
| --- | --- | --- |
| Adult Sizes | Inches | Centimetres |
| | 20 1/4 to 20 7/8 | 52 to 53 |
| S | 20 to 21 5/8 | 54 to 55 |
| M | 21 3/4 to 22 3/8 | 56 to 57 |
| L | 22 1.2 to 23 1/8 | 58 to 59 |
| XL | 23 1/4 to 24 | 60 to 61 |
| XXL | 24 1/8 to 24 7/8 | 62 to 63 |
Helmets vary in size and comfort depending on the rider. Consumers should be sure to ask the manufacturer or seller for proper sizing information before making a purchase.
Helmet Shape
The three most common helmet shapes are characterised as long oval, intermediate oval, and round oval. These different versions of ovals may seem repetitive, but they are actually based on the shape of the wearer's head when viewed from above. A long oval means that the head is much longer from the face to the back than it is from side to side. An intermediate oval means that the head is slightly longer from the face to the back. A round oval essentially means the person has a round head when viewed from above. These different shapes make a big difference when it comes to buying a full face motorcycle helmet that fits perfectly.
Colours and Reflectors
For some drivers, picking out the colour of a helmet may be one of the most fun aspects of choosing a motorcycle helmet. Full face motorcycle helmets come in a variety of colours, from simple black and white patterns to brightly coloured neon designs. Many riders often choose bright colours because they allow the wearer to stand out and be more visible on the road, especially when riding at night. A driver can also purchase a full face helmet with reflective strips or pieces attached to it. Like neon coloured helmets, reflective patches catch the light from other cars' headlights and are easy to see. Anyone else on the road can easily see the motorcyclist, and this helps prevent accidents, particularly at night and when riding in poor weather conditions.
Bluetooth Options
Although it may seem like a trivial detail, motorcycle riders who spend a great deal of time on their motorcycles benefit from having a Bluetooth option built into their helmets. A Bluetooth helmet almost always comes with a higher price tag, but answering a phone while riding a motorcycle creates a potential for danger that exceeds that of talking on the phone while driving a car. Motorcyclists do not have the option of a speakerphone, but a Bluetooth connection built right into the helmet offers the next best thing. For the motorcyclist who needs to talk on the go, a full face motorcycle helmet with Bluetooth makes a great investment.
How to Buy a Full Face Motorcycle Helmet on eBay
The search for the perfect full face motorcycle helmet begins on eBay. By using specific keywords to indicate your exact helmet interests, you can search quickly and easily from any page on the site. Be on the lookout for eBay's Top-rated sellers, who display a special insignia to identify them. The Motorbike Deals page features great deals on numerous items and sometimes includes special offers on helmets. It may be a good idea to check this section first before using the search feature. Although the diverse selection may seem initially intimidating, eBay simplifies and streamlines the buying process and makes finding the perfect full face motorcycle helmet easy.