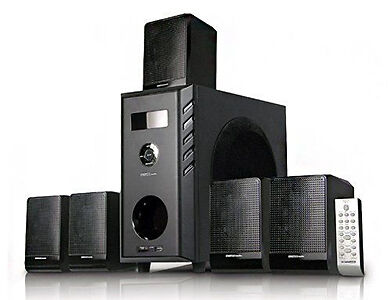 If you're planning to put together a top-notch home theatre, it's essential to invest in the necessary components for a high performance surround sound system. While many of today's big screen TVs and DVD players are being manufactured with enhanced audio elements, these typically aren't sufficient to create that highly desirable, total surround sound experience that home theatre aficionados really crave. Likewise, while basic speakers are entirely adequate for most home theatres, it's crucial to add extra components such as enhanced subwoofers and transducers if you want to create that special, almost vibratory sound system that authentically replicates a true theatre experience.
What is Surround Sound?
As the name implies, surround sound produces directional audio effects, so that the listener seems to be completely enveloped by sound coming from every direction. This auditory effect is created by installing speakers at pivotal points throughout the theatre space. For optimum effect, supplemental speakers should be installed at both sides of the room, as well as behind the audience's seating area.
High Performance Sound Systems: Essential Components
Here are some of the essential audio components you'll need for a high performance home theatre sound system.
Main Speakers
When it comes to the main front speakers, size matters if you're looking for superlative power. For optimum sound, choose large-sized, full-range floor standing speakers. These "floorstanders" will not only provide more sound; they'll also have less distortion than basic speakers with smaller monitors. In addition, larger speakers will typically offer superior integration between midrange and bass levels.
Supplemental Speakers
Back surround speakers: These help to create a surround sound effect when they're placed in the sides and back of the room. Typically, back surround speakers are smaller than the main speakers at the front of the theatre. When placed in the back of the room, they should be facing toward the projection screen or television.
Front surround speakers: There are two types of front surround speakers -- front-height and front-width. Front-height speaker should be installed between and above the two main speakers in front. This addition creates a larger, higher sound field. Front-width speakers should be placed forward on the right and left sides of the main speakers to help eliminate any gaps in the sound field.
Subwoofers, Bass Transducers
Many aficionados feel that a true surround sound experience isn't complete without low registers that are so intense, the listener can virtually "feel" them. One of the best ways to achieve this highly-desirable effect is to invest in quality subwoofers to enhance low frequencies and make them really pop. For an optimum "sound feel" experience, consider adding a bass transducer, which will amp up the bass sound so that you can actually feel the vibrations.
Amplifiers/Receivers
While an A/V receiver is sufficient for a basic home theatre system, a high-powered, dedicated amplifier/receiver is essential for replicating a true theatre sound. A quality receiver combines three components: an amplifier, a tuner, and a preamplifier (or preamp). The preamp allows you to select the content source, which can include everything from DVDs and CDs to digital TV and satellite radio. Likewise, the tuner allows you to receive everything from radio broadcasts to digital content from devices such as smartphones and computers.
Enhancing Acoustics in a Home Theatre Room
Whether you're installing your home theatre in a basement, a spare bedroom, or an extra home extension, there are a number of ways to enhance a room's basic acoustic qualities. Here are some highly effective acoustic enhancements to consider:
Acoustic curtains
Home theatre drapes or curtains can go a long way toward blocking outside noise and distractions. These are usually constructed with insulating material to filter out unwanted sound and light.
Acoustic Flooring
The right flooring materials can greatly enhance a room's acoustics, and can also help mitigate extraneous noise. Consider installing a "floating" floor system, which consists of fibreglass pads that are specially designed to absorb sound.
Acoustic Ceiling Tile
Depending on the construction of the room, it might be advantageous to add specially-designed acoustic tile to the ceiling. As with acoustic flooring, this type of tile can greatly help in focusing and enhancing the overall sound in a room.
Thanks to competitive pricing on the Internet, as well as a huge market for pre-owned and refurbished electronics, quality audio equipment is more affordable than ever before. With so many great deals out there, it's well worth spending the extra money to enhance your home theatre with a high-tech, high-performance audio system.