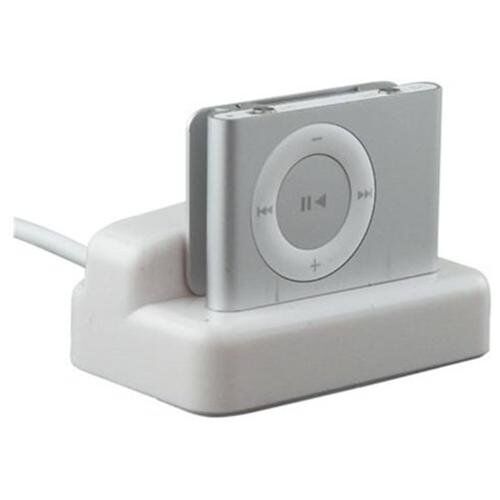 Apple iPods are some of the most technological advantageous pieces of audio equipment currently available. They are largely used as a mobile device, but they can also be plugged into a power source. As such, iPods have just as much use in the home when placed into a correctly fitted audio dock. Speaker docks come in all different shapes and sizes, and place an entire music library at someone's fingertips.
Audio docks can be an expensive investment, so shoppers need to ensure that they get value for money. When looking for the best of the best in the world of speaker docks, shoppers should take a look at eBay's dedicated deals section.
What Is an iPod Audio Dock?
iPod audio docks are a multifunctional piece of equipment that allows music to play through a set of speakers, whilst also charging the device at the same time. There are many variations that a shopper must consider, such as size, unit design, style, and many other specialist features and specifications.

The original iPod audio dock was created and distributed by Apple back in 2006, but was discontinued due to a poor customer reception. Since the end of the original Apple version, third-party manufacturers have continued to push the accessory with varying degrees of success.
Types of iPod Audio Dock
When looking to buy an iPod speaker dock shoppers will need to choose a model that falls into one of the following categories:
| | |
| --- | --- |
| Type | Description |
| Portable | Perfect for partygoers and those who are regularly on the move. They are lightweight, come with rechargeable batteries and can be used anywhere. Portable audio docks are affordable and can be lightweight. |
| Stereo System | A little on the large side and robust by nature, stereo system iPod docks produce the highest quality sound. They are meant to remain stationary and moving them often puts them at risk of damage. They are premier choice for volume and audio power. |
| Alarm Clock | The most basic form of iPod dock, as its primary use is as a clock. It can play music and be used as a wakeup call, but sound quality isn't a prominent feature. |
Picking the right iPod dock comes down to what the user requires from it and how it will be used. Music lovers will look for something that has unrivalled sound quality rather than something that can be regularly moved around. However, those on the go will look for mobility over functionality. It is up to the user to decide whether they are passionate about music or just a casual listener.
Sound Quality and Frequency
The key element of most audio docks is their sound quality and the volume that they can deliver. In fact, the biggest questions, with regards to quality, all centre on the frequency that a unit can deliver. The frequencies used by audio docks will be one of the following:
| | |
| --- | --- |
| Frequency | Description |
| Low | Anything that falls below 10,000mhz is considered low frequency. Low frequency waves are typically found in alarm clock docks. Poor quality, but perfect for those who want to listen to music on a budget. |
| High | 20,000mhz or more is considered to be high frequency. It delivers the best sound quality capturing even the most minor details in audio. Expect songs to sound crisp and sharp when played through a dock that has high frequency speakers built in. |
Connectivity
iPod docking station connectivity differs from model to model and there isn't a single one-size-fits-all option. The following table looks at all the connection and input options currently available.
| | |
| --- | --- |
| Connection | Description |
| Auxiliary Port | Auxiliary ports are the most versatile form of input, as they aren't iPod exclusive. Considered a universal option that allows users to connect everything from TVs and laptops to a docking station. |
| Bluetooth | For those who wish to stream music and cut out the need for wires, Bluetooth is the best choice. It is another universal option that works with any device that has Bluetooth functionality. |
| Air Play | Similar to Bluetooth, in the sense that it allows for music to be streamed wirelessly. It is an Apple-designed feature that has increased iPod usability, but is only available on Apple devices. |
| Wi-Fi | An internet based variation for streaming; it means an iPod with web features can connect to a docking station wirelessly. Allows for streaming of music at long distance, but it can disrupted when used on a slow or weak connection. |
Brands
As Apple products like the iPod continue to reach new heights of popularity, the third-party accessories market continues to grow too. This means there is now no shortage of brands selling Apple iPod audio docks. These include:
· Bose
· Atec Lansing
· Bowers and Wilkins
· Logitech
· JBL
· iLuv
· Klipsch
· Sony
· Panasonic
· iHome
· Soundfreaq
· Gilkins
The above brands currently lead the way in terms of model variety and quality. Take the time to look at what they have to offer whilst also considering price points and features when making a final decision.
Weight and Design
Aesthetics may not be the first thing to look at when buying an audio dock, but they are undoubtedly important. In terms of weight, they can be as heavy as thirty pounds, which is perfect for home use but totally unsuitable for someone who is looking to regularly move the unit. For the style conscious it may be important to get a dock that is the same colour as a room's décor or the actual iPod itself. Weight and design can relate to quality and portability, thus need to be taken into consideration before committing to a purchase.
Battery Life
The large majority of iPod docks run off mains power, but there may be times when the dock is needed for use in an environment that doesn't have a socket. In such places batteries are required, and a few iPod docks even have an in-built rechargeable battery. Remember that every form of rechargeable battery (in-built or external) has a life that can be measured in mAh; the higher the number the more life the user will get in a single charge.
How to Buy an Apple iPod Audio Dock on eBay
They stand at the forefront of home and portable audio technology and are a must-have for all iPod owners, but finding the right iPod dock can be tricky. Thankfully, eBay has made sure that this once tough task needn't be that way again. Start on eBay's homepage and select the electronics portal from the categories on the left of the page. Then select the MP3 player accessories and audio docks/mini-speakers sub-portals.
If you're on the hunt for a specific brand or model of dock, try using the keyword search bar and advanced search options. To get more hints and tips on how to find items of interest on eBay take a quick look at the eBay search tips page.
Conclusion
The effectiveness of an iPod dock will always come down to how it is used. Those who want portability may not necessarily need a powerful unit that can deliver a high volume, while some may want the opposite if something stationary for the home is needed. This guide has detailed everything including, style, designs, brands and connections to make sure that shoppers get the right dock for their iPod.
eBay has become one of the leading places to buy audio accessories, and the best place to find Apple iPod docks of all varieties.