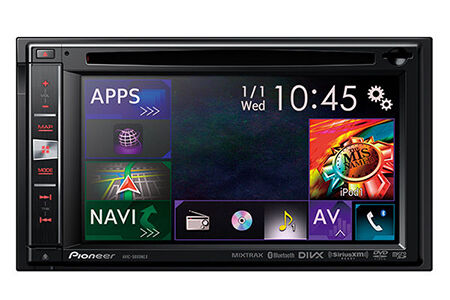 With a wide range of integrated features and audio capabilities, today's in-dash navigation receivers are for more than just GPS navigation. In fact, the best receivers allow drivers to navigate complicated routes, listen to music, use the phone, and even find nearby attractions, all with the touch of a button. This guide will help buyers sort through all the options in online stores and find the best receiver system for them.
Dash Opening Sizes and Screen Resolution
All modern car stereo systems and navigation receivers are sized according to a single international standard to ensure cross-compatibility between cars. Most navigation receivers come in both single-DIN and double-DIN sizes while often maintaining the same features between them.
Single-DIN
This refers to a standard 5.08x17.78cm (2x7-inch) dashboard opening. Due to their smaller size, single-DIN navigation systems often consist of a flip-up screen. When choosing between single-DIN receivers, buyers should ensure that the flip-up screen doesn't interfere with other dashboard features such as temperature controls and air conditioning vents.
Double-DIN
This refers to a standard 10.16x17.78cm dashboard opening. Exactly twice the size of single-DIN units, the larger size of double-DIN navigation systems usually allow for the entire screen to fit the dashboard without obstructing other features and controls.
Screen Resolution
Screen resolution is another important consideration. While some screens are larger than others, choosing a large screen with a high resolution ensures that navigation displays and maps are clear, sharp, and easy to read. Buyers should compare between systems and find the screen size and resolution that works best for both their needs and their car.
Navigation Features
The latest navigation receivers can give directions, manage multiple stops, find nearby attractions such as filling stations, and even calculate the fastest routes while taking into account real-time traffic data like speed limits.
Managing Destinations
Most navigation receivers are capable of managing multiple destinations or multiple stops along the same route. A majority of units also support favourite destinations, destination history, and a configurable "home" option, saving drivers the hassle of manually entering street addresses.
Map Updates
One of the benefits of individually purchasing navigation receivers is that their map databases tend to be more up-to-date than those automatically installed by car manufacturers. However, all map databases will require regular updates - usually no more than one every year - as cities and roads change over time.
Most map updates are available from the manufacturer or map provider. Updates can be performed though DVD-ROM, an SD card, or a hard drive, depending on the specific type of navigation receiver. Updates via hard drive often require an Internet connection to download.
Audio and Wireless Capabilities
With wireless capabilities such as Bluetooth, most drivers can connect their smartphones and tablets to allow for even more features. Apart from hands-free calling and music streaming, many receivers also feature an "app mode" that allows drivers to display and use certain smartphone apps through the receiver's touchscreen display.
Most receivers also feature complete audio controls such as play/pause, fast forward/rewind, previous/next, and volume. Smartphones and tablets with Internet radio services such as Pandora can also stream these services through many receivers.
Other audio capabilities include sound enhancement suites boasting preamp outputs for subwoofers and amplifiers, sound equalisers, and even built-in time correction to ensure all passengers hear the same sounds at the same time.
Integrated Features
Outside of basic navigation and audio, receivers can come equipped with a number of other features such as:
Customisable Display and Colours
Many receivers have a fully-customisable graphical user interface (GUI), allowing drivers to tailor displays and layouts to their individual needs. Adjustable colours also help match the display to the car's dashboard lights.
Voice Commands and Spoken Directions
Voice-activated receivers offer hands-free navigation by allowing drivers to enter destinations vocally while the navigation system provides vocalised directions. Many systems will also automatically lower music volume whenever they announce a new direction.
Vehicle Movement Sensors
Internal gyroscopes and speed sensors track car movements to provide more accurate car positioning on the digital map.
GPS Antenna
Navigation receivers use an integrated antenna to collect positioning information from at least four GPS satellites.
Installation
Since almost all in-dash navigation receivers come in one of only two sizes, installation is usually straightforward and simple. However, depending on the car's preexisting stereo or navigational system, special mounting brackets, adapters, and cables may be necessary. Buyers should check the manufacturer's recommendations and consider hiring a professional if they encounter any uncertainties.