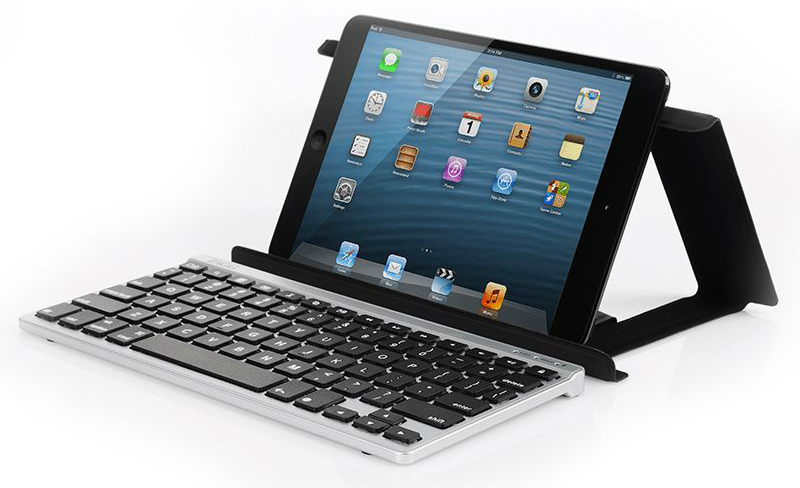 iPads are convenient electronic devices for accessing the Internet, communicating and getting work done on-the-go, and there are many useful accessories created to be used in tandem with them. One of the best and most convenient accessories is the iPad keyboard, which makes typing on the device easier. Learn more about how to choose the right iPad keyboard by looking at the list of important buying considerations below.
Purpose
Some iPad keyboards function simply as a keyboard that accompanies the iPad and can be removed while others double as protective cases that are always kept on the iPad. Users should think about how frequently they will use the keyboard. Those who use the keyboard regularly might want to consider choosing a keyboard that also functions as a case or cover so that it will always be on-hand.
Size
iPad keyboards differ from one another in size. Some iPad keyboards are smaller than than the average desktop computer keyboard and are meant to increase the convenience factor of the keyboard by making it more portable. On the other hand, some small iPad keyboards may be difficult for users to use, and thus, those users should opt for a full-size keyboard that mimics a PC keyboard.
Key Design
There are many designs of iPad keyboards, and they also vary from one another based on the actual feel of the keys. Some iPad keyboard keys are slightly concave in feel, like those of an old-fashioned PC or laptop. Others are completely flat like modern, updated keyboards. Users should choose the most comfortable key design for them, and the one which makes it easiest for them to type.
Connection Type
Some keyboards connect to an iPad with a wire, while others connect wirelessly via bluetooth technology. Wireless keyboards offer a greater range of movement and freedom, but they do not provide the same support or stability for an iPad that wired keyboards usually offer.
Keys Included
Most iPad keyboards include the complete alphabet in a QWERTY arrangement. However, keyboards differ from one another based on whether they include more characters than the alphabet, like a large selection of punctuation marks or numbers. Shoppers should select a keyboard that includes all of the keys they will need to use on a regular basis.
Power Method
Some iPad keyboards get their power from batteries that can be inserted and replaced, and some are rechargeable. Others simply plug into the iPad and get power from the device. Choose the keyboard that is powered by the source that is most convenient.
Price
Keyboards for iPads come in a range of prices. The price of the keyboard often indicates the amount of features it has, as well as its durability. Shoppers should select a keyboard in a price range that fits in their budget, as well as one whose quality meets the standards they are looking for.