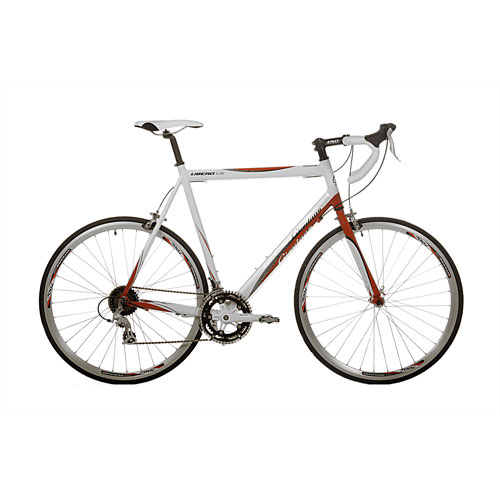 Road biking is one of the most popular bicycle-related pursuits. People engaged in road biking can be involved in competitive racing, bicycling for work reasons, or simply biking for recreational benefits. Unlike other bikes, like mountain bikes, which are developed for a specific terrain, road bikes should be able to adapt to a wide range of road surfaces and situations, like climbing and turning. Although the health benefits of road biking are numerous, buyers must make sure they choose a road bike frame that is the correct size for their height. If buyers do not have the right size, they can experience injuries from the repetitive motions they must make to complete a cycling wheel revolution. Road bikes can be purchased at local sporting goods and cycling specialty shops and online at websites like eBay. Before purchasing a road bike frame, buyers should understand how road bike frames are constructed and how to choose the correct size frame to make sure they choose the best frame for their cycling activities.
Road Bike Frame Construction
A road bike frame consists of tubes that are fitted together to fashion a stable base. This base must support a rider well and attaches to bike tyres and handlebars. The seat tube of a road bike is placed directly under a rider and supports a bike's seat or saddle. At the bottom of a seat tube, there is a bracket that can accommodate the bike's pedals. Extending forward from the pedal bracket and angling upward is a road bike's down tube. The down tube connects to a short head tube, which is the base for a bike's handlebars. The top tube, which runs between the head tube and the top of the seat tube in men's road bikes, provides upper support for a road bike frame. In women's bikes, the top tube is often angled downward and connects to the middle of the seat tube. From the back of the seat tube, a slender tube, called a seat stay, angles downward towards the centre of a bike's rear tyre. Lastly, a chain stay stretches from the centre of the rear tyre to the bike's bottom pedal bracket, completing the road bike frame.
Road Bike Frame Geometry
Different types of road bikes require bike manufacturers to change the placement or angles of a frame's tubes slightly, altering the geometry of a frame's construction. These changes provide riders with certain benefits depending on the type of road biking they pursue.
Road Bike Frame Geometry

Description

Recreational geometry

Seat tube of a frame is more upright, allowing users to ride their bikes longer distances without fatigue

Performance geometry

Seat tube of a bike frame is angled backward for performance or race riding, causing users to lean forward

Lower positioning of a user's upper body increases a road bike's aerodynamics for faster race times
Unfortunately for buyers, road bike frame manufacturers rarely describe outright whether the bike frames they produce contain recreational or performance geometry. Buyers must, therefore, look for angle specifications to determine the positioning of a frame's seat tube. A 72 degree angle of a seat tube is usually reserved for a recreational-style road bike, while a performance style road bike has an angle that can reach up to 78 degrees.
Choosing the Correct Road Bike Frame Size
It is frequently confusing for road bike riders to choose the correct frame size because of the different methods that bike manufacturers use to label their frame sizes. Bike frames are generally produced with six size options for men and four size options for women. Sizes can be labelled using the actual centimetre length of a seat tube or a vaguer, word-based sizing label like extra small, small, medium, large, and so on. Since finding the correct size bike relies on matching a biker's height and leg length to a bike frame's dimensions, buyers should measure the tubes of any bike offering that does not explicitly list the length of its tubes. Buyers can often find tube lengths listed in a bike frame's owner's manual if they do not have access to the actual bike to take measurements.
Take Accurate Body Measurements
An important step in establishing the correct road bike frame size is taking accurate height and inside leg measurements of a rider. It is easiest to take these measurements with a helper, so bike riders should ask a friend or family member for assistance when taking measurements. Riders should be shoeless when being measured for the most accurate results. To learn a rider's height, the rider should stand with his or her back and shoulders against a wall. The helper can use a ruler placed horizontally on a rider's head to mark a spot on the wall in pencil that corresponds to the rider's height. Next, the rider can move away from the wall and measure the height of the mark with a tape measure.
To measure the inside leg, a rider should stand up straight as a helper uses a tape measure to determine the rider's inside leg length. The inside leg stretches from the bottom of a rider's foot to the top of his or her inner thigh.
Compare Measurement to Road Bike Frame Size Charts
Once riders have their measurements, they can apply the measurements to sizing charts. Since men's and women's road bikes are slightly different, riders should remember to use a chart that is appropriate for their genders.
| | | | |
| --- | --- | --- | --- |
| Men's Height (cm) | Inside Leg Measurement (cm) | Size of Road Bike Frame (cm) | Top Tube Length (cm) |
| | 65 - 68.5 | 46 - 48 | 49 - 50 |
| 152.5 - 160 | 67 - 71 | 48 - 50 | 50 - 51.5 |
| 157.5 - 165 | 70 - 73.5 | 50 - 52 | 51.5 - 53 |
| 162.5 - 170 | 72.5 - 76 | 52 - 54 | 53 - 54.5 |
| 167.5 - 175 | 75 - 79 | 54 - 56 | 54.5 - 56 |
| 172.5 - 180 | 77.5 - 81 | 56 - 58 | 56 - 57.5 |
| 177.5 - 185 | 80 - 84 | 58 - 60 | 57.5 - 59 |
| 182.5 - 190 | 82.5 - 86.5 | 60 - 62 | 59 - 60 |
As expected, men's measurements are slightly larger than women's measurements. The following chart details women's road bike frame measurements.
| | | | |
| --- | --- | --- | --- |
| Women's Height (cm) | Inside Leg Measurement (cm) | Size of Road Bike Frame (cm) | Top Tube Length (cm) |
| | 61 - 65 | 44 - 46 | 50 - 52.5 |
| 155 - 160 | 63.5 - 67.5 | 47 - 49 | 52.5 - 54 |
| 160 - 173 | 66 - 70 | 50 - 55 | 54 - 54.5 |
| 173 - 178 | 68.5 - 72.5 | 56 - 57 | 54.5 - 57 |
If riders find that their height measurements do not correspond on a chart to their inside leg measurements, they should choose a bike frame based on their inside leg measurements. This allows riders with short or long legs to choose a bike frame that is appropriate for their pedalling movements.
Buying Road Bike Frames on eBay
eBay is a great resource for biking enthusiasts looking for road bike frames that can match a rider's size perfectly. On eBay, men and women riders can find new or used bike frames so they can build a new road bike or repair an old bike that has sustained some damage or wear. Buyers can also check eBay Deals' Sports Equipment marketplace for road bike frames at discounted prices. Because it is essential that buyers know the size dimensions of a bike frame, they should read the information that sellers provide within a road bike product listing to find the exact measurements of a bike frame and its individual tubes. If the information is not provided, buyers should contact an eBay seller directly to request the measurement information. This ensures that buyers receive the correct road bike frame and pursue their sport without the threat of injury.
Conclusion
Regardless of their motivation, all road bike riders benefit from using a bike frame that is the appropriate size for a rider's body. If riders do not have the correct size frame, they can experience injuries and a lack of proper control. Knowing how a road bike frame is constructed aids buyers, particularly when they need to measure certain bike frame tubes to determine a frame's fit. Since there are two types of road bike frame geometries that are designed depending on the performance requirements of a bike, buyers should know how to distinguish the two types of bike frames from each other before shopping. Buyers should also know how to take their measurements and use size comparison charts to choose the correct size frame. Once buyers have determined the type and size of frame they need, they can visit eBay to find an array of bike frame models that can match a rider's particular needs.