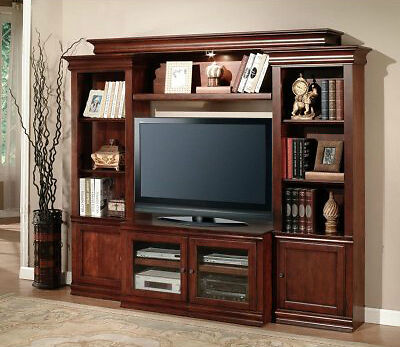 As home entertainment options continue to evolve, the choice of how to position them in a lounge gets more complicated. However, with a little bit of research, shoppers can find something that accommodates all pieces of equipment whilst fitting seamlessly into a living room's décor. This guide will look at all the variables that shoppers should be considering when looking for an entertainment unit.
For all home entertainment needs shoppers should check out the dedicated deals section on eBay, the world's leading online marketplace.
Measurements
Before buying an entertainment unit it is important to get out a tape measure and take some measurements. Try to understand where exactly in the room the unit is going to be placed, and take accurate measurements of the area in question. Remember to take doorways into consideration when contemplating where to position an entertainment unit.
What Goes into an Entertainment Unit?
Once the position of an entertainment unit has been decided upon, it will be time to look at the equipment that will be placed into it. Common elements of an entertainment centre include DVD players, DVRs, stereo systems, TVs and games consoles. It doesn't matter what you plan on including in the entertainment unit, as long as it's measured beforehand to make sure it fits. Always allow room for all eventualities, including technology upgrades and additional equipment.
Design
After getting the correct measurements and understanding what space you have to work with. Start to think about what style of entertainment unit would be suitable. Think about the design closely and see what will suit the room's décor. The range of designs go from traditional to contemporary, but in most instances people will want something that looks sleek and doesn't steal focus.
Style
There isn't a standardised option for a home entertainment unit, which means there are a variety of styles to choose from. When on eBay's dedicated home furniture section, shoppers will find entertainment units listed under the following terms:
· Amazon
· Felix
· Tetris
· Toorak
· Bega
· Torquay
· Sirocco
· Koli
· Louis
· Fantasy
· Claremont
· Preston
· Everett
Every style has different features, whether that is in terms of compartments or finish. Explore them all and see what suits your home entertainment options best. Don't buy an entertainment unit unless you are fully satisfied that it meets all your home entertainment requirements.
Modifications
It is easy to be convinced that an entertainment unit is standardised, but modifications can actually be made to improve its appearance. Remember that items such as handles and knobs can easily be replaced. Those who have a wooden or metal entertainment unit should be aware that a re-spray is also never out of the question. Head on over to eBay's arts and crafts section to see how you can add a personal touch to a new or old entertainment unit.
Build Quality
An entertainment unit is a long-standing piece of furniture that once set-up should last several years or more. This means that shoppers should be looking at the quality of material used. In most instances an entertainment unit will be made out of wood. Those looking for a low-cost and mobile option should be on the lookout for something made of either a Sauder or pressed wood. The problem with these woods is that even though they can be longstanding, their durability will be called into question over an extended period of time.
Those who want something that can endure heavy use should look for something made of a solid wood or veneer. It is impossible to get around the fact that such materials are expensive, but they do provide a higher quality product. These types of entertainment units are easy to repair, but weigh much more than their metal and light wood counterparts.
Pre-Assembled or Flat Pack
It is obvious that most people will want an entertainment unit that comes preassembled. Those who choose this option should be prepared for the added expense and hefty delivery charges. To save money, shoppers can look towards flat pack and ready-to-assemble options. They can be a hassle to put together, but the added effort in constructing one makes them cost effective. Before setting one up, always consider the following:
· Always assemble the entertainment unit in the room in which it is intended to be in.
· Don't start building one without having the right tools at hand.
· Never force parts into place or over tighten screws.
· Large entertainment units are hard to move, so be sure to position it correctly the first time round.
· Keep it away from doorways and windows.
· Use the manufacturer's instructions that are included as a guide in order to get the best results.
· Avoid using third-party screws and glue during the construction process.
Buying Used
Buying new is obviously the preferred choice when it comes to an entertainment unit. However, it isn't the most affordable option and there is a more economical choice out there. Buying used should be considered an alternate way of getting a high quality item, but is far from a foolproof way of shopping. Shoppers should be attentive and diligent when searching through used item listings. Question the seller with any concerns you may have, in order to make sure that the product you're getting is what is actually being sold.
· How old is the entertainment unit?
· How often has the entertainment unit been used?
· Has the entertainment unit been subject to any repairs?
· Will the entertainment unit come disassembled or pre-assembled?
· Does the entertainment unit come complete with all its original parts?
· Is the entertainment unit still under the manufacturer's warranty?
· What delivery options do you offer?
How to Buy an Entertainment Unit on eBay
Purchasing an entertainment unit isn't easy and can be a stressful process if approached incorrectly. To ensure that you get the best possible deal on a high quality unit choose to buy from eBay. Start browsing what the market leader in home furniture has on offer by selecting the home and garden category when on the homepage. Click on furniture and entertainment units, TV stands to make the listing results more specific.
If shoppers want something specialist and know the name of the entertainment unit they're after, they can effectively use the website's search options to find it. To get more information on eBay's search options and how to use them correctly, take a look at the search tipspage.
Buyers should always pay for entertainment accessories and furniture with PayPal. Doing this guarantees that the buyer protection program covers the transaction should anything go wrong. Additionally, you can learn more about how eBay and PayPal goes about protecting shoppers by looking at the buyer protection page.
Conclusion
Owning top of the line entertainment equipment such as a HDTV or Blu-ray player is all for nothing if it isn't stored and displayed correctly. The premier way to go about getting the best out of entertainment consoles is to place them in a suitable entertainment unit. There is no shortage of options to choose from and this guide makes finding one simple.
In days gone by shoppers would have bought an entertainment unit from a high street store, and usually at an inflated price. Thanks to eBay this need not be the case again, and the right entertainment unit is never any more than a few clicks away.