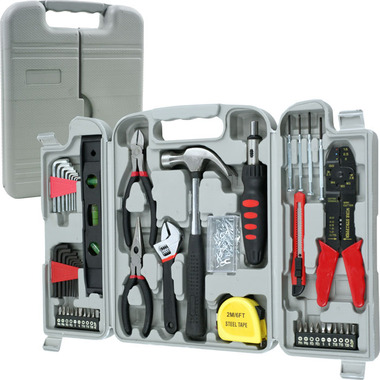 Every home needs a tool box equipped with hand tools for simple household repairs. It is very useful to have a handy tool box that contains hand tools typically needed around the house. In fact, some homeowners have several. They might have another more extensively equipped with specialized tools, such as those for automotive work or woodworking.
Before setting out to purchase hand tools, a bit of research is in order. Tools are relatively expensive, and purchasing only necessary ones allows buyers to stick to a reasonable budget. Buyers should first consider the size, composition, and material of their tool box to see what is appropriate for them. Then, they should learn about the features of the most useful household tools and their uses to help in choosing the right hand tools. Homeowners cannot go wrong with a well-equipped tool box.
The Tool Box
The tool box itself is a very important part of the homeowner's toolkit. There are many types and varieties ranging from the very small to the very large. They can be found made of metal, plastic, or many other materials such as wood. Some are made of flexible material like rip-stop fabric and are quite handy for storing a small number of hand tools. They are popular with those who like to keep their tools under the sink or in other tight places. Their small compact size makes them easy to move about from room to room and require very little room to store.
The Tools
Unless one wants a large toolbox hanging around in his or her home, the number of tools must be limited to those necessary to accomplish most household tasks like fixing a leaky faucet or installing a light switch. Typically, home toolkits include a small hammer for hanging pictures or the like, a pair of pliers, and several screwdrivers of various types, including flathead and Phillips. Other useful items include a small battery powered multimeter capable of checking continuity, voltage, and amperage; this should only be included if the homeowner is comfortable checking electrical access points.
Aside from these key elements, a roll of black electrical tape, a few zip ties, and a few assorted screws, nuts, bolts, and nails are also handy to have. A small, cordless, rechargeable drill gun can also be extremely useful in many different situations. The screw gun, sometimes referred to as a cordless drill can substitute for the screwdriver in many instances. A screwdriver is necessary to get into tight spots where the cordless cannot fit.
Hammer
One of the handiest tools in the kit is the hammer. A small inexpensive hammer is normally adequate. It can be used to hang the occasional portrait, straighten a bent nail, or tap a wrench to loosen a stubborn nut. Hammers come in many styles and fashions, some with specialised purposes. A common wood handle hammer suffices for most household tasks. Buyers should choose one that is likely to meet his or her needs but not specialised to a specific task as versatility is an important feature.
Pliers
Pliers also come in many different styles and shapes. Some lock, others are adjustable, and some are for specialised purposes. A sturdy pair of adjustable pliers is a good selection for a home toolkit as it is useful for a wider variety of tasks. There are even self-adjusting pliers on the market, which are very handy when homeowners need a tool that can work with both small and large items.
Also, if the homeowner does electrical work, a set of wire cutters should be included. And certain pliers, although intended for general use, have special accommodations for bending household electrical wire. This type of wire is extremely stiff and must be bent in a very tight curl to wrap effectively around a screw and ensure an adequate electrical connection. If this is a task the homeowner is likely to perform by the homeowner, care should be taken to ensure that the pliers purchased are so equipped.
Screwdrivers
Like screws, screwdrivers come in many shapes and sizes. A good way to go is to buy a set of screwdrivers with a variety of sizes and types. Screwdrivers with interchangeable tips are also popular and useful. These screwdrivers can accommodate a variety of tips that affix magnetically to the receiver at the end of the screwdriver shaft. This is a great way to keep your toolkit down to a manageable size. This one tool can take the place of many different screwdrivers while using only a fraction of the space.
Multimeter
Though not technically a hand tool by definition, one of the handiest tools is the battery operated multimeter. Electrical issues occasionally pop up, and when they do, as long as the homeowner has a basic understanding of the principles of electrical wiring, the multimeter can be very helpful in diagnosing problems. The cost of multimeters varies and can run relatively cheap to upwards of hundreds of dollars. For home use, a homeowner can normally get by with one of the less expensive models. Just ensure that the meter can measure voltage, amperage, resistance, and continuity.
Miscellany
Inevitably, the homeowner's toolkit often becomes populated with miscellaneous nuts, bolts, screws, tape, and other fasteners and ties. To get started, there are small kits of common fasteners available. As these are depleted, the box can be replenished with more items. This is a great way to keep these small items organized and confined; otherwise, they get mixed up with other items and often end up getting lost. Moreover, these small kits are available in a variety of themes. Kits with nails, thumbtacks, wire, and other hardware for hanging pictures are common. Having several of these small kits helps solve common household problems.
How to Buy Hand Tools on eBay
Once you have decided to get a home tool kit, there is no better place to do so than eBay. You can get start from the main page or any page and enter keywords into the search bar. Keywords like "tools" or "hand tools" can get you started. If you want to purchase specific tools, use specific keywords, such as "hammer" or "pliers". Perform the search to see either a general listing of relevant items or more specific listings depending on your keywords. Browse through the listings and check each individual listings page for more information on the item, and also be sure to look at feedback on the seller. When you are ready to buy, eBay provides a variety of payment options. Most major credit cards as well as PayPal and other options are available.
Conclusion
Putting together a practical and useful tool box need not be a difficult task. In fact, a homeowner can buy one that is already complete if he or she wishes. It is really just a matter of personal preference how one proceeds. The ready-made kits are usually pretty well-equipped, but if one prefers to make his or her own selections, buying a box and picking out the tools piecemeal is the way to go.
Either way, buyers should ensure that their kit includes a good hammer, a versatile set of pliers, various screwdrivers or a screwdriver with interchangeable tips, and a multimeter if that is something that the homeowner is comfortable using. Having an adequate toolkit at home is practical and economical. Imagine the nightmare of having to call in a technician every time a small household issue arises. The well-equipped toolkit pays for itself many times over.
Hand Tool|Tool|Screwdriver|Plier|Hammer