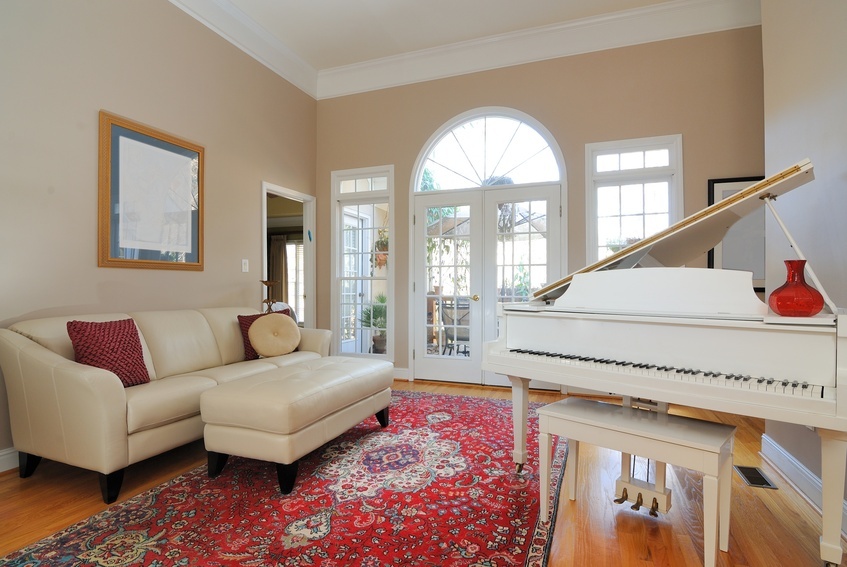 Persian rug owners have a delicate task on hand when attempting to clean their carpets at home. A common piece of art and home decor, these rugs are vulnerable to harmful elements just as much as other rugs are. Follow specific instructions to properly care for these gentle-natured items. If cleaned correctly, most Persian rugs can maintain a healthy look and structure for many years. But first, owners must understand the different cleaning solutions and methods for washing and drying their rugs.
The Persian Rug
While many rugs are now machine-made, Persian rugs were originally handmade. Weavers craft them traditionally from natural materials and dyes. These precious contents make the Persian rug an item that requires special care. The natural dyes make for easy discolouration if mistreated. One must never use harsh chemicals on a Persian rug.
Cleaning a Persian Rug
It is important to maintain a dirt and stain-free rug to maintain the integrity of the piece. Inspecting it often allows the owner to catch any spills or stains that may have occurred. It is advisable to vacuum or clean a Persian rug every month or so, if not more frequently depending on use.
Preventing Damage
All rugs trap some type of dust or dirt regardless of how well tended they are. Take some preventative measures to minimise this. One recommendation is to have a shoe-free home to keep outside dirt and mud away from the rug. Vacuum often to rid the piece of daily dust and dirt. Be sure to vacuum both sides of the rug for thorough cleaning. If any spills occur, clean them immediately to prevent staining. Lastly, flip the rug occasionally to even out normal wear and tear.
Choosing a Solution
Choosing the appropriate cleaning solution to treat spills and stains depends on the density of the spilled item and the chance of stain based on its colour versus the carpet's colour. Scoop up any portion of the spill possible to prevent it from further working into the rug when cleaning.
Clean light, water-type spills using a mixture of water and vinegar for a natural cleanse. Vinegar helps preserve the rug's dyes. Thicker or darker spills benefit from the use of a light, pure dishwashing liquid or carpet cleaner. Dry, set-in stains may require dry cleaning treatment. It is advisable to have appropriate products readily available to ensure immediate treatment.
Using the least-harsh version of solvent prevents the colours in the rug from fading. Be sure to spot treat a small portion of the rug, somewhat nonvisible, to ensure the solution does not cause damage.
Washing
Always work the spill or stained area from the outside in so as not to spread it outwards. Use a clean, water-absorbent white cloth to see how much of the spill or stain the treatment removes. Spray the solution lightly onto the rug and blot the area. Do not rub, as it may affect the dyes or deepen the stain. When using a solution with soap, be sure to rinse it out thoroughly so it does not dry into the rug's dyes. If desired, wash and rinse the entire rug. Always squeeze out as much of the solution or water as possible after rinsing.
When cleaning the fringes of the carpet, use a longhaired brush to rub the solution over them and rinse when necessary. Be sure to brush away from the rug so that the fringes dry in the correct position.
Drying
It is important that the rug dry as quickly as possible to prevent damage or discolouration. Use a blow dryer or floor fan to dry it initially. When it is no longer dripping wet, hang the damp rug so both sides dry faster. Do not hang the rug when dripping, as this may cause colour runs.
Dry or Set-in Stains
If the cleaning process does not yield the stain's removal, try a dry cleaning liquid. Remember to test it on a small portion of the rug to determine its power. Use the dry cleaning solution in the same manner as explained above. If this does not work, local dry cleaners or carpet establishments may offer professional cleaning services.
How to Buy Persian Rug Cleaning Supplies on eBay
Sellers on eBay offer the necessary cleaning supplies to create the best solution for treating a Persian rug. By simply searching for dishwashing liquids or dry cleaning liquids, many safe options are available to go into creating the appropriate cleaner. Before choosing one, make sure that it is delicate enough for this process, and make sure to follow specific instructions. Consider local sellers for possible delivery or pickup options. The correct method for cleaning your Persian rug can help prolong its life and visual value.