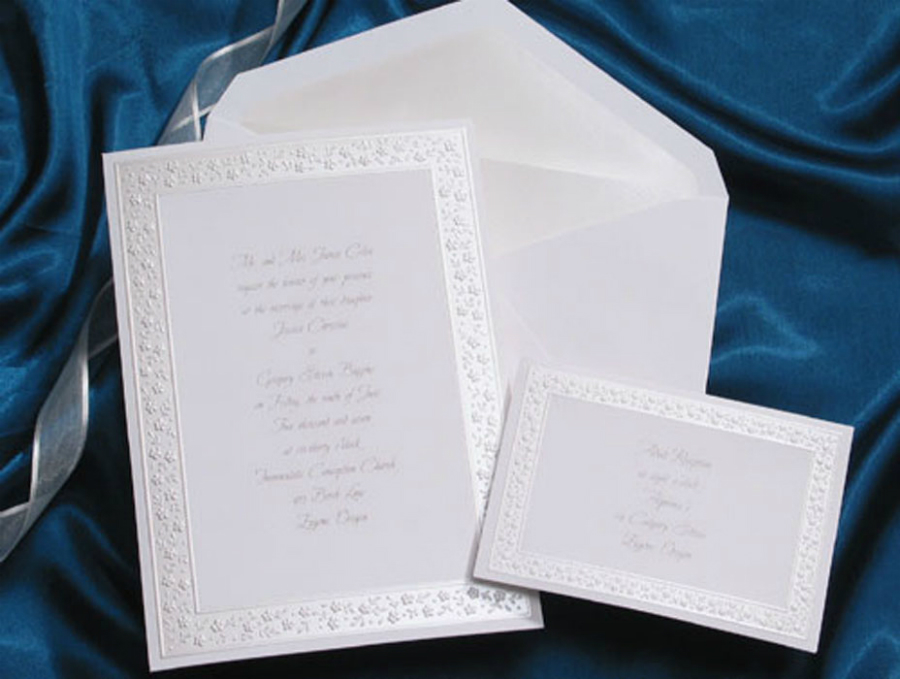 Although a marriage is one of the most joyful events in a person's life, the wedding itself can be stressful. In addition to paying for a venue, food, and flowers, the bride and groom or their families must also pay for various services and a number of wedding supplies. The invitations can be quite costly, depending on how many are needed, the quality of the stock and printing, and the style preferences of the happy couple. Some savvy shoppers minimise costs by turning to DIY wedding projects, such as making their own invitations. By learning the steps to creating homemade wedding invitations and planning ahead, men and women can do the job effectively and efficiently without feeling overburdened.
Steps to Creating Homemade Wedding Invitations
There are three basic steps in creating wedding invitations at home: preparation, purchasing, and production. Preparation includes making all of the decisions regarding the look and cost of the invitations, as well as the number needed. Purchasing equipment and supplies is next. Production is the actual process of creating the invitations.
Planning and Preparation
The preparation phase can be broken down into several smaller steps, some of which may have already been decided during the wedding planning. This is the first and most important step.
Pick a Wedding Theme
For many couples, this step is already taken care of by the time it comes down to invitations. Wedding themes are endless. Just a few of infinite examples include:
Geographical: Beach, outback
National, cultural, or ethnic: Japanese, Aboriginal
Religious: Anglican, Muslim
Pop culture: "Rocky Horror Picture Show", Disney
Historic: flapper, "Gone with the Wind"

In some cases, more than one theme may be present; there is no reason why one cannot have a Disney wedding on the beach if that is what the bride and groom want. It just might take a bit more effort to find supplies that satisfy multiple requirements. In this particular case, "The Littlest Mermaid" makes a good blend of the two concepts.

Select Related Colours and Motifs

Most couples prefer to have the invitations coordinate with the overall wedding concept. Some weddings do not have a theme per se but only a colour scheme, such as red and white. Themes, though, where they exist, often go with colours. For example, if an Irish wedding logically has a green-and-white colour scheme, a good choice for invitations would be green ink on white paper. One could use paper with a green border or even use green envelopes. While some professional printers might be able to produce green invitations with white ink, this effect would be next to impossible to produce at home.

Moreover, common Irish motifs include shamrocks, shillelaghs, leprechauns, and pots of gold. Consider working one of these shapes into the design of the invitation. For example, shamrocks could sprinkle around the border of the invitation, or there might be a pot of gold at the bottom of the invitation. Take some time to consider the chosen theme and any related colours, shapes, designs, or other elements that would enhance that theme on the invitation.

Decide on the Wording

There are many different ways to word a wedding invitation. Tradition states that the people who pay for the wedding, such as the bride's or groom's parents, are the ones who should "write" the invitation on behalf of the couple. However, some modern couples eschew this rule; just be sure to check first with the people who are paying as a matter of etiquette. Some people feel that if they pay for the wedding, they should be acknowledged on the invitation.

As to specific wording, one can find examples of wedding invitations by doing an Internet search. Image searches are helpful for both wording and design ideas. There are also plenty of books that address making wedding invitations at home. While it may be tempting to jazz up the conservative language, it is best to avoid that temptation; what seems fun or hip now may become an embarrassment years from now.

Purchasing Equipment and Supplies for Homemade Invitations

Making wedding invitations requires certain equipment and supplies. Now, it is time to buy everything needed to make those invitations. Using the guest list, estimate the number of invitations needed and add at least 10 to that number to cover misprints or other mishaps. Keep in mind that each family or couple needs only one invitation each. The following chart lists the common parts of an invitation and what each is for.

| | |
| --- | --- |
| Invitation Part | Description |
| Invitation | The formal call to attend the wedding celebration |
| Reception enclosure | An invitation to the reception if held at a separate venue from the wedding |
| Response enclosure with envelope | The RSVP card and a return envelope with stamp |
| Accommodations insert | Details on nearby accommodations and any special pricing available |
| Map with directions | How to get to the ceremony and reception from various directions |
| Outer envelope | Mailing envelope into which inner envelope is placed |
| Inner envelope | Contains all pieces of the invitation and is addressed to the attendee(s) by first name |

Not all of these parts apply to every wedding, so the fewer pieces needed, the simpler and cheaper the process. Finally, decide which are needed and purchase the appropriate sheets of paper or cardstock and envelopes. Very often, the stationery comes in an invitation kit that includes instructions on how to configure printer settings. If not, whoever is in charge of making the invitations may need to perform several test runs on scrap paper before starting with the good stationery.

Many senders of invitations use decorative seals on the outer envelopes. Additionally, embellishments such as ribbons, crystals, and so forth are possible additions to an invitation. If a kit is not used, be sure to list any extras on the shopping list so that nothing is forgotten. Lastly, in order to make high-quality wedding invitations, a well-functioning inkjet printer or laser printer is mandatory. Unless you are printing in black ink, you need a printer that produces colour output as well.

Producing the Invitations

When producing the invitations, it is vital to set aside a block of time during which the people involved are not going to be rushed or stressed. It may take two to four hours, depending on how many invitations are needed. Taking time is another crucial element in making good-looking wedding invitations. Make sure everybody working on the project has clean hands and an upbeat attitude. This task can even be turned into a small party with close friends.

First, lay out all of the supplies and test the equipment. Then, print one piece at a time and arrange them in stacks. Finally, set up an assembly line to put all of the parts together. Be sure to keep the invitee list nearby and check off each one as it is finished. Hold off on the food and beverages until the procedure is complete.

Where to Find Supplies for Homemade Wedding Invitations

You can find the supplies needed to make homemade wedding invitations at a number of art, craft, and stationery shops. Discount and bargain stores are additional resources for invitation supplies. Several Internet sites also sell invitation supplies.

How to Buy Supplies for Wedding Invitations on eBay

If you are looking to simplify the wedding invitation-making process, you can easily purchase everything you need on eBay and have it shipped right to your door, thereby eliminating the time-consuming, sometimes stressful step of shopping outside the home. A fast and easy keyword search function lets you type in a word or phrase, such as "wedding invitation supplies" and then directs you to all related merchandise.

You might also choose to shop for invitation equipment and supplies through the eBay directory. Either way, eBay provides helpful features along the way, such as clickable category filters, sort functions, and a price slider. You can perform additional keyword searches to narrow down the results even further. You may also find eBay buying guides helpful, particularly those related to wedding supplies. Be sure to check out deals on printers as well.

Conclusion

The phrase "homemade wedding invitations" might create mental images of a tacky-looking handwritten note that has been reproduced on a photocopier at the public library. There is no need to worry; it is possible to make invitations that are almost indistinguishable from store-bought versions. With home printer technology and the availability of various professional-grade supplies, it is possible to make lovely, classy invitations at home.

Proper planning and preparation are essential to making beautiful wedding invitations as well as, purchasing the necessary equipment and supplies. Arranging a time to carry out the process of making the invitations is the final step. By following these tips, a couple can save money, have fun, and use creative expression as an outlet for nerves they may feel about the upcoming wedding.

Homemade Wedding Invitations|Wedding Invitations|Homemade Invitations|Invitation Supplies|Invitation Kits