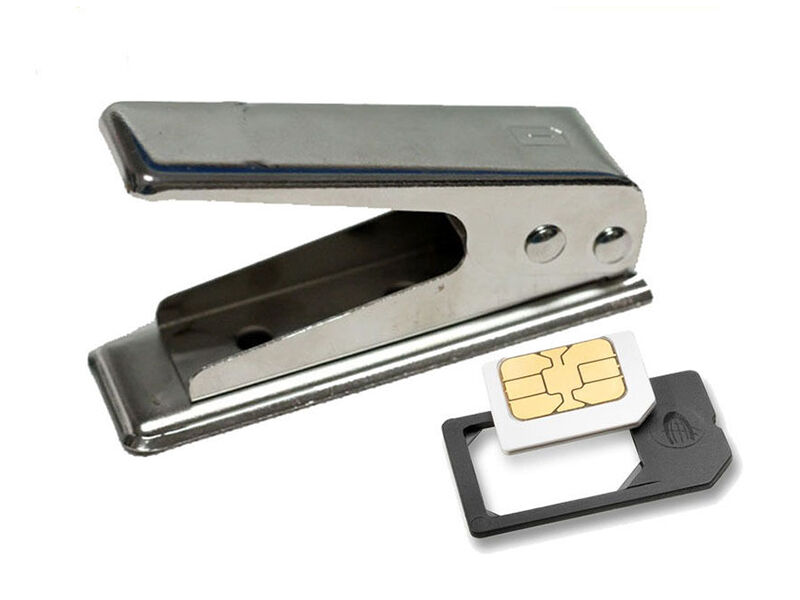 The technology used in the mobile phone sector changes rapidly. The large, credit card-sized SIM cards used only a few years ago have morphed into smaller and smaller versions to accommodate smaller and thinner phones. However, if you want to use an unlocked micro-SIM card-toting phone on a mobile network that does not offer its own, the only solution is to cut your own card. There are two simple ways to do that.
Micro-SIM cards explained
SIM is short for subscriber identification module. This small, integrated circuit plays an important role in connecting a mobile phone to a cellular network and ascribing it to a specific user. Without a SIM specific for a particular network, the phone does not work, and only certain size SIM cards fit into various popular smartphone models.
Common devices that use micro-SIM cards
The micro-SIM card debuted along with the first generation Apple iPad in 2010, meant as a smaller replacement for the mini-SIM and standard SIM used on most phones at that time. In the years following, the micro-SIM became the most common size SIM card on the market, appearing in various popular smartphone models, including:
Apple iPhone 4 and 4S
Apple iPad 1, 2, 3, and 4
Blackberry Q10, Q5, and Z10 LTE
Huawei Ascend G536 and G6 LTE
Motorola Moto E and G
Nokia Lumia 520, 530, and 635
Samsung Galaxy S3, S4, S5, and Note
Sony Xperia N2, Z2, and Z3
A micro-SIM card measures 15 mm by 12 mm by 0.76 mm. Consumers can compare this with a standard or full-size SIM, which measures 85.6 mm by 53.98 mm by 0.76 mm, and a mini-SIM, which measures 25 mm by 15 mm by 0.76 mm. Because all three cards are the same depth, the task of trimming any SIM to micro-SIM size means removing plastic coating from its height and width.
Two ways to cut a micro-SIM card
The chip inside any size SIM card is the same. All the extra material surrounding it, which includes metal and plastic, do not affect performance. Therefore, it is possible to cut a SIM card to micro-SIM size, and there are two basic ways to do this.
Use a micro-SIM card cutter
The easiest and most accurate way to cut any larger SIM card to micro size is to use a pre-sized micro-SIM card cutter. This item is easy to find and purchase. The micro-SIM card cutter works similarly to a hole punch. Users simply line up the card within the cutter's tray and press down to punch out the chip into micro-slot size.
As a bonus, many SIM card cutters come bundled with adapters. This allows users to insert their new micro-SIM card back into a larger case and reinstall it into a standard or mini-SIM card slot.
Use a pair of scissors
For those without access to a SIM card cutter or who want to avoid the additional expense, it is possible to cut a SIM card down to micro size by using a pair of scissors. Unlike the nano-SIM card, the micro-SIM card is large enough to leave users with a bit of wiggle room when trimming. There is less risk of snipping the internal chip because the micro slot is larger than the chip itself.
Trim carefully
The most accurate way to trim a SIM card is by using a template. This can either be something printed or another micro-SIM card simply traced onto the larger unit. Be very careful and deliberate when cutting, and remember that it is better to leave the card too large and simply trim away more than to cut it down too small. The result of a too-small SIM card is that it rattles around inside the mobile device in such a way that it will not be able to maintain a consistent connection between the phone and the mobile network.
How to buy a SIM card and cutting materials on eBay
The sellers on eBay offer a great one-stop shop for smartphones as well as the SIM cards and cutting materials you need to make them work on your network. To find the item you want, simply type it into the main search bar located on any page of the site. Be sure to be specific, searching for "micro-SIM card" instead of "SIM card" alone to get accurate results. Once the search is complete, it is also possible to limit your options according to brand, price, and other factors.