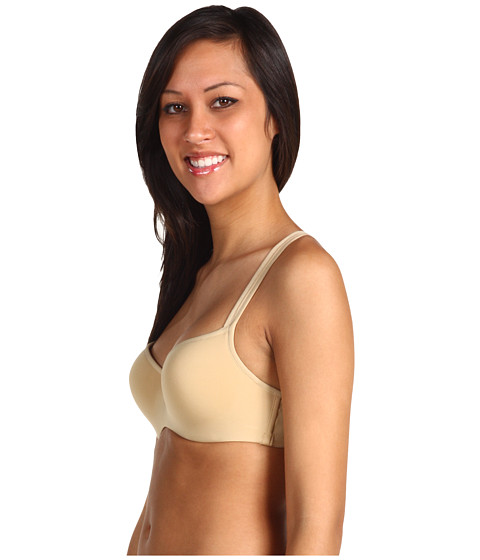 Women wear bras to ensure that their breasts are properly supported. A bra that does not fit properly is not only uncomfortable, but it does not provide the necessary support to the wearer's breasts. When shopping for a bra, you must learn how to measure the chest correctly to find the proper size. In order to determine your bra size, you need to have a tape measure on hand. If you do not have a tape measure, use a piece of string instead. You can use the cut string to make the measurements and then use a ruler to determine the length. Even with accurate measurements, you may still need to try on the bra to ensure a proper fit. Knowing how to measure your bra size and what to look for when trying on a bra helps you find the perfect fitting bra. eBay offers shoppers good deals on new bras of all sizes.
Measure Your Band Size
The first step in determining your bra size is to measure your band size. You need a soft tape measure in order to take accurate measurements. However, a piece of string can work just as well. You can measure the band size in one of two ways: either by measuring over the chest or by measuring under the bust. However, it is recommended that you use both methods to ensure that the measurements are consistent.
Measure Over the Chest
Keep the measuring tape parallel to the ground, and bring it around your back and to the front. Make sure that it stays under your arms and over the chest. Ensure that the tape measure is even on both sides before reading the measurement. Round the measurement to the nearest whole number. If it is an odd number, then round it up to the nearest even number.
Measure Under the Bust
Another way to measure for the band size is by bringing the tape measure under the bust. Keep the tape measure parallel to the ground, but this time bring it under your chest. Make sure that you exhale when taking the measurement. Be sure that you do not read the measurement while inhaling or you may end up with a band size that is too large. Be sure to round the measurement to the nearest even whole number. If measured correctly, the over-the-chest and under-the-bust measurements should be the same. This is your band size.
Measure Your Bust Size
Once you have measured your band size, you need to measure your bust size. This measurement is used to calculate your cup size, so it is important that you take accurate measurements. When taking this measurement, do not wear a padded bra. Also, be sure that the bra you wear is not too constricting. Bring the tape measure around your back and over the fullest part of your breasts. Make sure that the tape measure goes straight across the chest.
Find Your Cup Size
You can use your bust size to find the proper cup size. Unlike the band size that requires an accurate measurement, one cup size fits a range of breast sizes. The table below helps you determine which cup size fits your bust size.
| | |
| --- | --- |
| Cup Size | Bust Size |
| A | 77-79 cm |
| B | 79-81 cm |
| C | 81-83 cm |
| D | 83-85 cm |
| DD | 85-87 cm |
| E | 87-89 cm |
The table above shows the measurements for Aussie bra sizes. Bras made in the U.S., U.K., and Europe have different measurements. Be sure to note the sizing system that the bra uses before making a purchasing decision.
How to Tell if Your Bra Is Too Tight
Bras made by different manufacturers can vary slightly in terms of size. Additionally, even with accurate measurements, it can be hard to determine if your bra is the right size based on the measurements alone. A bra that is too big does not offer the support that you need, while a bra that is too small is uncomfortable to wear. Also, a bra that is too tight produces unattractive lumps or rolls of skin on your back. When wearing a bra, the band should fit snugly, but you should be able to comfortable fit one finger under the band. The band should also sit just below the shoulder blades.
Try On the Bra to See if it Fits
To make sure that you have the right size bra, you should try it on, if possible. This way, you can be sure that the bra fits before making a purchase. When trying on the bra, it should fit comfortably when on its loosest hook. Do not purchase a bra if you have to connect it on the tighter hooks. The more you wear the bra, the more it stretches out. You need these tighter hooks as the bra stretches out over time. When looking at the back of the bra, the skin on your back should appear flat and smooth.
Be sure that your breasts fit comfortably in the cups of the bra. The cups of the bra should appear to be smooth and the cups should fit snugly. No bulges should be evident on the tops or the sides of the cups.
Choose a Type of Bra
You can use the measuring methods described above for bras that attach with hooks. Such bras connect in the front or the back. Additionally, you have several types of bras to choose from. Some of the types of bras that you can choose from include t-shirt bras, balconette bras, full-cup bras, padded bras, and demi bras. When trying on these bras, you may notice that the bands can be wider or narrower depending on the type of bra. Likewise, the cups may offer more or less coverage. In addition to finding the right size, be sure that the bra you choose provides enough coverage and support for your breasts.
Sports Bras
Determining the right size for a sports bra is different than for other bras. Sports bras are designed for athletics and fitness purposes. They provide more support than other bra types, but do not shape or enhance the breasts. The system for sizing is also different. Rather than using cup sizes and band sizes, sports bras come in sizes that range from extra-small to extra-large, or larger when needed. If you feel that you need more support while exercising, consider a sports bra instead of a traditional type of bra.
How to Buy a Bra on eBay
eBay is a large online marketplace where you can find deals on bras of all types and sizes. Start with a basic keyword search. Enter keywords to describe the bra that you are looking for. Try to be as specific as possible, or you could end up sorting through hundreds of thousands of listings. Once the search engine returns a set of results, narrow down the list by using various search filters. Refine the listings by selecting different options that relate to the condition or your preferred price range. Be sure to read the item description and view the images. This way you can be sure that you are purchasing the right bra for your needs. To save money on your purchase, look for sellers who offer free postage. Be sure to look for sellers with high feedback scores. Those with consistently high ratings are recognised as top-rated sellers. If you want to look for other items offered by the same seller, narrow your results to only those sellers who have their own eBay stores.
Conclusion
Wearing a bra that fits properly ensures that you are comfortable and have enough support. Additionally, a bra that fits properly is also attractive because there are no unsightly rolls of skin. To ensure that you find a bra that fits properly, you should learn how to measure your body and convert those measurements into a bra size. You must measure around your chest or rib cage to find the band size and measure your bust to find the cup size. With these measurements, you can purchase a bra that fits properly and has an attractive appearance. You should also know what to look for when trying on a bra. When looking for great deals on bras, you can find everything that you need on eBay. You can even find matching panties to go along with your new bra.
bra|sports bra|full-cup bra|demi bra|padded bra