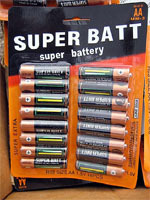 When buying name-brand gear you need to ensure that the distribution company you are buying from is actually selling you real, brand-name stuff. There are several smart ways to ensure you aren't being duped. The most obvious thing to do is know the product you are looking to buy. A terrible fake is obvious, like the rip-off Duracell batteries in the image here, or the fake Tide laundry soap misspelled Tids, as in the image below. Know the end product you are purchasing and ensure you see a picture of the product. Don't buy Doir sunglasses, for example, when you want Dior.
A distribution company, to be profitable, will focus on one segment of the retail market, for example eyewear. When they focus on one type of product they should be able to focus all of their energy on delivering the highest quality of goods at the cheapest possible price to the end consumer—that's how they make money after all, by undercutting everyone else who distributes the same product. You should check that the website is focused on one product or segment and then check that the company has sufficient information on their website about each product, including multiple models and colours. It would be very difficult and expensive to fake hundreds of brands in multiple colours, and in the end the distribution company would not make money on the venture.
A legitimate company will have their contact details listed on their website. If you are nervous about your purchase, contact the company and ask a few questions. It is perfectly normal for companies to outsource customer service, so don't be put off if the representative is not a native English speaker. However, you should be a bit wary if there is no means of contact on the website, especially no phone number. Ideally a company will list its headquarters address, phone number and often an online email form for posting questions. A company that has a form for your credit card information but no contact details is not one to be trusted, be wary of online identity theft scams and protect yourself by doing a bit of research before typing in your card number.
There are countless website forums on the internet where one can find dirt on any number of companies. You will find negative feedback, more than likely, on every company you search for. Bear in mind that negative response theory is an aspect of human nature. Meaning, people are more likely to actively complain than praise as people are motivated more by anger than pleasure. When looking into a company's history check things like ebay customer ranking, and Google finance to see if your company is listed on the stock exchange. You can also read through customer feedback on various forums to get a sense of what the customer service will be like, how fast shipping times will be, and other information of that nature.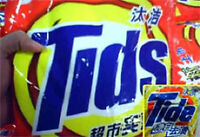 Reputable companies try to give back to the community, and are recognized as responsible by being granted affiliations with various local or national groups. Some distribution companies will be directly affiliated with name brand companies like Versace or Dior. More importantly, check if your company any affiliations in the charity world, or if they do any type of charitable donation. A company that sells fake gear is unlikely to draw attention to itself with large donations. Similarly, you can see if your company in question has won any sales or customer service awards, or even national or international awards for distribution or equity growth. A good, legitimate company will advertise all of their successes and affiliations, so search for these on their site and on the web in general.