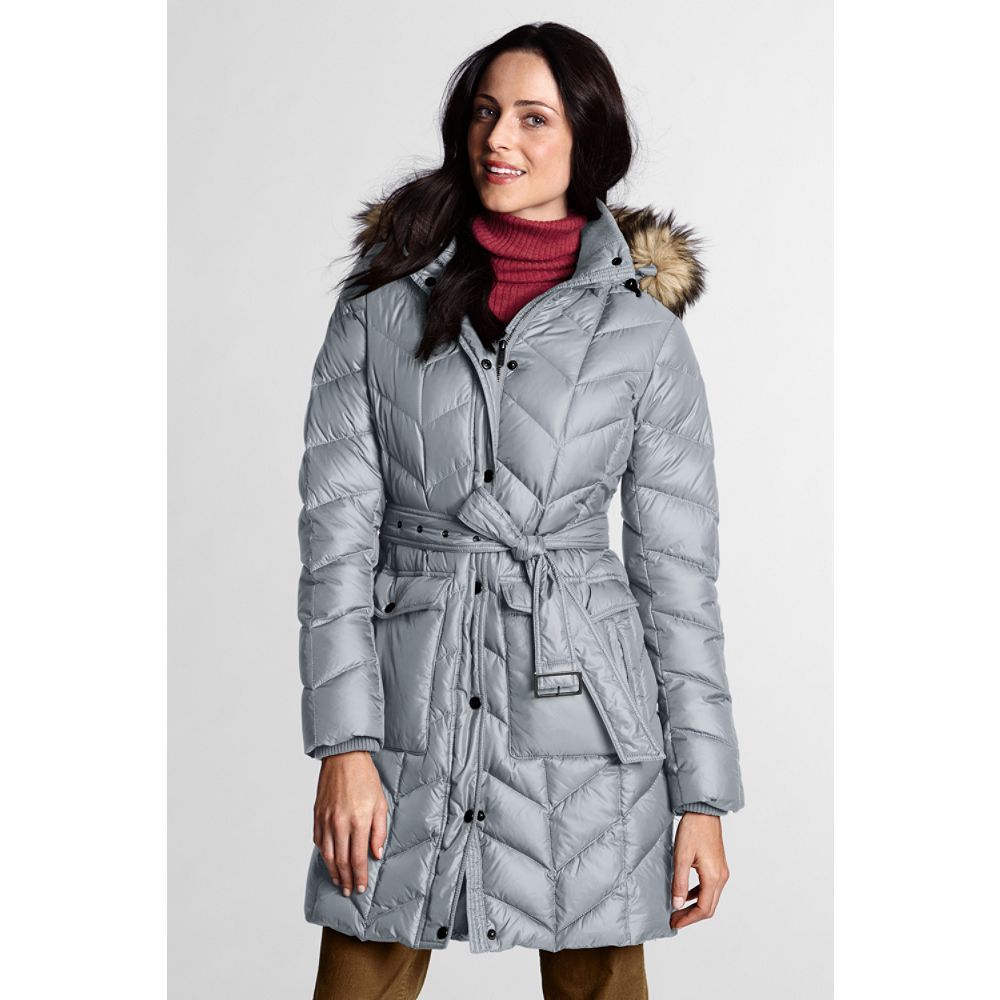 Dior , Prada, and Marc Jacobs are just some of the many different designers out there with high-end and, in some cases, unique coats. Buying a new designer coat in a brick and mortar store can be quite hard on a limited budget. While genuinely cheap designer coats are very rare, shoppers looking for a good deal should remember a few tricks to help the search. These tips include knowing the designers, looking at second-hand coats, and timing the purchase. Sites such as eBay offer a diverse selection of designer coats, from internationally known couture designers to domestic brand names, and new to gently used clothing items.
Read Up on Designers
There are many designers that offer ready-to-wear coats. Buyers in the market for a designer coat have an easier time when they know what brands they find to be of interest. Walking through top-end shops might give some ideas, but browsing through online resources such as fashion blogs or magazines also helps. For example, Vogue offers timely pieces on fashion statement coats, while Elle has articles on winter accessories. Whatever the source of designer information, buyers should have at least one or two brands in mind to make deal shopping easier.
Brands
Sometimes fashion magazines, blogs, and designer websites are overwhelming for buyers who are just getting into designer wear. When considering different designer coats, the following table may help. It outlines a few of the most popular designers, the home countries, and types of clothing.
Designer

About

Italian fashion label

Clothing for men and women

Chanel

Classic fragrances as well as clothing design house

Marc Jacobs

American designer

Multiple clothing lines

One Teaspoon

Australian women's clothing designer

Modern styles

Givenchy

French design house

Men's and women's fashions

Burberry

British luxury fashion house

Famous for distinctive tartan

Chelsea Design

Australian designer

Specialises in ladies' eveningwear
Fashion designers and design houses are a multinational field. When looking for a deal on designer coats, buyers should consider that the origin of the coat's design greatly influences its cost. Therefore, buyers might want to consider gently used coats as well as timed purchases.
Second Hand or New Designer Coat?
New designer coats are plentiful. Shoppers can easily find these clothing items in high-end department stores, fancy boutiques, and online. However, if one shops in the current season, designer coats are quite expensive. When looking for a new designer coat, buyers should think about buying out of season or from seasons past. While the coat might not be the current Marc Jacobs coat, good deals are more likely available. Fashion mavens understand that timeless pieces are easy to integrate into a wardrobe regardless of current trends.
When looking for a deal on a designer coat, buyers should also consider buying one second hand. Many people who buy designer clothing only wear the pieces for one or two seasons then move on. A pre-owned designer coat is bound to be less expensive than one that is new. A used Prada coat might be as little as ten per cent of the cost of a new one.
Timing is Important
When looking for good deals on designer coats, buyers should understand that timing is important. Clothing retailers and individual sellers tend to lower prices at least once during the season. If possible, buyers should look for a designer coat at midwinter when retailers are looking to clear stock before the next season's clothes arrive. Another option is to look for coats at the end of the winter season, when sellers want to move unsold goods.
Consider Domestic Designers
From the very expensive to the affordable, designer coats are available in a range of prices. When looking for designer coats, buyers should consider a domestic designer. If a buyer does not have his or her heart set on aChanel coat or a Burberry coat, there are several Australian designers who produce excellent work. Coats byOne Teaspoon or Chelsea Design are available at considerably lower prices than Givenchy coats. Finding an Australian designer is the same process as finding an international designer. Simply looking through department stores or browsing fashion magazines gives buyers a good idea of what is available.
Know the Fit
As with most any type of clothing, designer coats sizing varies greatly. On top of the variance in sizes, buyers should especially keep in mind the differences in clothing sizes when looking at coats from designers from the United States or other countries. Ideally, buyers should try on a designer coat before purchasing it. This is not always possible, however. There are many clothing size conversion charts available online. However, even with conversion charts there can be many differences in sizing and fit of a coat.
In order to achieve the closest size and fit, buyers should take their own measurements. This requires a tape measure and a friend to help. There are instructions for how to take body measurements available in many places. Measurements for coats most often include the length from shoulders to bottom hem, shoulders, sleeves, and waist. It is also possible for buyers to take these measurements from a coat that fits well.
How to Buy Designer Coats on eBay
Once you have decided on the type of coat and narrowed down the number of designers you are interested in, you can search for the perfect coat on eBay. Simply type in the 'designer' and 'coat' into the search box on any page to get an idea of what is available. Refine the search by category or condition. Make sure to read the listings carefully. Some online clothing sellers do not have return policies. If you are spending on the top end of your budget, you especially want to ensure you can return your coat. No matter what type of coat you are looking for, eBay and eBay Deals have a great range of designer coats for everyone.