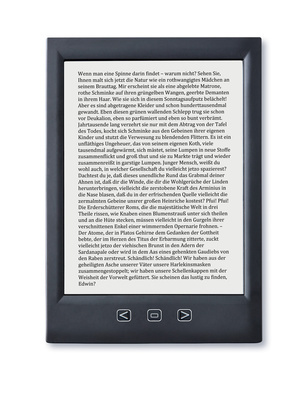 e-Readers offer an easy and convenient way to read eBooks, and are ideal for avid readers. e-Readers come in a wide variety of different designs, ranging from simple and affordable systems with black and white displays to more sophisticated readers which offer similar functionality to a tablet, including media playback capabilities and the ability to run apps. A wide range of e-Readers can be found on eBay.
Features to Look for in an e-Reader
· A key feature to consider is the size and weight of an e-Reader. Lighter, slimmer readers are more portable but can also often be more extensive.
· Some readers support external memory, meaning the user can expand the available storage space with a compatible memory card.
· E-Ink screens are a popular feature for e-Readers. These black and white screens are designed to reduce eye strain and are designed for reading.
Key Specifications of an e-Reader
e-Readers feature a number of key specifications which can be an indicator of the capabilities of the device.
| | |
| --- | --- |
| Screen | The screen is an important element to consider. Larger screens can display more text at once, while smaller screens mean a smaller, more portable device. e-Readers often feature screens between 6" and 7". Resolution should also be taken into account. Higher resolutions offer a sharper image, while lower resolutions can be more affordable. |
| Battery Life | Battery life should be taken into consideration when making a purchase. Those who intend to use their e-Reader when travelling should place a priority on long battery life, while for those who intend to use their device around the house, battery life is less of an issue. Some e-Readers can feature a very long battery life, potentially lasting for days or even weeks of use. |
| Recharge Time | The recharge time can also be something to consider. This indicates how long an e-Reader needs to be plugged in before it is fully recharged. A shorter recharge time may be useful if a user will not have much time to charge their device. |
| Wifi | Most e-Readers include wifi capability, which enables the device to connect to wireless networks and public hotspots to access the internet. The speed of the internet connection can depend on the wifi hardware, as well as the quality of the connection itself. |
| Cellular Data Connection | Some e-Readers also feature the ability to connect to cellular data connections, providing internet access wherever there is mobile network coverage. 3G and 4G capable e-Readers are widely available, though can be more expensive than e-Readers which only offer wifi. |
| Bluetooth | Some e-Readers feature Bluetooth. This enables them to connect to other Bluetooth devices such as headphones. This is often a feature on tablet style e-Readers which feature a range of apps and media playback capabilities. |
| Memory | The on board memory of an e-Reader determines how many eBooks and other files can be stored on the device. On devices which do not have the capability to play media such as music and videos, smaller amounts of memory are still suitable as eBook files are relatively small. |
| Operating System | More sophisticated, tablet style e-Readers feature operating systems such as Android or iOS, which have a suite of apps available for download. |
Finding a Deal on an e-Reader
· A great to save money on e-Reader is to purchase one which is used or has been refurbished. These offer the same functionality and features which can be found on brand new models, at a reduced price. Used e-Readers can often be found in good condition.
· It is also possible to save money on accessories buy buying an e-Reader in a bundle which includes accessories such as cases and peripherals at a reduced price.
· Deals on e-Readers, as well as a range of other electronic items, can be found in the eBay deals section.
How to Buy an e-Reader on eBay
A wide variety of e-Readers, offering a range of features and capabilities, can be found on eBay.
· The full listing of available e-Readers can be found in theiPads, Tablets, eReaders section of the Computers.
· Items can be arranged by categories such as storage capacity, price and condition.
· Key information about an eReader, such as its size, is often prominently displayed in the item listing. This makes it easy to quickly establish if an item meets any specific requirements.
· More detailed information can be found on the item page. This includes information about the seller, such as feedback ratings and item reviews, helping to ensure that a purchase can be made with confidence.
· If looking for a particular e-Reader, it may be easier to make use of the search function which can be found at the top of every page. Searches can be made to cover the whole site, or a specified category.
· Look out for any deals which may be available on e-Readers in the Computers category.
Conclusion
e-Readers are a great device for those who love to read. Thousands of books can easily be stored onto the reader, making it easy for users to travel with all of their books. Readers can also offer a variety of features, such as cellular connectivity, enabling internet connection wherever there is coverage, and long lasting battery life. A wide range of e-Readers, tablets and other devices can be found on eBay.