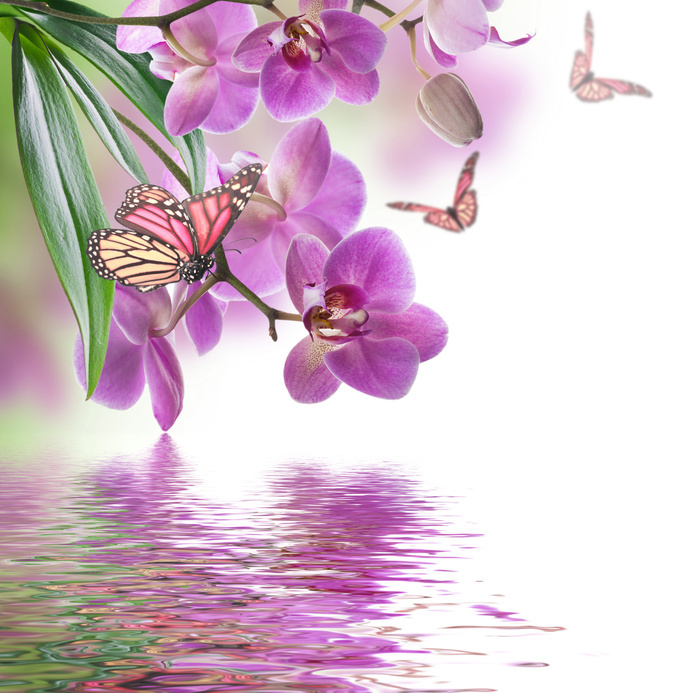 The orchid is known for its exotic appearance, rich beauty and tremendous diversity. There are currently over 25,000 known orchid species and more than 100,000 man-made hybrids. Here are seven of the most popular orchids suitable for growing in homes and gardens, or giving as gifts.
Phalaenopsis (Moth) Orchids
The Phalaenopsis orchid is among the most popular, longest-blooming orchids available, and also one of the most affordable. They bloom once or twice per year, but a single bloom can last for up to four months. The Phalaenopsis orchid comes in pink, white, red, yellow, purple, orange, and green. The Phalaenopsis orchid can be identified by its thin stem, and flower blooms that resemble moths with outstretched wings.
Dendrobium Orchids
The Dendrobium orchid has over 1,200 species and is the largest and most diverse orchid genus. They're native to Asian and Pacific tropical areas and are often found growing in treetops. (The word Dendrobium means "life in a tree" in Greek.) Dendrobium orchids come in a range of colours including white, purple, pink, green, and yellow, and thrive in warm environments. Their flowers can last for a month or more. Look for spear-like leaves and thin stalks adorned with multiple petaled flowers, each on its own delicate stalk.
Lady Slipper Orchids
The Lady Slipper is probably the most recognisable orchid genera and includes the Paphiopedilum, Phragmipedium, Selenipedium and Cypripedium varieties. They are characterised by large pouch-shaped blooms atop a single stalk, although there can be more than one stalk per plant. Selenipedium and Cypripedium orchids can be quite difficult to grow unless they are provided with temperate conditions. However, Paphiopedilum and Phragmipedium (Kobold's Doll) are easier to care for and come in white, soft shades of pink, bright yellow, dark red, brown, and green. Paphiopedilum sanderianum orchids feature hanging side petals that can be up to 1 meter long. Lady Slipper greenery is often quite interesting in appearance, bearing several shades of green throughout the leaves.
Oncidium (Dancing Lady) Orchids
Oncidium orchids are distinguished by clusters of 50 or more small blooms in bright colours of yellow, pink, white, purple, and red, often with two contrasting colours. The petal edges can take on an almost scalloped or serrated look. Unlike many orchid varieties, Oncidium orchids can have flower outgrowths at all points on their stalk - not just at the top. Oncidium orchids are also characterised by a beautiful floral scent. They do well in medium to bright sunlight.
Cymbidium (Boat) Orchids
Historical records show that Cymbidium orchids have been around for 2,000 years or more. They are characterised by big, showy, waxy flowers that last a long time. Long, spear-like greenery surrounds the flourish of blooms at the top. Cymbidium orchids are easy to care for, making them very popular. They come in shades of pink, yellow, red, peach, green, brown, or a combination of colours. They do well either cut or planted; trim Cymbidium orchids regularly, and they can maintain their bloom for a month or more.
Cattleya Orchids
Cattleya orchids feature a much larger bloom than most orchid varieties, and wide greenery spears. They can bloom in pink, red, white, yellow, and orange, and some feature several colours within one flower. The blooms are also quite fragrant. Cattleya is often used in corsages, but can also make a wonderful indoor plant or cut flower in a vase. They do well in medium to bright light and only need to be watered once every week or so. They bloom twice annually, and the blooms can last for weeks if they receive enough light.
Cockleshell Orchid
The Cockleshell orchid has a distinct look, with purple, clam-shaped flowers and bright green accents around them that have been likened to "tropical tentacles." The blooms of the Cockleshell orchid can last all year long with enough light, and this variety is easy to care for.
The orchid dazzles with its sheer variety. Different genera from around the world come in a range of beautiful shapes and colours. They can be purchased as mature flowers or grown from bulbs. With so many to choose from, there's sure to be an orchid variety for every taste and personality.