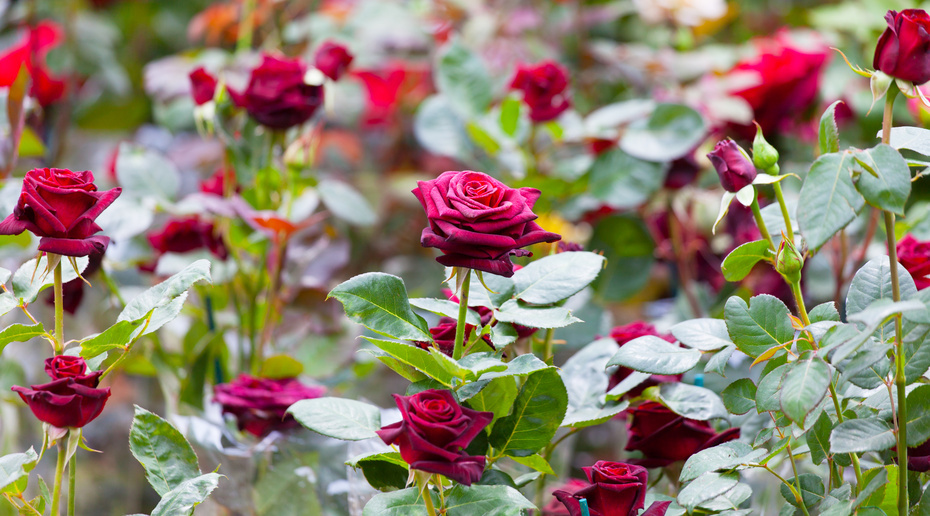 The beautiful rose is the delight of many gardeners - but there are so many, how can you tell them apart? Indeed, the "Rosaceae" plant family is the third largest in the world. They range from ornamental plants to berries and fruits, but the genus "Rosa" refers to the blooming fragrant flower known as the rose. Within the "Rosa" genus are a number of classifications. Each group is related to specific plant characteristics, with some that offer a longer blooming season and others that are best for cutting and giving as gifts.
Rose selection is as personal as the tastes of the gardener; some choose just one or two rose types, while others love a variety in their garden. A good way to get started is by growing a couple from each rose class to see which are preferred.
Here's how to identify the main rose types:
Antique (Old Garden) Roses
Hybridised in the 1860s, Old Garden roses have a number of subclasses such as alba, China, hybrid perpetual, bourbon and damask. They tend to bloom just once per growing season and are very fragrant. To identify them, look for thick, glossy foliage and a silvery look to the underside of the flower petals.
Grandifloras
Grandifloras are hybrid tea-type flowers that grow upright, often in clusters with flower stems ideal for cutting. They grow 1 to 2 metres tall and are almost always budded. If numerous blooms and cutting stems are desired, Grandifloras are an ideal choice.
Hybrid Tea Roses
This rose type blooms one big flower per long stem. It tends to bloom all through the standard growing season. The hybrid tea rose bush grows quite tall and upright. They possess a vigorous rootstock, and their lovely large flowers makes them a favourite in cut rose arrangements.
Floribundas
Floribundas grow in clusters on short stems and bloom smaller than hybrid tea roses. Most floribundas are budded, although some can be found on their own roots. The bush tends to be compact, and Floribundas will bloom throughout the growing season. They are ideal for those who desire low-growing plants with loads of flowers.
Polyanthas
The Polyanthas was a forerunner of the Floribundas, and is a large plant that tends to become covered with smaller flowers. They are hardy and grow in a compact configuration, yet bloom generously. "The Fairy" is a very common variety. This large bush will bloom an abundance of small pink flowers.
Standard or Tree Roses
Nearly any rose budded (grafted) on a tall trunk is considered a tree rose. Floribundas, hybrid teas and miniatures tend to be used as tree roses, but they aren't really trees and grow in a range of sizes. They are not a good choice in areas with harsh winters.
Miniature Roses
These popular small plants grow from 10 cm up to one metre in height with flowers and leaves in lovely, perfect proportion. They usually are not budded and grow their own roots, making them hardier for growth in colder climates. Miniatures tend to bloom throughout the growing season and offer excellent colour for small garden spaces. They can also be placed indoors in pots under a grow light or in full-spectrum fluorescent lighting. Window light will not be enough for these sun-loving flowers.
Mini-Floras
Roses too large to be miniatures yet too small to fit into the floribundas category are called mini-floras in some circles. However, they are sometimes also grouped in the miniature category.
Shrub Roses
Shrub roses are hardy and quite easy to grow, making them a popular choice, especially since they are excellent for landscaping. They grow large and tend to bloom prolifically throughout the growing season. Shrub roses are ideal for filling a large space with loads of colour, and this category brings a number of fine choices along with it.
Climbing Roses
While climbing roses don't technically climb like vines, they do produce long canes that can be rooted to a trellis, fence, or other means of support. If they aren't anchored in this manner, climbing roses will literally sprawl all over the ground; they were meant to climb, hence the name. The plant will bloom roses all along the entire length of the cane, especially if tied horizontally. Some climbing roses, or "climbers," will only bloom once (usually during the spring season). However, many modern varieties bloom throughout the while growing season.
Whether a seasoned gardener or just getting started with roses, knowing the different varieties can greatly enhance enjoyment as well as the chances for success with a rose garden. While choosing rose varieties is largely about personal preference, there are also some climate and space considerations to keep in mind. While there are some consistent rose considerations like pruning during the dormant season, colour, frequency of bloom, and hardiness can all vary widely. Being able to distinguish rose varieties can help with planting the ideal types and varieties.