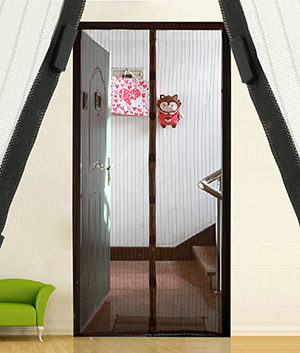 A bug screen protects a home from annoying and potentially harmful insects, such as mosquitoes and flies, by preventing their entry through open doors and windows. Bug screens are available in fibreglass, metal wire, or synthetic fibre mesh stretched over a frame. While there are several ready-made versions, a bug screen is relatively easy to construct. Moreover, the materials are reasonably cheap to source. Start enjoying fresh air and lower energy bills while preventing the entry of unwanted bugs with a simple DIY bug screen for windows.
Take Measurements
The first step is to decide where to place the bug screen and measure the length and width of the window opening. How the screen is mounted determines the length and width of the screen frame. If placing the screen over the window frame, add 4 cm to the width and height. If placing the screen inside the window frame, subtract 1 cm from the height and width.
Gather Supplies
With measurements in hand, it is time to gather the needed supplies. Purchase enough wood to construct the frame; 1x1 boards work well for this project, or larger boards can be cut down to size. Other necessary supplies include enough mesh to cover the frame, a saw, sandpaper, a hammer and nails, and a staple gun and staples.
Mesh
The mesh material is not as important as how close together the strands are. Standard mesh for screening doors and windows is 18x16, meaning it has 18 strands per 45.72 cm in one direction and 16 strands per 45.72 cm in the other. For areas populated with tiny biting insects, such as biting midges and sandflies, 20x20 mesh works best.
Build the Frame
Cut the wood in accordance with the measurements taken of the window opening, and use sandpaper to smooth any rough edges. On a uniform surface, join the screen frame pieces together in a rectangle, and nail the corners of the frame together. Another option is to purchase a ready-made screen frame.
Add Wire Mesh Screen
Cut a piece of mesh 2 cm longer and wider than the wood frame. Lay the cut mesh over the frame, and staple it to the sides of the frame. Begin with a corner, and secure one side before pulling the other side taut. Continue stapling the mesh until the screen is adequately tight. Trim the edges of the mesh for a neat and clean appearance.
Types of Bug Screens
There are several types of ready-made bug screens available for both doors and windows. They come in a variety of materials to fulfill specific needs and requirements.
Bug Screens

Description

Fibreglass screen

Flexible and heavy-duty fibreglass

Ideal for all windows and doors

Net mesh screen

PVC bug screen

Ideal for bedrooms and kitchens

Window mesh net with hook-and-loop fastener

Ideal for kitchens, bedrooms, and bathrooms

Mesh is easily removable and washable

Fly screen door

Opens and closes automatically using powerful magnets

Fits single doors, sliding doors, and RVs
These bug screens are available in various sizes and price ranges. Choose from multiple options to protect a home from unwanted bugs and insects, especially at night, when they are attracted to the lights inside.
How to Buy Bug Screen Supplies on eBay
The sellers on eBay offer a wide variety of bug screens as well as the materials needed to make or repair your own. Browse all the available options by entering search terms such as 'insect screen' or 'window screen' into the search bar found on any eBay page. If you have decided to build your own screen, search for the necessary supplies with terms such as 'screen frame', 'metal wire mesh', or 'staple gun'. Carefully review the item descriptions and seller ratings to determine which options best meet your needs.