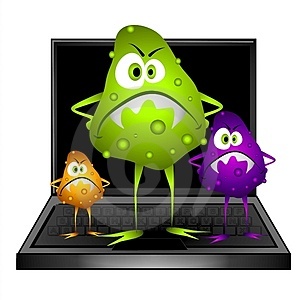 How to best protect your computer and precious data from being infected by Viruses, Spyware & other Malware.
I work as an Computer & IT consultant for residential & business clients across Melbourne.
Much of my time is spent ridding clients computers of viruses, spyware and other forms of malware.
The information I am about to give you is absolutely invaluable, as I use these products myself with the same combination as described below. I also use this many of my clients computers with excellent results.
Having tried many internet security programs over the years and have settled on Trend Micro Titanium Maximum Internet Security as being the most appropriate. In my experience it has the best detection rate of all. Of course there are many other programs that are excellent, however Trend for me does the job best. Also, although Norton 360 is also a good program, I only install it on fairly slow computers as Trend Micro Titanium Maximum Internet Security is a large program and can be quite intensive on computer system resources.
Having said that, once you have installed your new Micro Titanium Maximum Internet Security program which i hope you have purchased from my store, the next step is to download Malwarebytes Antimalware program and select the Premium installation option which will run as a service on computer startup for 30 days. Within 30 days you need to pay for it otherwise it reverts to a stand-alone version. The current price is approx $30 for 3 computers per year. Once installed, you need to open up the program, select the Settings tab and perform the following steps.

Click Detection & Protection tab -> then click in Scan for rootkits
Next, under the Non-Malware Protection section ensure that both PUP and PUM sub-sections are set to Treat detections as malware. There is a little drop down box to let you make the appropriate selection.
Click Advanced Settings -> then click in Enable self-protection module
-> then click in Enable Self-protection early start

The next step is to download Malwarebytes Anti-Exploit and install it as a free version. For extra protection though you can pay for this one if you wish. It is also approx $30 per year. Ensure that you download these programs from the Malwarebytes website and not some other website purporting to provide the same software. Beware!
In my experience these 3 programs cohabit together very well and so far without any issues. This combination provides excellent protection at reasonable cost. Of course no program or program combination is ever perfect and never can be. This is impossible to achieve, however this combination is very close.
So that's it from me. It is your choice if you decide to follow this advice. At the very least Trend Micro Titanium Maximum Internet Security on its own will still provide you and your family with excellent protection as well as being able to enjoy the other great features as part of the package.
If you have any questions, please feel free to contact me via my eBay store messaging service.
Thank you all for purchasing from my store.
Cheers.