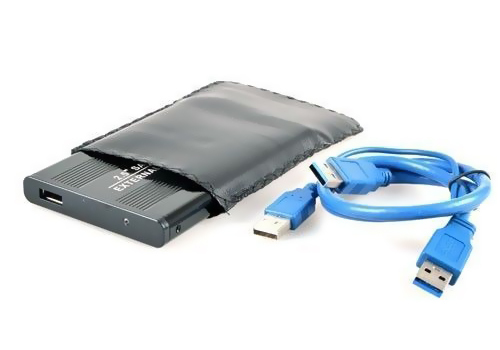 Despite their sturdy build, most HDD hard drives have an average half-life of 3 years or a mean time of 1.5 million hours. SSD drives have a slightly longer lifetime. To guard against sudden hard drive crashes, tech experts recommend owners regularly back up their data or swap out their internal hard drives every 3 years. That said, a failed SATA hard drive does not necessarily mean the end of the world. Depending on the type of damage, owners can still recover data from failed drives with varying methods.
Using a SATA disk enclosure
One of the quickest ways of recovering data from a failed SATA hard drive is to convert the hard drive into an external hard drive. This is a good approach in situations where the hard drive has a corrupted sector that prevents the computer from booting. To use this option, owners need a 2.5 SATA USB hard drive enclosure. A hard disk enclosure is essentially a shell that allows the connection of a SATA hard drive to another computer via USB. This converts an internal hard drive to an external drive.
Before searching for a USB enclosure, first check the specifications of the corrupted drive, to ensure the right fit. For instance, a 2.5-inch hard drive requires a 2.5-inch SATA enclosure. Attempt to recover files with the following quick steps after tucking the hard drive into the case.
Plug the hard drive to a computer or laptop using the USB port. Be sure to choose a compatible system. If the hard drive was originally in a Windows computer, use another Windows system. If it was in a Mac, use another Mac system
If the system does not automatically detect the hard drive, find the hard drive by going to My Computer (with Windows) and searching for a new mounted drive.
Explore the files on the new hard drive and copy and transfer files from the drive. For hard drives with large amounts of data, shoppers may want to consider getting an external hard drive to back up their data. Most external hard drives fall into two groups, desktop and portable hard drives.
External hard drives also come with different features. For instance, some drives offer support for UBS 3.0, which allows for quicker data transfers.
Using a Firewire Cable
An alternative approach to recovering data from a SATA hard drive, one that works with Mac systems, is using a firewire cable to transfer data. To use this option, owners need to have a firewire cable, access to another Mac computer such as the iMac, and preferably an external hard drive. Use the following steps to transfer files using this method.
Connect the system with the faulty drive to another working Mac using the cable (both systems should be off).
Power up the working Mac system and then hold down the T key to start the computer in Target mode.
Check the Mac desktop for the other hard drive and begin to transfer the files. Depending on the amount of data on the old drive, this may take a few minutes to several hours.
Both approaches only work if there is no physical damage to the hard drive. Recovering data from a physically damaged hard drive is a lot more difficult. In most cases, owners may require some professional assistance.
How to Buy a SATA Hard Drive on eBay
With so many resellers readily available, eBay is a great place to find good deals on hard drives and hard drive enclosures. To assist with your search, every eBay page comes with a search tool that you can use. Simply type a search term into the search bar to bring up a list of related options. Be sure to include keywords related to your search, such as using '2.5 SATA enclosure' instead of simply typing 'SATA enclosure'. Make sure that you carefully read the listing and product description before proceeding with your purchase.