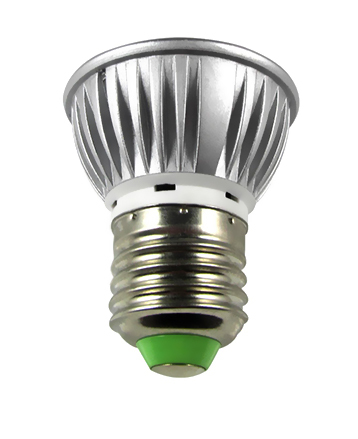 In efforts to create a greener and more stable environment for themselves and generations to come, many people have turned to more energy efficient lights called light-emitting diodes or LEDs. These bulbs have an average life of nearly fifty times that of a traditional incandescent light bulb and more than six times that of compact florescent bulbs. LED light bulbs use about 80 percent less energy and, therefore, reduce annual electrical costs. They are more durable than incandescent lighting and are easier and safer to recycle because they contain no mercury. Typical household light bulbs can be replaced with LED light bulbs in lighting fixtures, lamps, indoor or outdoor floodlights. LED lights are common in automotive applications and are used in holiday lighting displays. Though the bulbs themselves have a long life, consumers must consider a responsible way to recycle or repurpose these bulbs.
Recycling LED Light Bulbs
LEDs are environmentally friendly during usage with lower energy consumption. Another benefit to the LED bulb is that it does not contain particularly harmful components, and are RoHS compliant, meaning that they meet the requirements set by the Restriction of the Use of Certain Hazardous Substances in Electrical and Electronic Equipment rulings. As such, they can disposed of and recycled like ordinary incandescent light bulbs.
However, some environmentally-conscious consumers choose to recycle LED light bulbs rather than place them in ever-growing landfills. Some locales even mandate recycling. There are several options for most consumers to recycling LED light bulbs. The first is to contact one of thousands of local recycling centres. Many of them have LED recycling programmes to take advantage of the reuse of the valuable materials in these bulbs. Most local recycling centre information is available online along with specific details or guidelines.
The second option is to safely pack burned out LED bulbs and ship them to online recycling programmes. These organisations accept LED light bulbs for recycling free of charge. Many light bulb manufacturers also accept recycled products by mail, some offering incentive coupons for similar products.
Thirdly, many retail locations participate in or host LED light bulb recycling or replacement programmes. Some stores have Bulbstore Mini bins designed for collection of used bulbs and some car parks have Recolight Bulbstore Maxi units for recycling. Renew bins are another option for recycling. These bins or pods sit on well-travelled streets and populous areas throughout the UK.
Some retail outlets have their own recycling bins set up in the stores to receive bulbs and other items for recycling. IKEA debuted the reverse-vending reVend Recycling machine, which collects and recycles light bulbs and batteries and returns to the consumer a voucher to use in-store. Many supermarkets also have recycling bins.
The following chart shows some of the retail stores that accept used LED light bulbs for recycling and other items they recycle:
| | |
| --- | --- |
| Retail Outlet | Recyclable Products |
| | Light bulbs, batteries |
| Ace Hardware | Light bulbs, batteries |
| Aubuchon Hardware | Light bulbs, batteries, plastic bags |
| Home Depot | Light bulbs, batteries, plastic bags |
| Batteries Plus | Light bulbs, tubes, lamps, ballasts |
| Sainsbury | Light bulbs |
Other retail outlets have recycling programmes; consumers can ask store managers for more details.
Repurposing LED Light Bulbs
Because LED lightbulbs have a twenty-five year estimated life span, they can sometimes outlive their use. Designers of special projects and one-time users donate LED light bulbs to others in order to fulfill their lifespan. One such project took place in December 2012 when environmental artist, Christopher Swift, built a Christmas tree completely from recycled materials for the city of Cape Town, South Africa. At the conclusion of the project, Swift donated 80 LED lights to new homeowners in the area for reuse. When using lighting for temporary projects, save the light packaging so that bulbs can be donated to local shelters.
In addition, LED light bulbs are used by artists and sculptors to create stunning visual displays. Elemental employees combined LED lights and plastic bottles with other household materials to create a colorful jellyfish-like chandelier.
How to Buy LED Light Bulbs
LEDs, or "light-emitting diodes," are the possible future of the lighting industry. LED lights are popular for replacing screw-in bulbs including floodlights, household lamps, and regular lighting fixtures. They are widely used in automotive applications and, due in part to their vibrant colors, are common in holiday lighting decorations such as Christmas tree lights and ornamental decorations. With a twenty-five year lifespan, these lights are eighty per cent more efficient, cooler, safer, and have less dangerous components than incandescent light bulbs. Recycling these light bulbs protects landfills from dangerous chemicals and simply for an overwhelming amount of products. Consumers recycle their light bulbs at local collection centres or online or at many of dozens of retail stores who offer recycling bins. Some thrifty users repurpose lights used only once to benefit the underprivileged who can benefit from the long life of these LED bulbs. eBay offers many LED products for sale. Search by typing keywords into the search field. Narrow your search by selecting main categories, types, price, and other features.