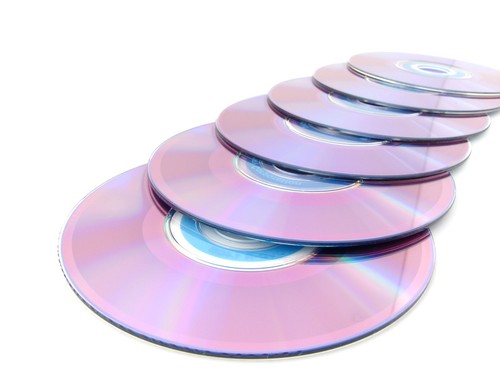 Music is one of the most diverse and popular forms of art. Music, and the technology that plays it, changes at a rapid pace. As music and technology changes, users have the old forms of music to recycle or repurpose. Compact discs were the primary form of music until recently when music became available digitally. Compact discs, or CDs, while still available and in use, require storage space as without proper storage they can scratch, which causes skipping while in use. While repairs can fix the scratches, some may still decide to minimise their collection. Compact discs contain polycarbonate so they do not erode and break down when sent to the landfill. There are options for recycling or repurposing compact discs.
Use a Service to Recycle CDs
One free and easy option for recycling old compact discs is to send them to a service for recycling. There are many companies that offer this service at no cost. The sender only pays for postage. Compact discs contain metallic coating that does not allow them to be recycled with other general products. These companies strip the compact the metallic coating from the disc and then the plastic is broken down. The recycling process allows for the recovery of the aluminium and polycarbonate plastic used in the making of compact discs. Many of these companies also provide recycling services for the plastic cases and paper inserts as well.
Donate, Repair or Sell CDs
Another great way to declutter your home and compact disc collection without destroying the disc is to donate or sell your CDs. Many organisations accept used compact discs for donations. There are also second-hand or thrift shops that allow people to sell receive cash or trade value for used compact discs if they are still in good working condition. Repairing old CDs is another great option should you wish to keep them. Simply clean the disc with a CD disc cleaning kit. Run some warm water over the disc. Rub out any tough spots or scratches with rubbing alcohol using a cotton swab and rubbing in an outward direction. Let the disc air dry. Hold the CD up to a light. If the scratch is within the foil, simply mark on the front of the CD with a dry erase marker where the foil is missing. Place two small strips of masking tape and place them over your marker spots. This should allow the CD to play without skipping.
Repurpose Old CDs
There are also some wonderful, practical, creative ways to repurpose old compact discs and their cases.
| | |
| --- | --- |
| Repurpose | How to Make |
| | Find appealing fabric. Trace the CD onto the fabric. Spray two coats of primer onto the CD. Cut a 3-inch piece of felt. When the primer dries, hot glue the felt to the bottom of the CD. Apply Mod Podge to the top of the CD and then gently and carefully apply the fabric. Allow it to dry. Then apply another coat of Mod Podge. Now you have a beautiful new coaster. |
| Mosaic Art | Simply cut the CD into different shapes and sizes. Then use hot glue to attach the CD pieces to a picture frame, ornament, bracelet, flower pot, etc. This gives a new mosaic look to a piece of home decor. |
| Bird Repellent | For the gardener, creating a bird repeller out of old CDs is a simple and inexpensive way to protect the garden while repurposing old CDs. Attach the CDs to string and hang over the new plants. The reflections of the light off of the CDs keep birds and other creatures away from the plants allowing them to grow. |
There are countless ideas and crafts that can be done with old CDs with all being simple, easy, and inexpensive.
How to Buy CDs or Repurposing Materials on eBay
Compact discs are still available and easy to buy and sell on eBay. Search within the search feature found on any page within eBay. Should one wish for a narrower search, enter more specific terms such as the name of an artist or band, or search for the specific type of repurposing material that one needs. By clicking on the picture of the item, a list of product specifics is viewable, such as shipping information and seller reviews. Be sure to also check out eBay deals for great offers on compact discs and materials.
As music and technology evolves, there is no reason to throw out CDs. There are countless options for the old CDs. Donate, recycle safely through a facility, or repurpose them for another unique household item.