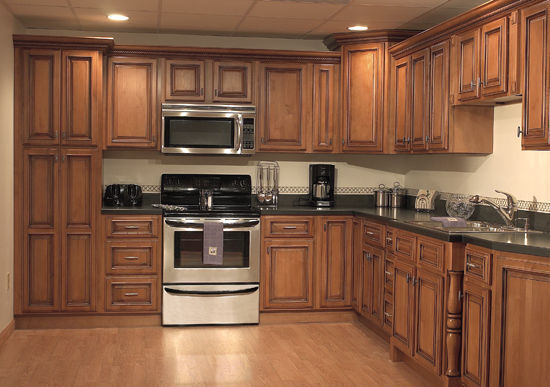 Repairing kitchen cabinets is reasonably straightforward and consumers can perform basic repairs and upgrades themselves at far less expense than calling in professional help. Kitchen cabinets do not necessarily need replacing when flaws occur or when consumers want to give their kitchen a new look. Instead, consider performing some basic repairs and upgrades. Reface and update the look of cabinets, including installing new hardware with relative ease. Repair misaligned doors in just a few minutes. Home repairs are very cost effective and require little knowledge. When repairing or updating kitchen cabinets, be sure to only use the best quality products to achieve the best end result.
How to Repair Misaligned Kitchen Cabinet Doors
Usually, if a kitchen cabinet door appears misaligned, it is the hinge that is at fault. The easiest way to make this repair is to adjust the cabinet door hinge. By adjusting this hinge, consumers can easily realign their cabinet doors without the expense of replacing the doors or hinges. Most cabinets are easy to adjust and require only a little practical skill. Open the door and examine the hinge. There should be no corrosion or splits. If any of the screws have become loose, tighten them, as this may solve the problem. Take a screwdriver and adjust the depth screw. This alters how far the door projects outward from the actual cupboard. Then adjust the side screws. These screws move the door slightly from side to side and so, when adjusted correctly, allow cabinet doors to close against the cabinet, fully concealing the insides of the cabinet. Once these minor adjustments are complete, close the doors and examine the result. Keep making minor adjustments until the doors align correctly.
Updating the Appearance of Kitchen Cabinet Doors
Updating the appearance of kitchen cabinets does not have to be costly. Nor does it have to involve replacing the doors with new models. Where the doors themselves are in good condition and are merely dirty or out of date, consumers can rejuvenate their cabinets and and give their kitchen a whole new look easily and affordably.
Painting Kitchen Cabinets
To paint kitchen cabinets, consumers need to remove the doors from their hinges and lay them flat. Clean the cabinets using hot soapy water and dry them thoroughly. Fill any dents, scratches, or holes with putty and allow it to dry. Sand the entire surface of the cabinet using fine grain sandpaper. Sanding the surface provides a rough finish that allows for better paint adhesion. Vacuum the surface then run over the surface with a damp cloth to remove any debris. Add a layer of primer, getting a thin, even layer. Allow this layer to dry, add another coat, lightly sand the surface again and remove the resulting debris. Once the second layer is dry, add a coat of high quality oil-based paint, working in even strokes. Allow this coat to dry and add another. After the second coat is dry, add a varnish or sealant to provide a tough, durable finish.
Covering Kitchen Cabinets
Instead of painting their cabinets, consumers can choose to cover their cabinets using sticky back plastic. Remove, clean, and sand the cabinets in the same manner as if preparing to paint. Then take a roll of sticky back plastic and peel away a small section from the top corner, carefully applying to the top of the door. Slowly peel more backing and stick the plastic to the cabinet surface, smoothing it out thoroughly to avoid air bubbles or creases. For the best results consumers must work slowly but with smooth, confident movements to achieve an even finish. To increase durability, consumers can add a layer of sealant.
Replacing Kitchen Cabinet Door Handles
Replacing kitchen cabinet door handles is another way to repair and upgrade old cabinets in need of attention. This is a simple, inexpensive repair that updates the look of cabinets and repairs units with split, cracked, or wobbly handles and knobs. Open the cabinet and use a screwdriver to unscrew the handle fastenings on the inside of the door. Remove the handles and discard. If consumers want to relocate the handle position or wish to use a different type of handle from the old one, they simply need to fill the holes from the old hardware with putty or filling compound. Take the new handle and decide on the ideal position, marking the location with chalk. Drill holes for the new handles. Then simply fit the new handles into the holes using a screw driver. Wipe away the chalk marks to finish.
How to Buy Kitchen Cabinets and Repair Items on eBay
Kitchen cabinets, cabinet doors, accessories, and repair items are all widely available on eBay, from reputable sellers, at affordable prices. Some sellers even offer free delivery on your purchases. When buying new doors, be sure to measure the existing cabinets so you can purchase the correct sizes. Be sure to check out eBay Deals, as you may find bulk kitchen cabinets at great prices, or other unmissable bargains on kitchen cabinetry and repair items. Updating your kitchen cabinets, repairing flaws, and breathing new life into your kitchen does not have to be an excessively costly endeavour. Instead of purchasing a whole new kitchen, perform simple repairs and upgrades yourself, saving time and money.