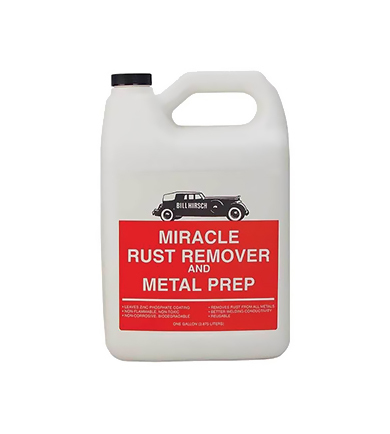 Surface rust that forms on vehicle body panels is an indication that the integrity of the paint has been compromised. Giving proper attention to surface rust spots when they appear can prevent the rust from penetrating body panels and creating holes that require more extensive repairs. The repair procedure for rust spots is not overly technical and with some basic do-it-yourself skills, vehicle owners can make these repairs themselves. Painting vehicle surfaces after a rust repair does require equipment and more advanced skills. However, individuals with the ability can purchase paint supplies to produce a quality colour match and finish for most car models. Buyers can find do-it-yourself rust repair materials,paint supplies, and necessary tools on the eBay marketplace.
Tools and Materials Required to Perform a Car Panel Surface Rust Repair
Having the proper tools and the necessary materials to perform a car panel rust repair is essential. Acquiring all the essentials in advance also helps the process to progress easier and faster from start to finish.
| | |
| --- | --- |
| Tool or Material | Uses |
| | Removes rust spots and sand body filler |
| | Used with the grinder |
| | Various grit paper for smoothing and preparing surfaces for painting |
| | Holds sandpaper and provides flat work surface |
| | Smoothing and filling body panels |
| Plastic hand paddle | Spreading body filler |
| | Powering a spray gun |
| | Small paint repairs |
| | Spraying paint |
| | Base coat, colour coat, and clear coat |
Rotary grinders come in electric and air powered models. Air-powered models have the ability to run at higher revolutions and can reduce the time necessary to achieve desired results. Small air compressors are sufficient to run grinders, airbrushes and small spray guns for minor rust repair jobs.
Repairing the Rust Spot
For small rust spots a handheld hobby grinder with a sanding wheel is sufficient for removing surface rust. Larger rust areas may require the use of a grinder. Generally 120-150 grit sandpaper or sanding wheels are coarse enough to remove most cases of surface rust. Mechanics should sand or grind down to the bare metal surface, being careful to not gouge out actual indentations in the metal. It is important to remove all rust to prevent a reoccurrence of the problem. Surface rust that has progressed to the point of actually creating holes in the metal calls for more extensive repair procedures.
Dealing with Metal Indentations
If a stone hitting the car panel surface caused the damage to the paint, it may be necessary to smooth the panel with body filler. Mix the body filler with a hardening agent to provide the integrity necessary to mould to body parts. Follow the manufacturer's instructions for preparing the body filler material and then rough the metal surfaces with 120-150 grit sandpaper to provide good adherence to the body panel. Apply the filler with a straight edged paddle and smooth to match body panel lines. Allow the filler to dry based on manufacturer recommendations before sanding or painting. Always sand body panels with a flat sanding block to prevent creating waves in the finish.
Painting the Repaired Panel
Painting is a skill that requires specific techniques to provide a nice finish to the panel. If you are unsure of your abilities, it may be beneficial to turn this portion of the repair over to a professional. Painting with a compressor and paint gun is the ideal method, but for small spot repairs mechanics can use an airbrush unit. Always start with a base coat to protect the surface from future reappearances of rust. Several lighter spray coats are better than a single heavy coat. Lightly blend paint into adjacent non-sanded surfaces. For optimal appearance, sand between coats with 400 grit sandpaper. Apply a clear coat for maximum paint protection.
How to Buy Car Panel Rust Repair Materials on eBay
Sellers on eBay have all the materials, supplies and tools to successfully repair surface rust on car body panels. Buyers can enter the item they are looking for, such as body filler, into any eBay search bar and a complete list of all items matching thekeywords appear. Check out the eBay Deals page for special offers, as buyers looking for tools to help them with a do-it-yourself project can find great discounts on sale items in the tool category. Repairing surface rust spots yourself can save a significant amount of money over the cost of repairs performed in body and paint shops. Even novice do-it-yourselfers can obtain good results with a little practice on a piece of metal to hone the skills necessary to work on their car. Quickly addressing surface rust can prevent more serious rust perforation problems from occurring.