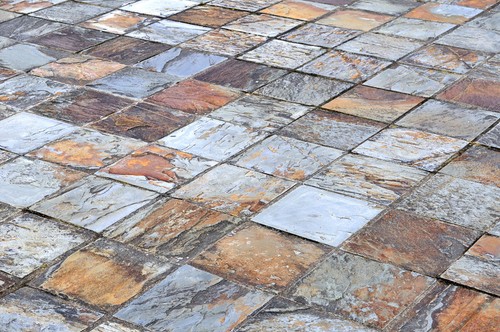 Slate tiles make a lovely and resilient addition to many areas inside and outside a home. Over time, however, heavy foot traffic, the elements, and even cleaning techniques leave slate tiles looking dull and hide their natural colours. Fortunately, by learning a few techniques for refurbishing and sealing slate tiles, homeowners can restore their original tone and lustre with ease. After exploring this process, homeowners can also look into various retail options to find the right slate cleaning and sealing products. Traditional brick-and-mortar stores offer some options, but consumers can also benefit from learning about the purchasing process on eBay.
Assembling the Right Tools
As a first step, homeowners should make sure they have all the products and tools they need for slate tile restoration. Identifying these tools and accessories and understanding their roles in the process is essential.
Product

Description

Used with tile stripper to remove residue

Cuts through any waxes, seals, and other products to expose true stone

Creates a finish that enhances the stone

Seals off porous stone from debris

Used to apply sealant

Typically made of lamb's wool

Creates a wet look to keep stone looking new
In addition to these core items, homeowners also need large household buckets and any protective gear they deem necessary. These items may include rubber gloves and medical masks for homeowners who want protection from the fumes in tile strippers and sealers. Homeowners also need an array of typical household cleaning products, including a wet mop, a dry mop, and a household vacuum, on hand for the process.
Cleaning and Stripping Slate Tiles
Once the proper tools are in hand, homeowners can move on to the next step, cleaning the tiles. Cleaning slate tiles in a restoration process involves removing surface residue, such as dust, grime, and previous sealers.
Surface Cleaning Slate Tiles
First, homeowners should use a dust mop to remove any dust and loose particles. Then they should use a wet mop along with a slate-specific cleaner to wet wash the stone. Using the hose adapter on a vacuum is also a good idea because the suction can remove hard-to-reach particles from the cracks between stones.
Stripping Slate Tiles
The next step involves applying a coating stripper with a wet mop to the stone's surface. This removes any wax residue and the remains of any previous sealants. It is an essential step in fully restoring slate because DIYers want to re-seal the cleanest and purest slate possible. They should rinse the tiles thoroughly afterward and leave them to dry before moving on to the next steps.
Removing Difficult Stains on Stone Tiles
Sometimes homeowners may encounter stubborn stains left by grease and other substances. Addressing this issue is easier after homeowners strip all surface waxes and sealers from the stones. To remove household stains such as grease and oil, a heavy-duty degreaser along with a stiff-bristle scrub brush usually does the trick. It is important to rinse all cleaning products off the slate tiles after addressing the stains.
Scrubbing the Grout
The grout between the slate tiles often retains a good deal of dirt and residue. Homeowners can use a tile and grout cleaner to address the grout by scrubbing it with a stiff-bristle brush. It is important to rinse the grout thoroughly afterward and leave it to air dry.
Applying Sealer to Slate Tiles
After the slate tile is clean, homeowners can apply a sealer to protect the now pristine stone. It is important to only use a sealer designed for stone, and the application should coat the entire surface. Sponges and rags are suitable for this task. Once the first coat dries, it is best to apply a second layer.
Applying an Enhancer to Slate Tiles
Slate tile enhancers add gloss and sheen to slate that keeps it looking clean and new. After sealing a floor, homeowners should wait five to seven days until the sealer is completely dry and set. They can then apply an enhancer according to the manufacturer's instructions. The application process typically involves a mop or a sponge. Enhancers must fully dry before walking on the slate.
How to Buy Slate Tile Restoration Products on eBay
The products needed for a slate tile restoration are all available on eBay. Finding specific products is easy. Consumers can just begin with the search bar found on any page on the site. They simply enter terms describing the products needed, such as 'stone cleane r'. To review products in detail, they click on their highlighted titles. A thorough slate tile restoration is a simple process with the diverse catalogue of options and user-friendly features available on eBay. With just a little effort, consumers can find the tools and supplies they need to clean and strip slate tiles, apply slate sealers, and apply slate enhancers.