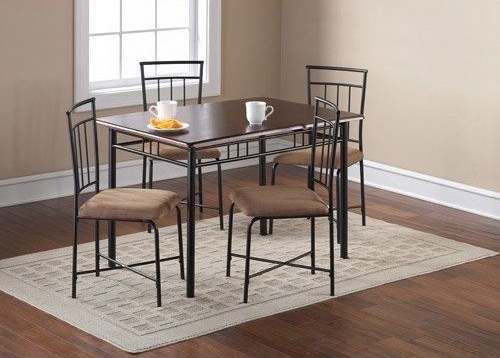 Most homes find a dining table to be a visual focal point as well as a welcoming gathering place for friends and family. Because normal use exposes dining tables to food and liquids, it is quite common for damage to occur. Table fasteners loosen and rust while water can stain or damage the wood's surface, leaving spots or streaks. Luckily, restoring a dining table can be a rewarding DIY project. Do-it-yourselfers can find tools and supplies to restore a dining table at home improvement shops or on eBay. With a little background knowledge about wood restoration and a few supplies, it is possible to restore a damaged antique dining table to its original lustre.
Assess Table Condition
Before beginning a table restoration process, assess the condition of the table. A dining table with only minimal damage may be easy enough to sand and restain, but when a table has significant problems, the project may have diminishing returns. For instance, it is easy to replace table hardware but wood joints that rot or are broken require much more carpentry skill and time to repair.
Determine Table Material
The type of wood used to make a dining table can have a major impact on restoration methods. Not only do different types of wood hold up better over time, but they also absorb stain and other wood treatments differently.
Type of Wood

Description

Notes on Restoration

Hardwood

Very durable

Available in both red and white

Very suitable for restoration due to durability

Walnut

Commonly found in veneers

Quite costly

May streak during restoration

Pine

Softwood

Commonly found in Colonial furnishings

Inexpensive but suitable for restoration if desired

Maple

Dense hardwood found in furniture and butcher blocks

Difficult to carve or shape but suitable for other restoration purposes

Birch

Hardwood

Closely grained

Very common

Good for restoration

Costly

Dark hardwood

Soft

Causes stain to bleed

Not ideal for restoration
Although this is not a complete list of furniture woods, these are some of the most common types of wood used for dining tables. Of course, if a table is in good condition and does not require extensive restoration, virtually any wood is acceptable.
Prepare Table Surface
The first step in restoring a dining table is to prepare the wood. The extent to which the wood needs to be prepared depends largely on how extensive the damage is. An older table may have chipping finish and paint that requires removal while a newer table does not. For any table restoration process, however, proper safety precautions are essential. Work in a well-ventilated area and wear gloves and safety goggles as both debris and harsh chemicals can be harmful.
Stripping a Table
Restoring a dining table that is old and worn requires first stripping the table of its original paint and finish. It is a good idea to begin by cleaning the wood using a gentle soap, particularly if the table is quite dirty. For more challenging stripping jobs, using a semi-paste paint stripper can help to dissolve old layers of colour and polish.
Sanding a Table
For a table that is in good condition apart from some scratches, sanding down the table may be the best first step. If a table has a veneer surface, rather than solid wood, it is important that the restorer not sand through the veneer to the wood beneath. The best way to avoid this is to use asander with gentle pressure and fine sandpaper. It is also best to sand with the grain of the wood, rather than against it.
Apply Wood Finish
When the table is clean and smooth, it is time to refinish the wood. Prepare the surface of the wood for stain with a wood conditioner. This allows the final wood stain to soak in evenly rather than leaving a splotchy finish. Follow the package directions on the wood conditioner and all restoration supplies and substances.
After the wood is conditioned, apply the stain. If it is unclear whether the stain is the right colour, test it on an inconspicuous area, such as the bottom of the table, and let it dry before staining the entire table. It may take several coats of stain to achieve the desired colour.
Polish Table
To achieve a high gloss finish, apply a clear wood finish. Polyurethane is a popular choice that is easy to find and apply, but other clear finishes are available. This may also require several coats. Sanding the surface between coats ensures the finish is shiny and smooth rather than splotchy.
How to Buy a Dining Table on eBay
Whether you want to purchase a brand new dining table or find an antique table in need of restoration, searching eBay is a good place to find deals on furniture. Use the search box on any page of the site and enter some relevant terms, like " oak dining table " or simply "table". Next, use the eBay filters to narrow down results and find exactly what you need.
Taking the time to restore a dining table can be a cost saving measure as well as a rewarding project. With just a few tools and supplies, it is easy for anyone to bring an old or damaged dining table back to life and use it for years to come.