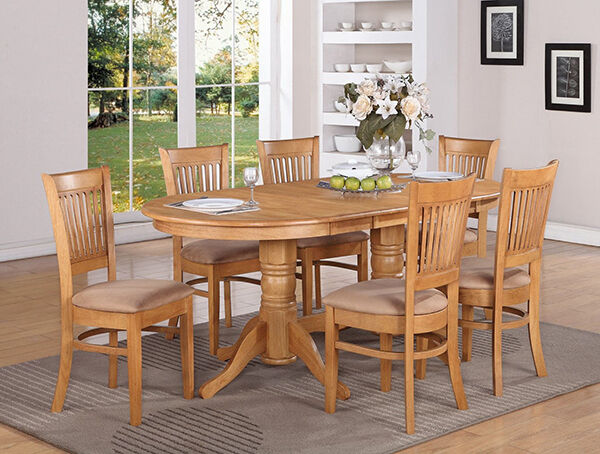 Purchasing a vintage oak dining table is a fun project. Oak is a sturdy, beautiful wood which lasts for years and holds up well. Oak tables are solid and durable, and though oak wood wears well, over the years it becomes scratched, dented, or dull.
Restore an oak table to its former glory with a few simple steps, and bring an old vintage table back to life. It does not take a professional to refinish a table, but it does require some necessary items and a bit of time. Consumers who wish to enjoy their oak dining table for years to come may wish to consider repairing, refinishing, and restoring an antique oak dining table.
Clean the Table
Whether it is an antique table or an oak table that is just a few years old, oak collects dirt and dust just like any other wood. The first step in restoring an oak dining table is to clean the entire table and make it look new again. First, place a large work cloth under the table to catch any drips. To safely clean oak wood, use a mild liquid soap and warm water. Skip abrasive sponges, and wipe away dirt with a soft microfibre cloth or a sponge.
Use a specialised wood soap or cleaning oil for built-up or tough dirt. Wipe the soap away with a clean, dry cloth to finish the job. Do not air-dry oak wood; it must be hand dried because water that sits on the wood damage its.
Repair the Table
Assess the oak table to see what the damage is for restoration. For scratches, use a wax crayon or stick that matches the colour of the wood. Use a soft cloth to help spread the wax and remove excess wax. Use wood putty or a wood filler to fill in deep holes or gouges. Check each table leg to ensure that it is tight, and if any legs are loose, use a screwdriver to tighten up bolts. For dents, try adding water to them to expand the wood. Repeat this as many times as necessary until dents disappear.
Sometimes wet glasses leave noticeable rings on an oak table. To remove these unsightly rings, use furniture oil, petroleum jelly, or mineral oil to buff them away. Alternately, sand them away with fine-grain sandpaper. Refinishing the table is a permanent solution to water marks when other methods do not work. For ink stains, refinishing the table is the best option for removal.
Refinish the Table
To refinish an oak dining table, first strip the table of its existing finish. To do this, put on safety goggles and rubber gloves to protect skin and eyes from harsh chemicals. Always work in a well-ventilated area when using chemicals. Use a chemical wood stripper to take off the old finish or lacquer. Once the finish is gone, scrub the table with steel wool to remove all leftover particles.
Sand the table with a hand sander, and then wipe away excess sand with a soft tack cloth. Now the table is ready for new stain. Use wood stain in a matching oak shade to refinish the table. Brush the stain on with a paintbrush, working with the natural grain of the wood instead of against it. Apply one to three coats of stain depending on the desired table colour. Allow the stain to dry for 24 hours before continuing.
Add Shine to the Table
The final restoration touch is to add a lacquer or shine to the oak dining table with a finishing top coat. Made of polyurethane, top coats come in many types including brush-on, wipe-on, or gel finishes. Apply the first coat of finish and buff it into the oak table. Use the sander in between coats, and wipe excess sand with a cloth before continuing to the next coat. Use one to three coats of finish for best results.
Allow the table to air-dry overnight. Then once the table is dry, buff the table with a dry, soft cloth to bring out the shine. Wood polish or furniture oil is useful for creating a high shine after general cleaning and maintenance.
How to Buy an Oak Dining Table on eBay
Check out eBay for low prices on a sturdy oak dining table. Do not be put off by a vintage or antique table, simply take it on as a DIY project and enjoy restoring it yourself. Find great deals on items you need for restoration by keying in search terms like "wood soap" and " wood putty". If you are buying a dining table, find a local seller and discuss picking it up in person by clicking "Ask a Question" on the seller's page.
An oak dining table makes a great heirloom piece, and since the durable wood lasts a lifetime, it never needs replacing. However, it does need care from time to time, and restoring an oak table is a rewarding project to take on, especially when you put the results of your hard work on display in your home.