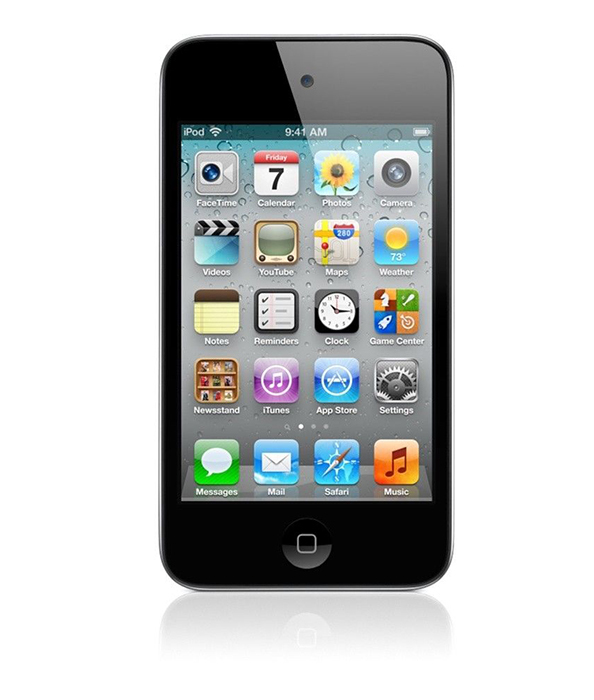 When an iPod becomes too bloated with apps, music, and videos, users can restore it to its base state, known as factory settings. Like other electronics, iPod Touch, Nano, and Shuffle slow down over long periods of piling data onto the device. The result manifests in the form of freezes, crashes, and stuttery performance.
Apple offers several ways to restore an iPod to its factory settings. From there, users can load a backup that acts as a mirror image of the data they jettisoned when they wiped the iPod clean. They can also start from scratch if they would rather not load all the data that slowed their iPod to a crawl. Bear in mind that the restore process differs between iPod models and generations.
Backing Up Data
Apple recommends that users back up their iOS devices before certain big events such as upgrading to a new version of iOS or restoring a device to factory settings. Users can back up their settings and data, as well as their contracts and photos, to iTunes or Apple's iCloud service.
iTunes
To back up to iTunes, users need the USB cable that Apple includes with new iOS devices. Connect the iPod to a PC or Mac via the USB cable and launch iTunes. Users who have iTunes sync their devices automatically can sit back and relax while the software creates a backup. For everyone else, select the attached iPod and click the "Summary" tab. Navigate to Backups and click the option to create a backup.
Users who travel with their iPods might want to take an extra step and encrypt their backup. Encryption secures passwords for email accounts and various iPod services and apps. Simply select the encrypt option before creating the backup.
iCloud
Apple requires users to connect to a Wi-Fi network in order to back up to the iCloud service. Once connected, go into the iPod's settings menu, tap iCloud, and enter the Storage & Backup panel. Tap the Back Up Now button and wait while the device transfers data to the user's iCloud account.
Restoring an iPod
While the process of restoring an iPod remains largely the same across the many types of iPods available, certain models call for extra steps. In addition, users might need to enter administrator login credentials to complete the restore process when connected to a Mac.
General Process
Although unnecessary, users might want to connect to the Internet before restoring their iPod in order to download the latest software used by their device. Update to the latest version of iTunes and connect the iPod using the included USB cable or a FireWire cable. Select the iPod, click the "Summary" tab, and click the "Restore" button.
After the progress bar fills up, users receive differing instructions depending on the model of their iPod. Older models ask users to disconnect the iPod from iTunes and plug it into an iPod power adapter. Newer models need to remain connected to the computer until notified otherwise.
Considerations for iPod Nano and Shuffle Devices
Various permutations of the iPod Nano and Shuffle present users with different restore options. The default option keeps the same version of iOS currently on the device, while a similar option allows users to override the option to upgrade if they feel more comfortable with the current version of the software. Finally, users can instruct their iPod to grab the latest version of software online, or ready and waiting on their hard drive, to bring the device up to speed during the restore process.
Backup Options
Apple offers users the option to save most of their iPod, iPad, and iPhone data to the cloud. Users can also stick with the tried and true method of backing up to iTunes. Each method comes with different advantages.
Advantages

Disadvantages

iCloud

* Automatic backup when connected to Wi-Fi and power source

* Restore from any location with Wi-Fi access

* No PC, Mac, or iTunes software required

* Wi-Fi and power source are not always at hand

* Limited storage capacity

iTunes

* No Internet connection required

* PCs and Macs offer more storage

* No iCloud account required

* Users must connect iPod to a PC or Mac running iTunes

* Users can only log into iTunes from a finite number of computers
Either method allows users to access their purchases and personal data such as pictures conveniently.
How to Buy an iPod on eBay
Users ready to swap out old iPod models for the latest and greatest can find many new and used devices, including restored iPod Touch units, available from eBay's Top Sellers. Go to any eBay page and enter a keyword phrase into the search bar. Enter specific products such as "iPod Touch 5" to zero in on specific results. For a broader list of search results, enter general keywords such as "iPod Touch." Keep in mind that accessories such as charging docks, cases, and charging cables only work with certain iPod hardware; for example, the Lightning charger was introduced with the iPod Touch 5th Generation.
Don't feel daunted by the idea of restoring an iPod. In 30 minutes or less, including setup, users can start fresh or revert back to familiar settings and app loadouts.