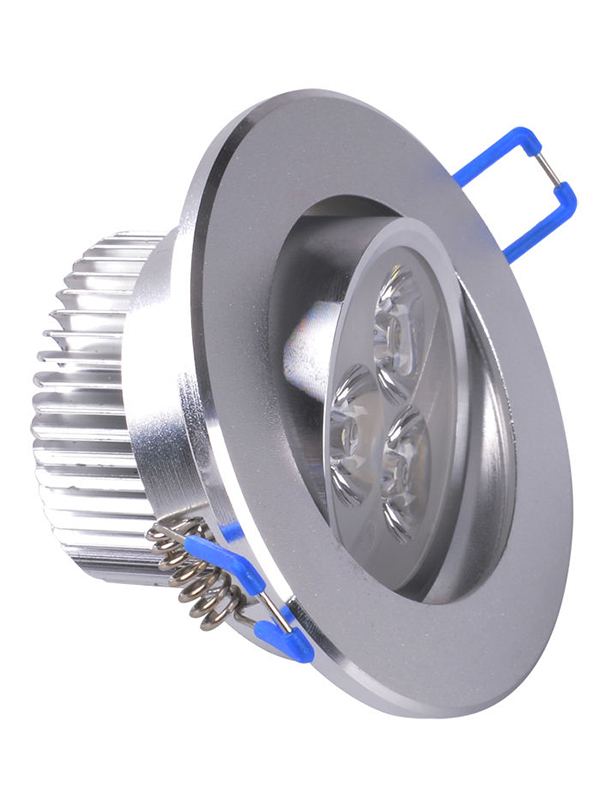 LED lights show up in a variety of places in today's world, such as kitchens, dining rooms and living room areas. They are beginning to be more common as their lifespan is much longer than incandescent and fluorescent lights, which makes them more efficient. Because of this, LED lights are used most often for spotlights, downlights and up-lights because LED bulbs can last 20-plus years, so rarely need to be changed. There are other advantages of LED lighting, like less heat being emitted and a quicker time to full strength light. These lights also come in a variety of shapes and sizes.
LED Downlight Tips
Before purchasing LED downlights, it is prudent to understand the basic variations in the technology.
Wattage
One of the biggest advantages of using LED lights is their energy efficiency. The output of an LED bulb can be the same or higher than a regular incandescent or halogen bulb but it will use much less wattage. A standard halogen downlight might use 55 watts, whereas an LED light with the same light output could use 4.5 watts.
Lumens and Lumens per Watt
The lumen is the standard way of measuring a light source's effect on an area equal to about 30.48 centimetres or approximately 1/3 of a metre. Lumens per watt vary and the higher the lumens, the brighter the light. A typical LED is so efficient that with only 3 watts of electricity it can kick out 66 lumens per watt. Lumens per watt will vary based on the brand, the LED chip, the fitting and how often the bulb is used.
Angle of Beam
There are narrow and wide beams, and deciding which will work best for the situation will depend on its planned use. If the downlight is intended to highlight or spotlight a piece of art or an interesting sculpture, then a narrow beam will satisfy perfectly. If the downlights are intended to light up a dining room, the wider beam will be more useful. Many LED downlights are used in track lighting, so each bulb can be pointed in different directions to fill in and light up an entire area.
Warm or Cool White
Many people don't think about the type of white light that is being emitted from their lighting fixtures, but warm and cool white lights have different effects. Cool white lights will help a warm room feel cooler. It will also light up darker areas in rooms where brighter is needed, such as a kitchen. Warm white lights are softer and create more of an atmosphere. They are best used in rooms such as the living room, den, dining room and bedrooms.
Deciding between warm or cool is up to the buyer, but designers all suggest that buying and using one or the other is better on the eyes than using both in the same room. So buyers should determine which type is most suitable for use before buying, as there are also gradient options within the warm and cool ranges.
Dim or Full Strength
Not all dimming switches are compatible with all LED downlights because of the different circuit types. Many of the earlier dimmers were made for incandescent lights, but finding a dimmer for an LED is possible. Dimmers for incandescents are nothing more than a slowly moving electrical shut off valve. But with LEDs, buyers will want to know whether a special dimmer is required for the particular light or if it is possible to use an LED-compatible dimmer switch.
Those who aren't sure which dimmer switch should purchase LED bulbs that are compatible with a traditional dimmer switch.
Placement
LED bulbs are much cooler than incandescent bulbs, but they still get hot. Most fittings include a heat sink at the base of the bulb, which pulls away the heat from the actual bulb where it dissipates into the surrounding air. If the bulb is in an enclosed fitting, the heat has nowhere to go and may produce such a high temperature the bulb could fizzle out. Some LED bulbs are approved for semi or fully enclosed spaces, like when used for recessed lighting or enclosed cabinet lighting.
How to Buy LED Downlights on eBay
Buying LED downlights can be intimidating at first, but a little knowledge simplifies the process. Finding downlights and supplies on eBay can save time and money. eBay is one of the world's largest online marketplaces so it is easy to find a wide variety of options and prices. Sellers are competitive and prices range, generally giving buyers a large advantage over purchasing from a physical retail store. Home & Garden is the place to start looking at the variety of LED downlights and necessary supplies. Shipping prices often vary by seller, so when comparing prices, details should be reviewed.