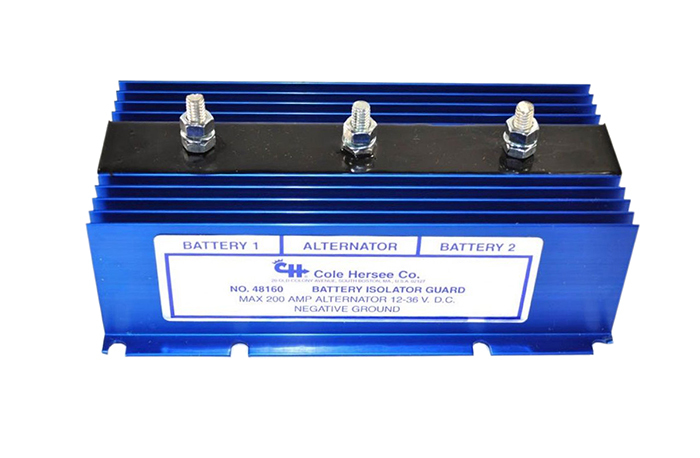 Battery isolators are useful when multiple batteries need to be charged at once from a single source, such as a vehicle's alternator. This is common equipment in large vehicles that have dual-battery systems, such as large trucks, caravans, and boats. If one or both batteries are having trouble holding a charge, this may be a sign of trouble with the battery isolator. Testing a battery isolator involves using measuring devices such as a multimeter or voltmeter.
Equipment Needed to Test a Battery Isolator
In order to test a battery isolator, motorists will need the proper equipment to ensure they end up with reliable readouts and usable data to determine how and if the battery isolator is working. The following chart gives insight into the equipment needed for the testing process. Specific battery isolators may be designed to be measured with a specific tool, and users should research their specific model prior to purchasing a testing meter to ensure the test will be performed properly.
Equipment

Function and Additional Info

Battery Isolator

Prior to testing, vehicle owners should inspect battery isolator

Different brands or types of battery isolators may have specific testing methods

Measures electric potential

Readouts measured in volts

Often available with clear, digital readout screen

Multimeter

Measures voltage, current, resistance

Smaller, less expensive hand-held models are suitable for basic testing

Most new multimeters are digital, but analogue models are also available

Can also be called a multitester
Buying the proper equipment (and understanding how to use that equipment) is the foundational step in testing a battery isolator. Understanding the specific battery isolator's form and function is also important, as proper measurements may vary by manufacturer and model. Shoppers should also note that voltmeters and multimeters are often included in the same device.
Steps to Test a Battery Isolator
Those who want to test their battery isolator should first locate and inspect the isolator to ensure safe testing conditions. Corrosion or frayed wires may be signs of potential danger and may also explain the root of the battery charging problem.
The battery isolator should be properly connected and installed so functionality can be tested. If connections are properly completed, testing can proceed.
The testing process should begin with the vehicle's engine turned off. According to the testing tool's instructions, the meter should be attached to the isolator and to the battery in the proper order. Some testing tools may have black and red cables, while others may have cables of only one colour, so users should make sure their specific testing meter is being used properly. Additionally, different testing meters may use different measures, including volts and ohms, in their readouts, so this should be researched as well.
Once both batteries are tested with the engine off, the engine should be turned on and the test should be repeated. In some cases, the engine may need to run for an hour or so prior to testing to ensure any potential charging has completed.
If the person performing the test suspects that there is a problem with the isolator or the battery, contacting a reputable auto, caravan, or boat mechanic is an appropriate next step.
How to Buy a Battery Isolator Test Meter on eBay
Trusted sellers on eBay offer a variety of different products that are essential for testing a battery isolator, including voltmeters, multimeters, batteries, and the isolators themselves. Shoppers should equip themselves with a thorough understanding of the make and model of their battery isolator prior to purchasing a meter. Testing a battery isolator may have a bit of a learning curve for those who are new to the process, but once the basics are locked down, owners of large vehicles that require multiple batteries will have a good addition to their ownership skill set.