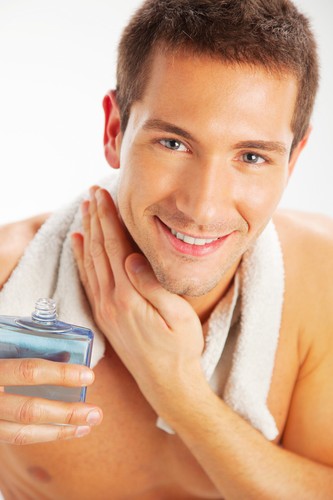 Available in a wide variety of solutions, aftershave serves as a truly all-purpose shaving accessory, providing everything from antiseptic properties to an aromatic scent for a man's daily shaving routine. Although ubiquitous in men's lives, some men still experience confusion as to the proper way to integrate aftershave into their daily routines. By learning how to select the right aftershave and apply it properly, men enhance and perfect their morning rituals and get the most out of this useful grooming solution. Men in search of good aftershaves can also benefit from exploring retail options such as eBay, which bypasses traditional brick-and-mortar vendors to offer a more diverse shopping experience.
Selecting the Right Aftershave
Although an aftershave splash might be the most familiar type of aftershave to many men, aftershave actually comes in an array of solutions, each with its own benefits for particular skin types. Men can select a type of aftershave based on their skin types and needs.
Aftershave Type

Benefits

Similar in consistency to a lightweight moisturiser

Ideal for men with dry skin

Gel solution that falls somewhere between a lotion and a splash in consistency

Good choice for men with normal skin

Aftershave Powder

A talc-like powder solution

Ideal for men with oily skin or breakout areas

Liquid Aftershave or Aftershave Splash

Consistency similar to water with an alcohol base

Ideal for most skin types, including combination skin
In addition to determining how well an aftershave suits a man's skin type, consumers can also consider the scent of various aftershaves when making selections. Consumers who like layered scents often purchase aftershaves in combination with colognes. Sports-themed aftershaves typically use fresh, outdoor scents, such as bergamot or pine. Scents that evoke a classic feel often feature bay rum. Many modern scents include headier aromas, such as patchouli and sandalwood. Men typically select scents based on their lifestyles or the impressions they want to make.
Considering the Ingredients in Aftershave
Men also need to consider the ingredients used in aftershaves when making selections. Some ingredients offer enhanced antiseptic qualities while others help prevent annoying conditions such as razor burn and bumps.
Alcohol
Alcohol is a powerful astringent that serves as an antiseptic in an aftershave. Alcohol adds much of the "sting" to aftershave. Men with sensitive skin should select alcohol-free aftershaves because alcohol adds to redness and dryness. If men still want an astringent, they can look for solutions that containtea tree oil or witch hazel.
Aloe
This soothing gel sourced from the Aloe Vera plant is one of the most popular ingredients in aftershaves. This ingredient features soothing properties that help reduce redness and aid the skin in recovering quickly after a shave. Aloe-based aftershaves are particularly appropriate for men who dry shave or use electric shavers.
Using Aftershave Correctly
Most traditional aftershave splashes contain a significant amount of alcohol. As a result, when applied to the face after shaving, there is usually an intense stinging sensation that many men find uncomfortable.
Prepping the Face After Shaving
Even if no cuts seem obvious, shaving creates numerous micro-abrasions on the skin. Immediately after shaving, it helps to splash the skin with cold water. Cold water acts to soothe the skin immediately and remove the residue of shaving, but more importantly, it helps seal the pores.
Preparing the Aftershave
While the face is still damp from the cold-water splash, the user should pour the aftershave into the hands, using no more than about a teaspoon. The user rubs the hands together for a few seconds to spread the solution around. The majority of the alcohol evaporates in about four seconds, and this helps reduce stinging.
Applying the Aftershave
There is much debate over whether patting the face with aftershave or rubbing it in is better. Most shaving experts adhere to a downward stroke method. To do this, men place the heel of their palms on each cheek and then stroke downward, working the aftershave into the face and neck. They need to apply the aftershave to the pulse points on the sides of the neck to ensure a long-lasting smell.
How to Buy Aftershave on eBay
Aftershave and other shaving and
grooming accessories
are available in a wide array on
eBay
. Searching through this diverse catalogue is easy, thanks to the site's search interface that is available on every page. Entering a keyword term describing a product to run a search pulls up all the products on the site related to that term. Consumers can then review products in detail at their leisure. Using aftershave is an age-old tradition that helps keep the skin toned and fresh, and it adds a dynamic scent to a man's grooming routine. By learning to select and apply aftershave, men can enjoy all the benefits of this essential grooming product.