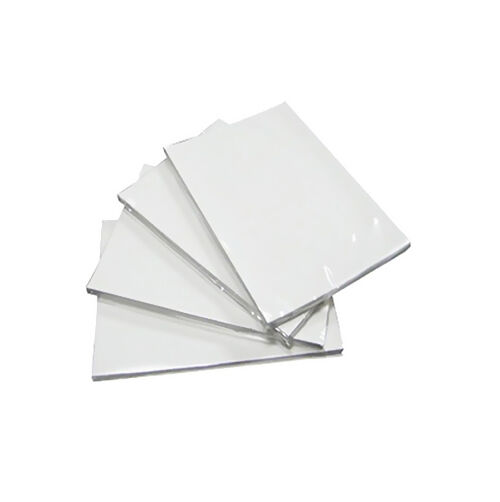 Iron-on transfer paper provides creative consumers with a fun way to customise their T-shirts. Besides just adding a few unique details to their apparel, they can design and create T-shirt designs from scratch. Most of the time, users only need an iron and iron-on transfer paper when transferring images onto a clothing item. While a popular use for this paper is on T-shirts, iron-on transfers work very well on many items including other kinds of clothing items, backpacks, and various fabrics. Consumers can either design and print their own paper or buy ready-made one. Besides arts and crafts shops, eBay is one place where shoppers can find numerous iron-on transfer paper designs.
Make an Iron-On Transfer Paper
Shoppers can usually find transfer papers with various designs from cartoon characters to brand logos. However, by making their own iron-on transfer, users can customise any fabric as they like. Only few items are necessary for making and using iron-on transfer paper.
| | |
| --- | --- |
| Items Needed | Description |
| | Creates an image for the transfer |
| | Prints the image onto the transfer paper |
| Iron-On Transfer Paper | Available for dark or light fabrics |
| Iron | Transfers the image onto fabric |
| Ironing Board | Holds the fabric during ironing |
When users purchase their blank iron-on transfer paper, they must pay attention to its compatibility with the printer. Inkjet and laserjet iron-on transfer paper work best with their respective printer types. Also, depending on the colour of the T-shirt or fabric, buyers must decide between transfer papers for dark or light fabric.
After purchasing the right kind of paper, users can create or edit the image they want to print on it. Besides resizing and changing the colours of the image using an image editor, users must always flip or mirror it before printing. An image that appears backwards on the screen and on paper transfers correctly onto the fabric. Next, users can print the image on the transfer paper.
Iron the Image onto Fabric
To iron on the transfer, users first lay out the fabric on an ironing board. Then, they place some white paper under the surface on which the image needs to transfer to. Users should always read the instructions for the iron-on transfer paper to know the exact procedures, as they may differ between brands.
After setting the iron to the right temperature, users position the transfer paper correctly on the fabric and start ironing it. First, they should start ironing outside the borders of the image and move the iron in circular motions towards the centre of the image, usually for around 10 to 20 seconds on one area. Once they iron over the whole paper, users can switch the iron off and let the paper to cool down for a few minutes. Then, they can remove the backing paper slowly.
Precautions and Tips
Dealing with a hot iron can be dangerous, so users must always remember to handle it properly and never leave it unattended while it is on. Sometimes, consumers only need to iron on small images. To make the transferring process easy and quick, they can trim the edges of the transfer paper after printing. By doing this, they can accurately see where they position the image and avoid mistakes. However, they should be careful not to cut the image itself.
If transferring prints onto a brand new T-shirt, buyers should wash it first to preshrink it. This allows the image to stick well and not deform during the next wash. To take good care of the printed T-shirt or fabric, users must wash it with cool water only, and turn the clothing inside out beforehand to prevent the image from washing off. By following the instructions on the iron-on transfer paper and properly caring for the printed clothing item, buyers can enjoy their personalised item for longer.
How to Buy Iron-On Transfer Paper on eBay
eBay has plenty of printed and blank iron-on transfer paper designs for sale. To find the one you need, just access eBay's search bar that you can find on any of its web pages, and enter your search query. Use specific keywords such as ' inkjet iron-on transfer paper ' to get accurate search results. You can also visit eBay Deals and browse through the various discounts on craft supplies.
Iron-on transfer paper makes it easy for you to place custom designs on your T-shirts and many other clothing items. Besides being easy to make and use, iron-on transfer paper is an affordable option for personalising clothing items.