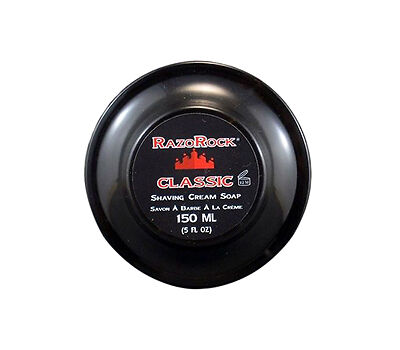 Shaving soap is an essential grooming tool in many peoples' cabinets who choose to shave with straight or disposable razors. This soap creates a rich lather that men especially love due to the thickness of the hair on their faces. Shaving off thick or coarse hair in a proper fashion requires that the hair stand up as straight as possible, so when the blade passes by, it cuts the hair, much like a lawnmower blade cuts grass. This promotes a close, clean shave. Look for shaving soap online at eBay or at retail department stores. Knowing how to use shaving soap gives people a close shave to look their best.
Application Method
Using shaving soap for some people is a confusing process. Unlike shaving cream which already gives a rich lather automatically, shaving soap needs help accumulating one. Using a shaving brush has its benefits as it maintains the rich lather, whereas hand applications often tend to minimise the strength of the lather while applying it. People just starting out using shaving soap should try using shaving soap with a brush and see if this application method works well for them.
The Process
Shaving cream is a convenient grooming accessory for many people because it automatically dispenses foam or gel which turns into foam right out of the can with no effort by the user. Shaving soap has not gone out of style though. Although the process for creating the lather is not as immediate as shaving cream, the benefits that come from using this soap are the same, and in many cases better than using shaving cream dispenser versions.
Shaving soap typically comes in either a tub or a round version, although stick styles are also available. The tub version provides the container in which the lather creation begins. The round version needs a mug or other container that fits closely around it without being too tight. Before creating the lather, wet the whiskers or hair with warm water and allow them to soften. At the same time, add a little warm water to the top of the shaving soap to allow it to soften for a couple of minutes as well. Before using the shaving soap, empty the water from the container.
Create the Lather
Using a wet brush, run it across the top of the soap in a swirling motion anywhere from 15 to 60 times in order to achieve the desired amount of lather. There is no set rule for this process, but the more rotations a person makes, the thicker and richer the shaving lather becomes. The amount of rotations for creating lather is up to the individual user.
Finish Up
The final step is to apply the lathered soap to the area needing the shave and begin whisking away unwanted hair. Make sure to rinse the area well after shaving to remove soapy residue that remains on the surface of the skin. Wash the brush thoroughly and place it in an area that promotes drying.
Choose a Shaving Soap
When it comes to shaving soap, there are many different types on the market. Some people are sensitive to odours and want to look for a brand of shaving soap that does not include fragrances. Other people require a shaving soap with moisturisers to keep the skin from becoming dry. When it comes to shaving soap, there is a type to meet virtually any need. In the table below, find a few types of shaving soaps along with their beneficial properties and one example each.
Type

Benefits and Examples

Does not irritate the throat

Ideal for people with some form of allergies

The Art of Shaving comes in rounds and tubs

Prevents irritation

No harsh chemicals

Proraso shaving soap is available in round and tub varieties

Keeps skin soft and smooth

Prevents irritation

Tabac shaving soap comes in tub, round, and stick styles
New shaving soap has a tendency to move around in the container during the first few uses. To help keep the soap in place, add a small amount of water to the bottom of the container, holding the soap, and allow the water to dry up naturally. As the water dries, it creates a seal between the container and the surface to keep the soap in place.
How to Buy Shaving Soap on eBay
When it comes to finding a wide variety of products in one convenient location, it is hard to beat what eBay has to offer. There are also many great deals on all sorts of items every day, such as shaving soap. Further increase the value of the shopping experience by shopping from a Top-rated seller who also offers free postage and payment.
Shaving soap comes in a wide variety of styles to choose from and is often the grooming tool many people prefer, even over shaving cream. This soap comes in rounds or tubs which gives users versatility and variety. Using shaving soap is not a lost art form and has many benefits once people know how to use it.