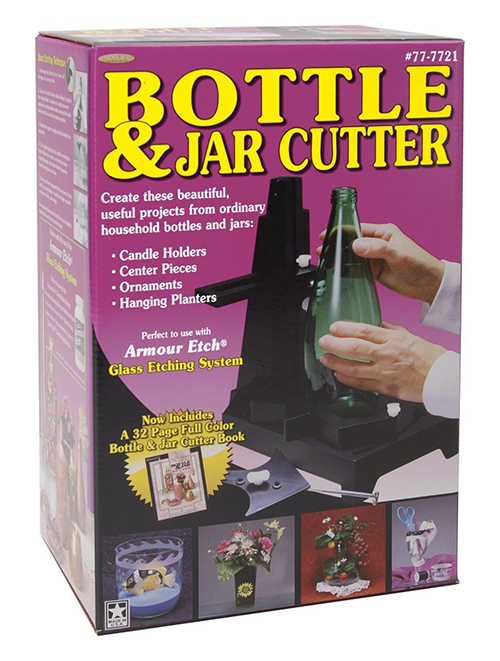 Cutting bottles and jars for repurposing them is a fun hobby that saves glass bottles and jars from landfill deposits. From discarded wine bottles, a set of glassware emerges. Candlesticks made from a variety of styles and sizes of glass jars and bottles suit a number of candle sizes. Glass cutting is an enjoyable hobby that reaps rewards in the form of usable items that are handmade into purposeful objects for use in daily life.
Types of Bottle-Cutting Equipment
There are many different kits used for cutting jars and bottles and they differ slightly in their implementation. Some kits are limited in use to jars and bottles with wide mouths while others have no limits on sizes or other use restrictions.
Generation Green
The Generation Green, g2, Bottle Cutter kit cuts jars and bottles in a wide variety of sizes. It is restricted for use to wide-mouth bottles and jar openings. With a removable glasscutter and six cutting blades, it gives straight cuts on the glass. Scoring is easy with less pressure required. The Generation Green Bottle Cutter is fashioned from recycled aluminium. This kit uses a three-step process to complete a glass cutting craft or project.
Armour Bottle and Jar Cutter
Using the Armour Bottle and Jar Cutter requires the alignment of the cutting wheel onto the surface of the bottle or jar at a 90-degree angle. Turning the bottle and applying pressure evenly, scores a line onto the glass. Using the tapping arm, tap gently along this line to separate the parts. Remove the top piece of glass and sand the cut edges smooth with sandpaper to prevent cuts.
C&C Bottle Cutter
The C&C Bottle Cutter offers many options. The structure offers a large variety of cutting sizes that go up to 3-litre jars and bottles. With adjustable positions, bottles and jars of the same size can receive the exact cut in the same location for uniformity in a completed set project. It features six interchangeable cutting blades and has an aesthetic design. The one screw design allows for easy adjustment in cutting glass.
Ephrem's Bottle Cutter
Using the Ephrem's Bottle Cutter completes a project in five steps. The first step positions the bottle. The second step etches the glass. The third step heats the etching with the use of a candle. The fourth step is the separation of the cut glass. The fifth step polishes the edges of cut glass.
Glass-Cutting Tools
Some glass-cutting tools not found within a hobby glass-cutting kit are professional tools. These tools would be for professional use by a glazier or professional glasscutter. A table of glass cutting or glaziers' supplies from BOKER follows.
| | |
| --- | --- |
| BOKER Glass Cutters | Model Number |
| Circular Glass Cutter | 8081 |
| Professional Glass Cutter | 8093 |
| Heavy Duty Glass Cutter | 8096 |
| Heavy Duty Glass Cutter | 8097 |
| Professional Glass Cutter-Six Wheel | 8098 |
BOKER Glass Cutters feature those made for cutting perfect circles. All of these tools are made of quality materials from brass, tungsten carbide, wood, and metal. The turret heads are high- quality. BOKER tool production began in the 17th century. The brand name, known for both precision and quality, is a German company. These glass-cutting tools are of professional quality and offer durability of both design and function.
How to Buy a Bottle Cutter on eBay
Determining which bottle cutter style is needed is the first step in buying a bottle cutter on eBay. The styles include those of Generation 2, Ephrem's, and many others. The reliable sellers on eBay have a wide variety of bottle and glass cutting kits and tools from which to choose. Using a glasscutter is an excellent way to recycle glass bottles and jars. Making drinking glasses, candleholders, and other craft projects from re-purposed glass bottles and jars is economical, resourceful, and friendly to the environment.