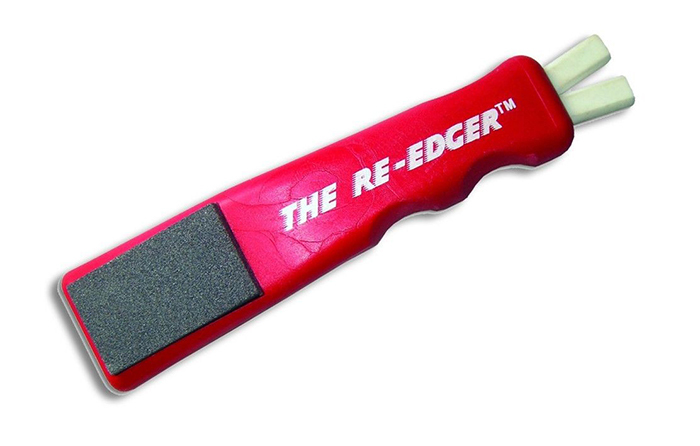 From figure skaters to hockey players to recreational skaters, fans of the ice can always benefit from keeping the blades of their skates in shape with a skate sharpener. Using a sharpener correctly involves knowing how sharp a blade needs to be for a particular skating discipline and understanding the differences between various sharpeners. Skaters may also want to look into the best retail options for getting good deals on skate sharpeners.
Types of Skate Sharpeners
There are two main types of skate sharpeners: handheld sharpeners and commercial sharpening machines. Pro shops, skate shops, and rinks use sharpening machines due to high volume. These complex machines involve several mechanical components and require training to use correctly. Skaters who need an on-the-go solution that they can use anywhere typically turn to handheld skate sharpeners. Of the handheld devices, ceramic sharpeners are the most prominent variety.
Choosing a Ceramic Sharpener Based on Discipline
Different skating disciplines require ice skates of varying sharpness. Figure skaters and goalies typically need a sharper blade or steeper "radius" than those who use hockey skates. While commercial machines can customise the radius of a blade, ceramic sharpeners are less precise, and it is necessary that skaters select models that create the right radius for the discipline. Skaters can also settle on a radius based on their weight, which directly affects the performance of the blade on the ice.
Sharpener Radius (inches)

Skater Weight

Applications

3/8

Very light

Figure skaters

Lightweight skaters

Advanced skaters

1/2

Light

Figure skaters

Children

Hockey forwards

5/8

Average

Standard recreational skating

3/4

Heavy

Hockey defencemen

1 to 1 1/4

Very heavy

Hockey goalies
While hockey skates typically require a larger radius, figure skates can actually run the gamut from sharp to dull, according to their weight and personal preference. At advanced levels, it is best for figure skaters to customise a radius to their skate style or programme.
Using a Ceramic Sharpener on Skates
Using a ceramic sharpener on a skate blade is a simple process. Place the blade into the insert on the ceramic sharpener. Run the sharpener down the length of the blade in one direction, and then reverse the motion. Typically, two passes are sufficient to regain the edge on a blade.
For skaters who skate on outdoor ice regularly, sharpening after every session is important, as outdoor ice is rough and wears a blade's edges down quickly. Hockey players training at indoor rinks may want to keep both a ceramic sharpener and a wooden block on hand during training and at matchups. A wood block can help dull a blade if it is too sharp for the specific conditions of a rink or if the skater over-sharpens the blade.
Using Sharpness Testers
Sometimes skaters want to test the sharpness of their skates before hitting the ice. Since running a finger along a blade can be hazardous, there are tools available on the market that help skaters determine whether a pair of skates still have an edge or if they need to be sharpened. Skaters use these tester sticks by running them along the lengths of the blades to see whether or not they remove any material. A tester that runs smoothly on the blade and does not remove any material indicates a blade that has lost its edge and needs sharpening.
How to Buy Skate Sharpeners on eBay
Skaters can find a wide range of skate sharpeners on eBay. To begin looking for sharpeners, locate the search box, available on any eBay page. Entering a word or phrase, such as 'ceramic skate sharpener', pulls up a list of every item on eBay that relates to that term. Consumers can then review items on the list by clicking on each one and reading the product details.
Maintaining a sharp edge in skating is critical to good performance, speed, and agility. With a few tips for choosing and using the right type of handheld sharpeners, athletes can keep their skates in prime condition for anything from figure skating to goalkeeping.