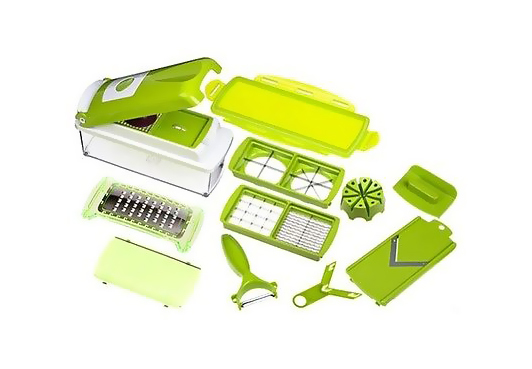 Cutting food properly takes precision and know how, as well as the right equipment. Chef-quality knives often do the trick, but they also cause injuries and do not always make decorative cuts when needed. Many people turn to gadgets to cut food in an artistic manner, making their platters look visually appealing and inviting for guests. Various models of tools, often generically called slicer dicers, make kitchen work easier and result in less mess, as well as fewer injuries. Knowing how to use a slicer dicer properly, as well as how to find them in kitchen supply stores and on eBay, creates informed consumers who can take an item out of the box and cook up ingenious food creations with ease.
Choose the Foods
Slicer dicers work best with fruits and vegetables. Chefs can Julienne carrots and potatoes and create perfect melon balls or fruits shaped like stars. Different blade attachments produce different results, with some made for fine cuts and others for more intricate cuts. Decide what foods to serve and what cuts work best to produce picture-perfect platters of food.
Peel the Food
Use the peeler that comes with the slicer dicer and peel the skin off fruits and vegetables. Chefs can peel apples, pears, and potatoes to ready them for dicing.
How to Slice and Dice the Food
Place the peeled food under the blade and push the contained blade down on the food. Use the container to serve or store the food in the refrigerator, or arrange the newly sliced and diced food into a more appealing bowl designed for serving. If chefs are only serving one type of diced food, they can then place the container into the dishwasher. If chefs need more sliced and diced items, they can just rinse the container and the blade with warm soap and water. Then, they can slice the next food item.
How to Choose the Blade
Most slicer dicers come with a plastic lid that tops a Tupperware-like container. The lid opens up to reveal a blade compartment, with different blades that easily attach and detach so users can change them out as needed. Three different slicing blades come with most slicer dicer models, with each one producing different cuts. Some blades create square designs, while others produce rounded cuts. Snap the blades into the lid and later remove them by pressing the lock tabs that hold the blades in place.
How to Make Slicer Dicer Creations
The slicer dicer works well for everyday meals, as well as dinner parties. Users can make shoestring French fries baked in the oven by creating long, thin potato slices without the dangers of large knives near fingers. To make an egg salad in half the time, place hard-boiled eggs between the blades and chop them in no time before adding mayonnaise and different spices. Chefs can also make tomato salsa by slicing onion and tomatoes together and then shaking them in the container to mix and blend, or they can create a delicious chopped salad by chopping egg, lettuce, and tomatoes. Once they have chopped the components, they can pour dressing into the container and shake it up before pouring everything into a salad bowl.
The slicer dicer also grates cheese and creates fruit zest. Users can take the peel of an orange or lemon and make a zest to add to different recipes. They can also grate cheddar or mozzarella cheese and add as ingredients of toppings for salads. The slicer dicer also eliminates tears when slicing onions, as the fumes remain under the container lid, rather than wafting into the chef's eyes.
Cleaning and Storing Attachments
Owners can clean all of the stainless steel blade attachments in the dishwasher, which also sterilises the items. In addition, owners can wash the container in the dishwasher, and all of the attachments fit easily into the container for convenient storage.
How to Buy a Slicer Dicer on eBay
When shopping for a slicer dicer on eBay, simply type what you are looking for into the Search bar on any eBay page. Specify whether you want the slicer dicer in new or used condition to produce targeted search results and streamline the shopping process. You can also browse through eBay stores and Daily Deals for alternative money-saving purchasing options and one-day specials.
Once your new slicer dicer is in your kitchen, attach the blades and create perfectly sliced and diced fruits and vegetables without the dangers and messes found with typical kitchen knives. Know you made the right choice by doing your homework and learning how to use the device before buying it.