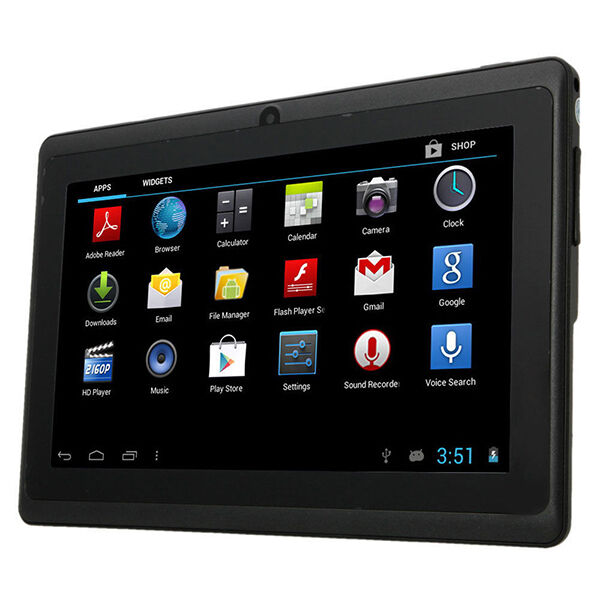 Android tablets allow busy professionals, students, and others to access and create important documents, check e-mails, read digital books, play games, listen to music, and watch videos and movies anywhere they go. Whether they use aGoogle Nexus 7,Samsung Galaxy Note 10.1, Samsung Galaxy Tab 3, or one of the multitude of other Android tablets, owners should learn how to use an Android tablet effectively. This includes knowing which keys perform certain functions, how to load both business and fun applications, and where to find and load custom wallpaper and widgets. To find a new Android tablet and associated accessories, shoppers can visit local specialty or electronics shops or eBay.
Using an Android Tablet
To use an Android tablet effectively, owners should know what the buttons do, how to download applications, and how to customise their devices.
How to Check the Android OS Version
Because different tablets run on different Android OS versions, users should know how to check the version they own. To do so, go to the Settings panel and see the About section. Many Android tablets run on Ice Cream Sandwich or the Kit Kat. Some Android tablets run on Jelly Bean, and certain older Android tablets run on Honeycomb.
How to Return to the Home Screen
Owners can use three touch-capacitive keys to control applications and perform other simple commands. The Home button allows users to jump to the tablet's home screen. When owners press it while in an application or game, the OS places the activity in the background so it stays operational. Owners should also remember that the Back button allows users to go to the previous activity or page.
How to Access a List of Running Applications
Owners can tap the Multi-Tasking button, available to those running Ice Cream Sandwich 4.0 or higher to access a list of applications running in the background. Owners can also use the multi-task screen to swap a running application to the left or right, which closes the application. Some older Android tablets also feature a Menu or Settings button.
How to Download Applications and Games
Most Android tablets come with the Google Play Store application already installed; however, older Android devices use the Android Market application instead. To locate and open the Google Play Store application, go to the application launcher and touch the Play Store icon. Owners can use this application to find and download a large variety of applications, games, and tools for the Android tablet.
How to Customise an Android Tablet
Users can customise their Android tablets. Users can set up smart actions by clicking on Smart Actions from the home screen. They can then tap the plus symbol on the Smart Actions application and select Blank Rule. After naming the rule, owners can click the plus sign next to Triggers and select a trigger, such as Missed Calls. Then owners can select details and click Done when they are finished. Finally, they can click the plus symbol next to Actions to select an action that happens in response to the trigger and click Save.
Another way to customise an Android tablet is to adjust the screen timeout, which can contribute to battery drain. Go to the menu and access Settings and then Display. After scrolling down, tap Screen Timeout and select the time limit desired, such as 15 seconds or 1 minute. Owners can also customise their Android tablets using wallpapers and widgets using specific Android applications.
How to Clean an Android Tablet
Owners should use the proper cleaning equipment to keep their Android tablets clean of dirt, smudges, and fingerprints. Consider using a microfibre cloth that lifts fingerprints, grease, and debris from the tablet's screen without scratching or damaging it in any way. Sometimes cleaning accessories come with a new tablet. If not, check for cleaning supplies at local shops or online. Other helpful cleaning solutions include wet wipes specifically made for computer equipment like tablets. Owners can also purchase a cleaning kit.
How to Buy an Android Tablet on eBay
To search for Android tablets on eBay, start by using keywords in the Search bar to pull up product listings. When reviewing a specific listing, you can read through all specifications, including the size and capabilities of the tablet. Then assess the seller by reviewing the rating other shoppers have provided. Finally, make sure to search eBay Deals for a large selection of Electronics, including Android tablets.
You can learn how to use your Android tablet to maximise productivity or make play time more fun. Knowing which keys do certain functions, how to load applications, and where to find custom wallpaper and widgets makes the user experience better.