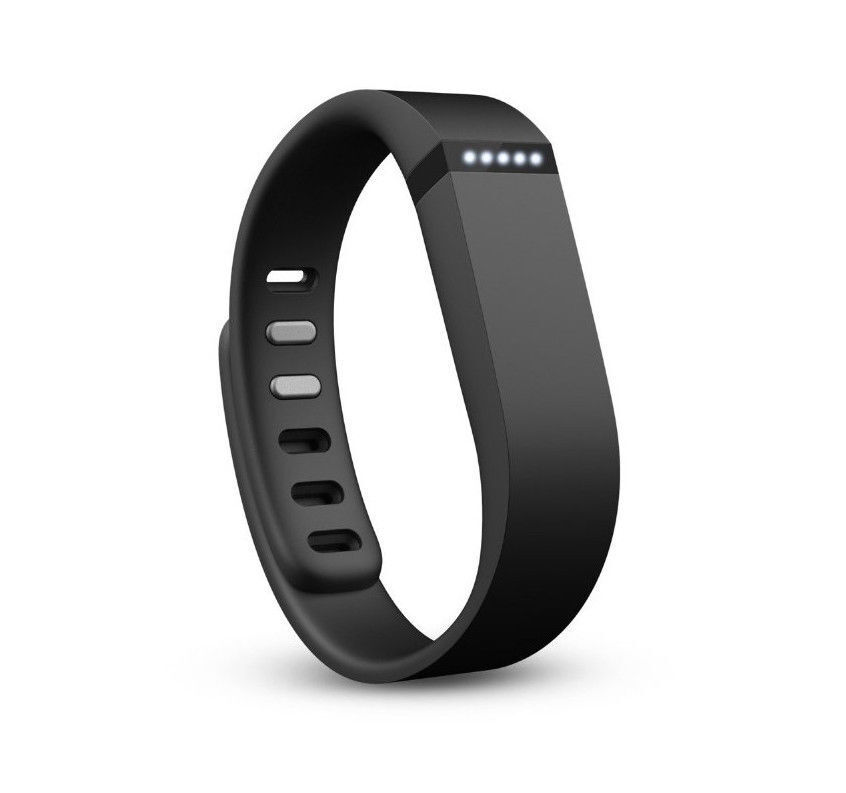 The Fitbit Flex is a rubbery wristband pedometer that monitors both day and night activity. Lightweight, comfortable, and efficient, the Fitbit Flex allows you to track all your daily movements for close monitoring and record keeping. You can monitor your calorie-burning activity, keep a close watch on your heart rate, and improve your sleep routine. The simple construction conceals a complex monitoring system that syncs information between itself and your chosen device. This may be to aMac orPC desktop,iPhone or iPad. Lacking the usual gimmicks, this monitor is without a display screen and built-in messages of encouragement. If you are looking for a simple way to monitor your daily movements, check availability on eBay to further save on this reasonably priced tracker.
Using the Fitbit Flex
Unlike other pedometers such as theNike Fuelband and Jawbone Up, the Fitbit Flex does not record the exact number of exercise steps taken on the wrist band. Instead, it gives a general indication of activity intensity. You can, nonetheless, consult the data synced to your chosen device for more detailed and comprehensive information. The device has five LED lights to indicate your activity levels. Each light displays 20 percent of your daily goal, and by tapping the display twice, you can monitor your progress according to the objectives you set.
Attaching the Wristband
The rubber wristband houses a small electronic tracking device. To begin wearing, insert clasp into the wristband, then place tracker into its compartment with arrow towards wristband holes. Apply wristband with LED lights positioned on the outside of wrist, facing up. After aligning the two ends of the flex, fasten clasp into the hole which accords the best fit. Push until it clicks.
Software Setup
Set up your own personalised account on Fitbit.com if you do not already have one. Before using your device, you need to download the free Fitbit Connect software programme to your Mac, PC, iPad, or iPhone. On the website, follow the download and install instructions that apply to your chosen device.
Pairing Flex to User Account
Once you have installed the software, follow the prompts on your chosen device to begin pairing your account with your flex wristband tracker. This process syncs all your user information, and allows you several options to manage privacy settings. The Fitbit Flex tracker syncs with only one device at a time. If you wish to have your tracker synced with another device simultaneously, you need to purchase and set up another tracker.
Wearing Your Flex
Fitbit Flex tracks your steps, travelled distance each day, burned calories, most active minutes, sleep time, and how often you woke during the night. You can wear it at all times, even in the shower. You can also set it to wake you with a vibration alarm. By tapping the LED display, the tracker provides you with the particular information you need to review your daily movements and nightly sleep patterns. To gather more detailed information, access the data via the app on your mobile device or your desktop computer.
Using Your Dashboard
On logging into your account, Fitbit immediately takes you to your online dashboard. From here, you can keep tabs on your progress, food intake, general activities, and sleeping patterns. Fitbit Connect records historical data, so you can make valuable comparisons between your activity levels now and later. The dashboard also indicates remaining battery power in the tracker, so you know when you need to recharge.
Software Updates
You can update your software manually from the Fitbit icon on your designated device. Log in to your account and search for updates. The specific way you do this depends on which device you have installed the programme on.
Operating Conditions
The Fitbit Flex is a durable and waterproof device that allows you to wear it constantly. However, some extreme conditions and places may render the device non-operational.
| | |
| --- | --- |
| Environment | Operating conditions |
| | -20 to 45 C |
| Maximum altitude | 9 144 meters |
| Water resistance | Up to 10 meters |
Depending on where you live in the world, it may be unlikely that you would need to use the Fitbit Flex outside of these operating conditions. Nevertheless, they are worth keeping in mind.
How to Buy a Fitbit Flex on eBay
To buy the Fitbit Flex on eBay, enter the brand name, or make a broader search such as pedometer. Also check for any health-related items on eBay Deals. Carefully look through all applicable listings, comparing technical details, prices, postage options, and returns policies. Only choose a seller with a high customer feedback score.
Although once the preserve of athletes, the elderly, or those with chronic health conditions, recording cardiovascular fitness, blood pressure, and heart rate has become completely mainstream. The ability to self-monitor your health and fitness is becoming easier each year, which could possibly render the doctor's waiting room quieter than ever.