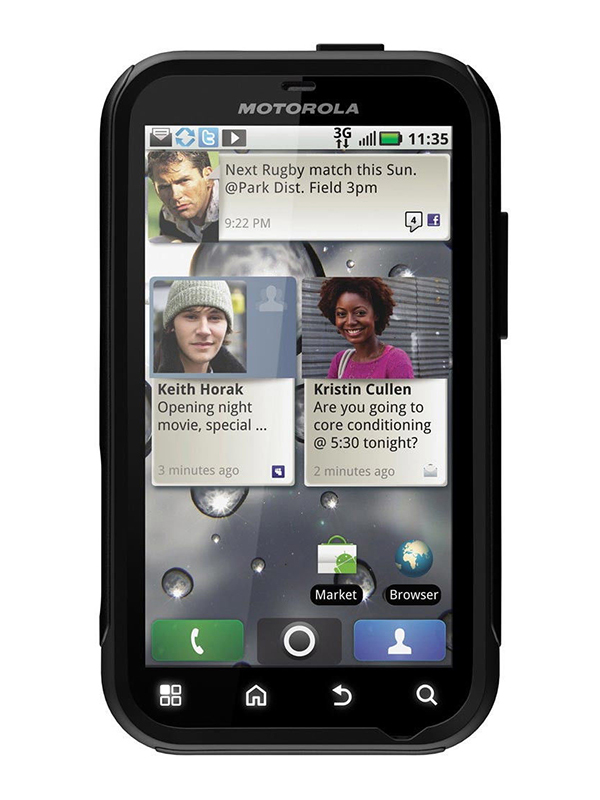 The Motorola Defy is a specialty GSM smartphone that is designed to handle the worst that life has to throw at it. Specifically, this phone is designed to be resistant to water, dust, and impact. It's effective enough at what it does to be IP67 rated, a high marking from a rating system that looks at the durability of devices and products. This phone was released in October 2010 worldwide. One of the biggest advantages to this smartphone is the fact that the user can use a tethering app to turn the Motorola Defy into a modem. Tethering refers to using the existing data connection on the smartphone as a wireless hotspot to allow other devices to connect to it. Some wireless carriers provide a tethering app to turn the phone into a hotspot, although third party applications are also available.
Carrier-Based Tethering
One of the easiest ways to turn the Motorola Defy into a modem is through carrier-based tethering. This is a tethering feature that the wireless service provider has available, typically at an additional fee, for the smartphone. When this is enabled on the phone, the carrier has an app that the user opens to share the mobile data connection with other devices.
App-Based Tethering
While the carriers would certainly like for everyone to go through their services for tethering, and some carriers go as far as to lock out tethering capabilities on their phones unless their subscriber pays an additional fee, there are also app-based options that allow the user to get the capability without dealing with the carrier. These apps come in two major categories: rooted and unrooted.
When the user roots the phone, they get full access to the system files and commands. This is a level of access that is typically restricted by the carrier. Think of it as getting an administrator account on a Windows-based computer. The same general concepts apply. When the phone is rooted, it allows apps that need fully access to the system to work properly. Unrooted simply means that the user doesn't have to have a special level of access on the phone to make the app work.
Unrooted
Foxfi and PDANet is a combination of apps that provides USB, Bluetooth, and wireless tethering. These apps work in combination with each other, so the user is utilizing both in order to get the tethering effect. On a technical level, the USB and Bluetooth tethering is handled through PDANet, while wireless tethering is handled through FoxFi. This is a paid app with a free, restricted version.
Wi-Fi Tether One Click is an app designed for wireless tethering only, so if the user needs USB or Bluetooth tethering they need to go with another app. This is a simple app that is made so the user only needs to tap one time to enable this capability on their phones.
Rooted
Android WiFi Tether is a simple app that creates a wireless hotspot on a rooted Android phone. Like Wi-fi Tether One Click, this is not a terribly complicated application to figure out.
Wireless Tether for Root is another simple application that works with essentially every rooted Android device, with a one tap hotspot setup and a temperature meter that allows the user to keep an eye on the phone's temperature. Since tethering generally makes smartphones run hot due to constant data access, it is a good idea to keep an eye on the phone temps to avoid any issues with spontaneous shut downs.
Motorola Defy Specifications
The Motorola Defy is one of the few smartphones out there in the 512 megs of RAM category that is capable of smoothly running Android 4.4 KitKat, although it ships with Android 2.1 Eclair. The Motorola Defy works on 2G and 3G networks across the GSM and HSDPA bands. It has a 107 mm screen and is relatively small and light, letting it stand up to plenty of impact from everyday life. It uses Corning Gorilla Glass to help with much of the durability. This smartphone has 2 gigs of internal memory and up to 32 gigs from a microSD. It utilizes a 800 MHz Cortex A8 processor with a PowerVR GPU.
Buying a Motorola Defy on eBay
The primary consideration when purchasing a Motorola Defy to use as a modem on eBay is whether it is locked or unlocked. A locked phone can only be used on a single carrier, while an unlocked phone is used across the board at whichever carrier the user wishes to go with. Typically, unlocked phones are more expensive than locked options due to their general versatility. Pay attention to the condition of the phone when purchasing, such as whether it comes with a larger SD card or if it's new, used, or refurbished.