Using the eBay Guides Rich Text Editor is not easy to use, so here are some tips and tricks on how to successfully use the editor to complete the guide creation process and create the most effective guide content.
Key points to remember when using the eBay Guide Rich Text Editor
You must create Guide content in the Rich Text Editor (RTE) or copy in content from a text editor like Notepad.
Cutting and pasting in content from programs like Microsoft Word will cause you to get an error. Cutting and pasting content within the Guide RTE does work.
Standard HTML tags will not work in the Guides RTE.
In order to add Bold, Italics, Left Justify, Center Justify, Right Justify, add bullet points or numbered lists, indenting the text, adding pictures or links you must use the controls at the top of the Guide RTE

There is a 20,000 character limit for guide content. This includes URL links and picture file names that are not visible to guide readers.
To create nice visual section breaks like the orange bar like this...
Type in your text with the dropdown at the top of the text entry field "Text: [Normal]" and then put your cursor somewhere in that line and change the dropdown menu from "Normal" to "Heading 1". This will make the text in the RTE look like the Times New Roman Font, Font size 24.
This is ok!
This text will look correct once you publish your guide. (You can preview this by clicking on the "Preview" button at the bottom of the page.)
This is what "Heading 1" text looks like
This is what "Heading 2" text looks like

This is "Heading 3" text looks like

How to add pictures into your Guide

1. To add in a picture, click on the "Add: Picture" link just above the Guide text entry area.
2. Then select the picture file you wish to upload and click "Open"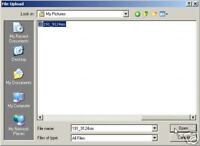 3. Then select "Insert"

Remember that you may only insert
up to 10 pictures
in a guide.
How to add links into your Guide
Adding in links can help add helpful context to your guide content or link to another
guide on a related topic
.
1. Click on the Add: "Link" just above the Guide text entry area to get the link entry form.

2. Fill in the boxes as follows:
You can enter eBay search terms in the top box (just like you would enter search keywords on the eBay home page) to provide a link for readers of your guide to view eBay items related to the subject matter of your guide
OR
You may provide a URL link in the middle box to point users to a specific page on eBay, search results page that you have created, link to your store or other eBay website. You can copy and paste the URL from your browser and paste it into this middle box. (Be sure to remove or copy over the

http://

that is prefilled in the box so this information is not duplicated)
Then enter keywords in the bottom box that will be the text that will be the link itself (shown hyperlinked) (there is a maximum of 30 characters for this link name).

3. Click on the "Add link" button and your link will be inserted into the guide.
Thank you for reading my guide. If you found these tips to be informative or helpful, Please click the "YES" button below.
Then see all guides by
worldfotos
.