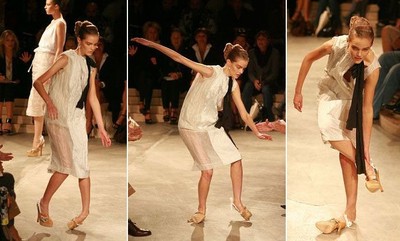 Have you ever found that amazing pair of heels that you can't live without? You eagerly buy them. The next day you excitedly put them on - you think about how high they are and how you will fall over but yet you still love them and want to strut your stuff down the yellow brick road in these heels. No pain no gain right? You want to show off these heels that you are head over heels in love with. You walk out the door you're fine. You start walking along the footpath and next thing:

In your mind you envisioned you would be wearing these sexy heels looking like Miranda Kerr walking down the Victoria Secret's Runway - instead you are currently face down on the foot path with strangers trying to offer you help to get back up.

One word - Embarrassing!

So whats the secret that some women already know and others don't? Ladies, you already over thought wearing these heels since the moment you bought them! You already put self doubt in your mind that these heels were too high or you would fall. The key to wearing sexy glamorous high heels is not to think about it! Simple and true.

When you look at a pair of heels the first thought you should think is I am going to look so confident and amazing in these heels. Become the shoe! Don't think about the height. Although the heel might look high in your hand it actually isn't that high once you put it on.

Secondly purchase shoes that have straps that hold you in. A cage style boot heel will feel more secure on your feet for the height and you won't subconsciously be thinking "I'm going to fall, I'm going to fall"

And last but not least buy the right size! So many women buy a pair of shoes because it's the last pair or they are out of your real size. Don't buy shoes that are too small or too big. These shoes will help you fall over and not to mention be incredibly uncomfortable and dangerous to wear. Ladies if they are too die for and they are 2 sizes too small don't buy them! I am guilty of this! I once bought a pair of boots that were a size too small because they were the last pair. Sure everyone commented on how great they looked and they were a one of a kind! Every 5 steps I would fall over by kicking my toes. I was honestly off balance not to mention my toes were all bent over in the top of the boot. Later that day I fell over and broke my wrist.

So if in doubt - PRACTICE at home first. And when wearing those heels think "I am Miranda Kerr or Carrie Bradshaw". Become the shoe and get that confidence!